The 5 Best Hero Products for Skin Redness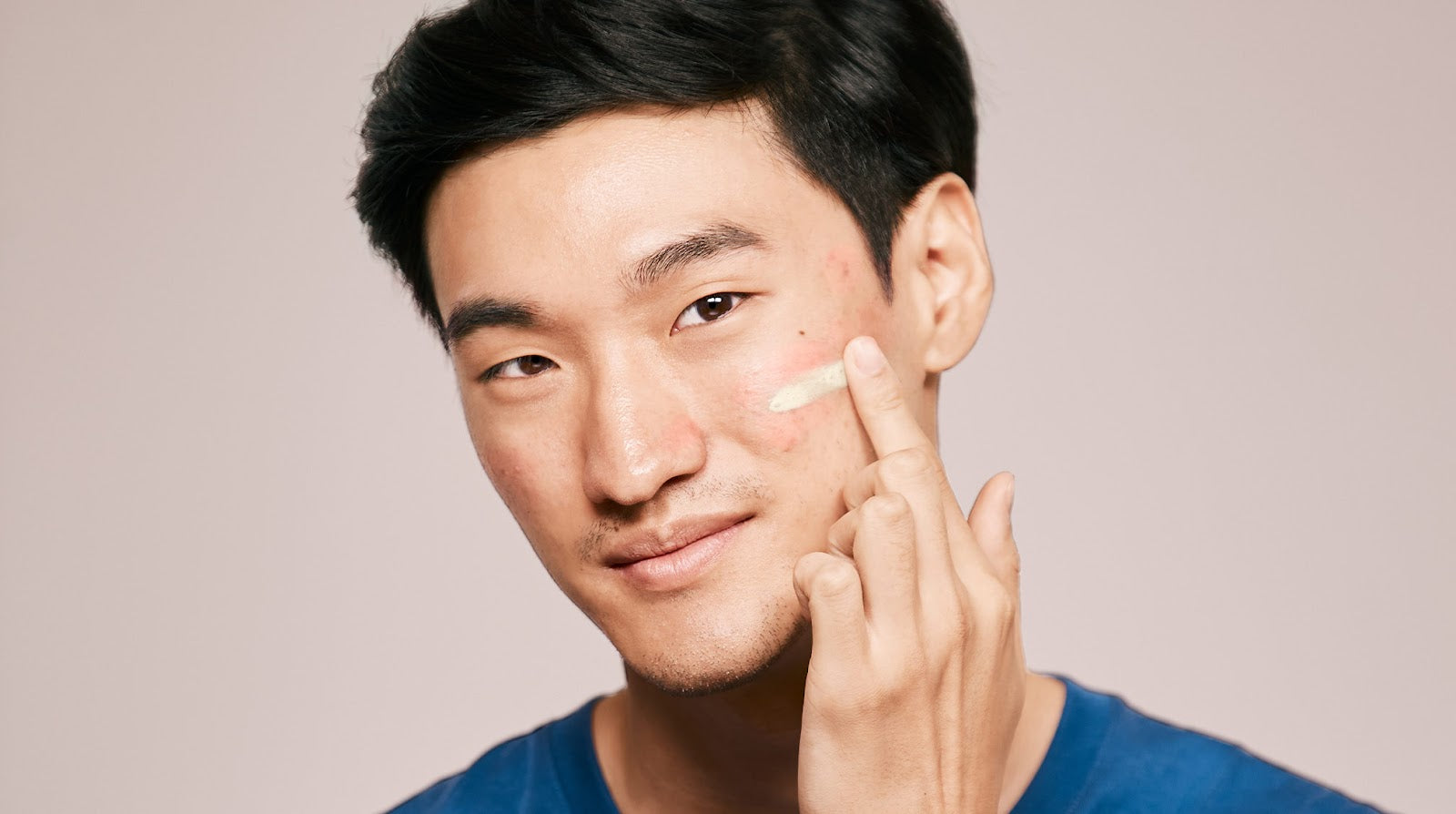 Whether it's the cooler fall temps, a major breakout, or your face is just looking a bit more flushed than usual, skin redness is a fairly common concern. While there are a myriad of potential causes for redness on your face, it's often accompanied by some general discomfort (such as dryness, itchiness or flakiness) as well.
At Hero, we've been there. And by there, I mean spiraling down endless Google searches for "how to get rid of redness on the face" or "the best color corrector for redness." That's why our product development team created a variety of solutions to treat all kinds of redness, hyperpigmentation and uneven skin tone issues. Ahead, we break down five customer favorites for redness relief.

Key ingredients: Green encapsulated pigments, panthenol, beta-glucan + oligopeptides
Type(s) of redness: All
When to use it: AM after SPF, or as a tone-evening primer under concealer and foundation
Our latest drop, this multitasking treatment soothes dry, flaky skin while blurring redness with its color-correcting green tint. Rescue Balm +Red Correct is loaded with hi-tech, color-changing capsules that activate as you blend, turning from green to beige in seconds.
With a lightweight formula and skin-restoring ingredients like panthenol, beta-glucan + oligopeptides, this color correcting cream is perfect for daytime use on post-pimple skin or right after you peel off a Mighty Patch.

Key ingredients: 17.53% Zinc Oxide (Non-Nano), green surge, extremolytes
Type(s) of redness: All
When to use it: AM, as the last step of your skincare routine. Reapply every 2 hours (or after swimming or sweating).
Any sunscreen is a must-do for avoiding redness and discoloration (in the form of sunburn, sunspots and hyperpigmentation), but this sunscreen works extra hard at redness relief. The sheer green tint disappears into skin to balance signs of redness instantly and the breathable finish doubles as a light primer.
One hundred percent mineral (no dangerous chemicals) and designed specifically for acne-prone skin, Superlight Sunscreen has a weightless gel-cream formula that won't clog pores or irritate pimples.

Key ingredients: Hyaluronic multi-boost, green tea water, oil capsules, witch hazel + zinc PCA
Type(s) of redness: Dryness-related redness
When to use it: AM + PM, immediately after cleansing
If you're wondering how a facial toner designed to balance oil could possibly help with redness, then you've never met this toner-serum.
Cosmetic redness is typically a result of skin dryness or dehydration. The whopping eight different types of hydrating hyaluronic acid in this anything-but-ordinary toner leaves red, dehydrated skin visibly calmer and velvety soft. Plus, it reduces shine around the T-zone and tightens pores, so skin is fully prepped for greatness!
RELATED READ: Our 4 Favorite Clear Collective Skincare Hacks

Key ingredients: Tranexamic acid, acetyl glucosamine, vitamin C, licorice root
Type(s) of redness: Acne-related redness
When to use it: AM + PM, after cleansing and before moisturizer
The red or dark spots that breakouts leave behind can linger for weeks, or sometimes even months. This rollerball brightening serum combines powerful illuminators with gentle botanicals, minimizing the look of blemish marks right away.
Got larger patches of redness or discoloration? It helps with those too, smoothing, revitalizing and evening out skin for an overall brighter complexion.

5. Micropoint for Blemishes
Key ingredients: Salicylic acid, totarol, beta-glucan, hyaluronic acid
Type(s) of redness: Acne-related redness
When to use it: AM or PM, after cleansing
The early stages of an inflammatory pimple, before there's a visible whitehead or pus, often involve a painful, under-the-skin, red bump. Micropoint for Blemishes attacks those emerging pimples with 173 hyaluronic microneedles that also help to soothe red, dry skin.
Tiny and totally painless, the micropoints dissolve to reduce redness and treat pimples at their source (where topicals can't reach).