Fight Your Pimple, Not Your Skin: Introducing Pimple Correct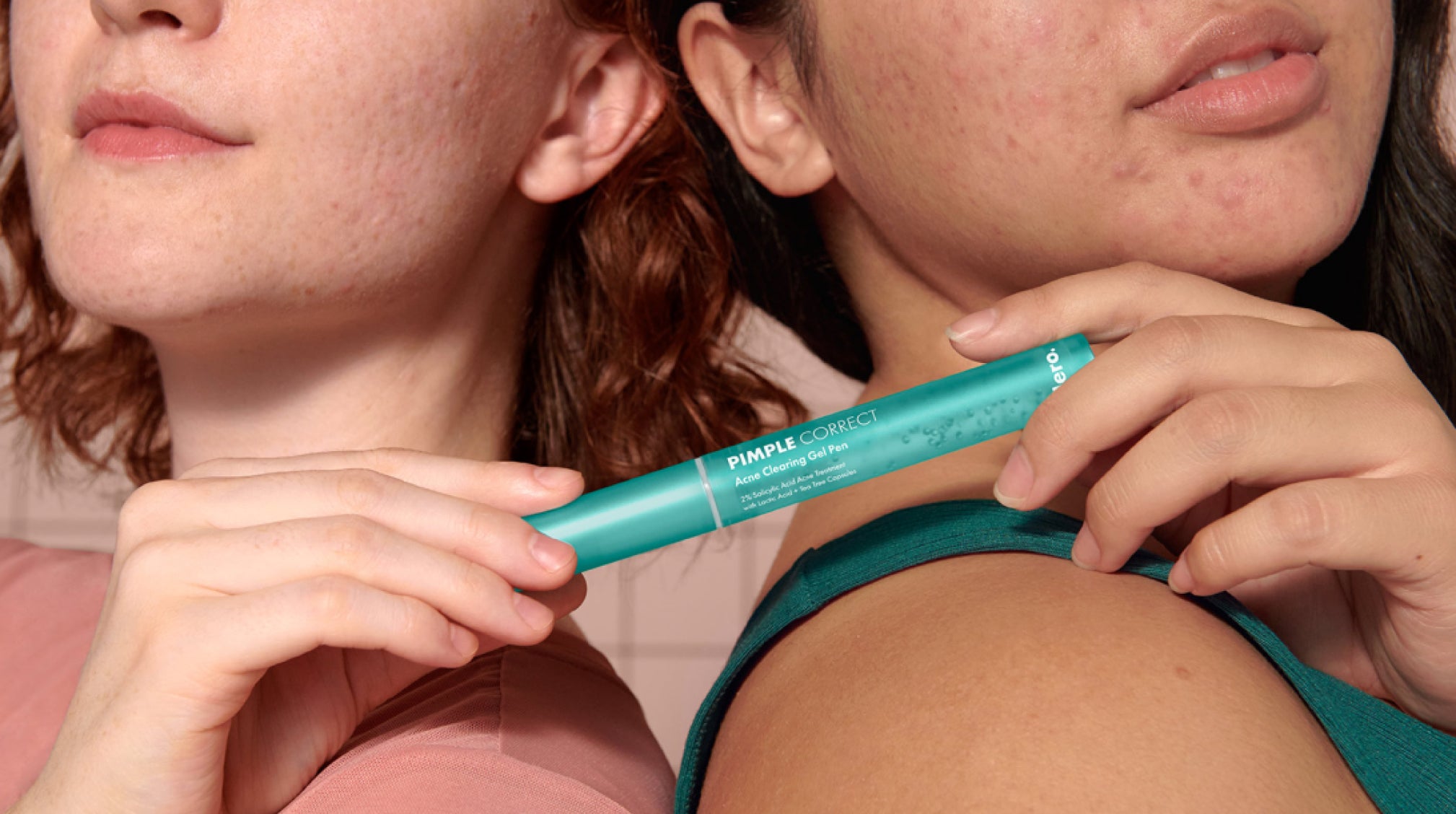 Pimples seem to pop up at the worst times, amirite? A first date. The big presentation. Your best friend's wedding. And while it can be tempting to pop it or reach for a super-strong formula to knock it out ASAP, sometimes too-harsh treatments or popped pimples leave you with a bigger mess than you started with – redness, flakiness, scars or infected skin.
At Hero, we're committed to bringing you acne care that works 💯 without harming skin. That's why our newest launch – Pimple Correct – is the spot treatment you'll want to have on hand for your breakout. It helps eliminate pimples with pore-penetrating Salicylic Acid in a calming formula that lets skin heal happy.
Your Cheatsheet
Product: Pimple Correct
Product type: Acne spot treatment
Main benefits: Clears pimples and calms skin
Who should use it: Anyone with visible or emerging pimples
How to use it: Apply directly to clean, dry pimples 1-2x daily
Key ingredients: Salicylic Acid, Lactic + Azelaic Acid, Tea Tree Capsules
Max-strength Salicylic Acid meets calming Tea Tree Capsules
Salicylic Acid is the gold standard for getting rid of pimples of all sorts – giant, sore, hard, painful, big and red, or tiny whiteheads. It's also the star ingredient in Pimple Correct. At maximum strength (2%), Salicylic Acid clears pimples by penetrating pores to exfoliate and help eliminate the excess oil and pus inside.
But there's more to the magic of Pimple Correct:
Lactic and Azelaic Acid team up to exfoliate clogged pores and help skin appear smoother and brighter.
Tea Tree Capsules helps clarify and calm skin.
How do I know if Pimple Correct is right for me?
The dermatologist-tested, fragrance-free formula doesn't dry or irritate skin. For the best results, use it on surface pimples (when there's visible pus or a whitehead) or emerging pimples (when you can see a bump that kinda hurts but it's not a full-on zit just yet). The gel pen applicator is ideal for those hard-to-reach pimples that can pop up near the side of your nose, the area behind your ear or on your back. Pimple Correct also helps skin stay clear, so you can bounce back from a breakout in a flash.
RELATED READ: Not sure what kind of pimple you have? Consult our guide.
Gel pen for finger-free application
When you've got a big, angry zit, the last thing you want to do is touch it with dirty fingers or bacteria that could make it worse. Pimple Correct lightweight gel-serum comes in a clickable pen applicator with a non-porous silicone tip (TPE). Application is precise, mess-free and convenient – no fingers necessary. And you can toss the pimple-busting tool in your bag for easy-peasy, on-the-go reapplication!
Just click and go: the best way to use Pimple Correct
After cleansing and toning, there's just three simple steps to clearer skin:
Press button to release gel.
Apply directly to clean, dry pimples on your face or body.
Repeat 1-2x daily for clearer skin.
Pro Tip
To prime your pen before the first use, firmly tap the base on a hard surface and pump button. Repeat until the pimple-busting gel starts flowing.
Pimple Correct is the ideal companion treatment to your Clear Collective daily routine. It's also important to choose a lightweight moisturizer that won't clog pores, irritate acne or worsen breakouts. We recommend Clarifying Prebiotic Moisturizer for bacteria-balancing hydration.
Let's review: Pimple Correct is a better-for-skin acne spot treatment. With max-strength Salicylic Acid, the gel-serum clears surface pimples, targets emerging blemishes and helps keep away new pimples. Derm-tested, non-drying and kind to skin. Take charge of your breakouts with Pimple Correct >>