Powerful on Blackheads. Peaceful on Skin. Meet Pore Release.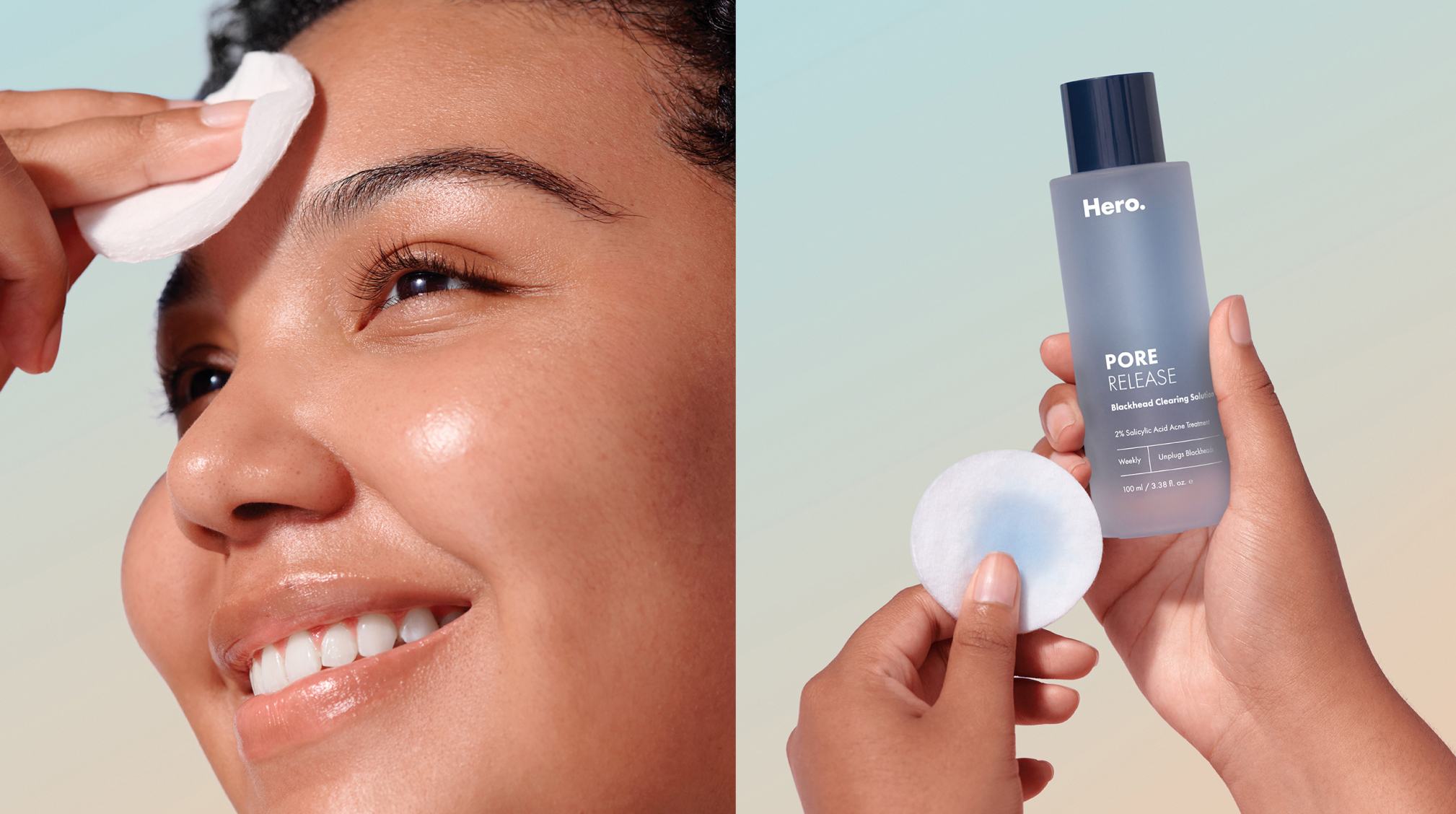 Pore strips, clay masks, facial scrubs, extractors, vacuums and good old fashioned squeezing. If you have pores (and we all do), chances are you've tried to unclog them at some point with one – or all – of these blackhead removal methods.
While they may eliminate some of the gunk, these treatments often lead to more issues than they solve: skin damage, inflammation, infection or scarring (ouch!). So if you want to unplug the gunk without drying your skin, you're going to want to try our newest drop: Pore Release.
It's a powerfully gentle exfoliator that releases blackheads and pore-plugging buildup (without stressing skin) for clear, tight pores on the daily. Three levels of chemical exfoliation penetrate pores to unclog stubborn blackheads from the inside out – and you can see clear results in 3 uses!*
Your Cheatsheet
Product: Pore Release
Product type: Blackhead exfoliator
Main benefits: Unplugs blackheads, smooths out pore bumps + visibly shrinks large pores
Who should use it: Anyone with blackheads or clogged pores
How to use it: Use 2-3x weekly, after cleansing and drying your face.
Key ingredients: Salicylic Acid, PHA, AHA, Lotus Water
The best ingredients for clogged pores
Blackheads develop when pores become clogged with excess sebum (oil) and dead skin cells. If the clogged pore is open on the surface, it turns black from exposure to air and becomes a blackhead.
Traditional blackhead treatments – like strips or rough exfoliating scrubs – may appear to work, but along with the blackhead, they are pulling out or sloughing off the top layer of your skin, as well as your sebaceous filaments.
The best way to tackle blackheads is with ingredients that solve the issue from the inside out – chemical exfoliants that work together to dissolve the oil and dead skin causing the blackhead in the first place.
Pore Release uses triple exfoliating power, as PHA, AHA and BHA join forces to deliver clearer pores, fast.
PHA 5% goes to work on the surface of the skin, clearing away dead skin cells. Its smoothing properties help to minimize the look of big pores.
AHA 1% softens debris and lightly exfoliates the skin, leaving it smoother and more open to release pore-clogging buildup.
BHA (the star of the show) max-strength 2% Salicylic Acid penetrates plugged-up pores to get rid of the gunk. Unlike other exfoliating ingredients that work on the surface of the skin, Salicylic Acid can get inside the pore. From there, it attracts and dissolves excess oil.
RELATED READ: What Does Salicylic Acid Do For Your Skin?
At the same time, Aloe + Lotus Water peacefully revitalize exfoliated skin. The gentle formula hydrates as it exfoliates, so it doesn't leave skin feeling stripped – and there's no stinging or burning on application.
How to minimize pores and clear blackheads with Pore Release
When you're first starting out with Pore Release, use it 2-3x weekly until the pores on your face look clear, then re-treat weekly (so they stay that way). It should be Step 2 in your routine, applied to dry skin right after cleansing. You can use Pore Release according to your skin's needs at any given time: Spot-treat problem areas (like around your T zone or the side of your nose) or swipe all over your face.
Here's the step-by-step:
Grab a cotton pad
Prep it with Pore Release.
Swipe on clean, dry skin.
Finish your routine.
Repeat 1-3x weekly.
See the release.
To get more gunk out
For stubborn blackheads or very-clogged pores, try Pore Release together with Mighty Patch Nose, Mighty Patch Surface or Mighty Patch Face.
Swipe Pore Release on clean, dry skin.
Let it dry
Apply your hydrocolloid patch or patches.
Wait 6-8 hours.
Watch the gunk come out.
Peel to reveal cleaner pores.
Let's review: If you want to clear blackheads and unclog pores without the ripping, stripping, burning or stinging, Pore Release is the solution you've been waiting for. It's a derm-tested routine blackhead treatment that clears pores from the inside out with the triple-exfoliating combo of BHA, PHA and AHA. Get max-strength blackhead control with Pore Release >>
*Based on self-assessments in a 14-day clinical trial