Pimple Correct vs. Mighty Patch: What's the Difference?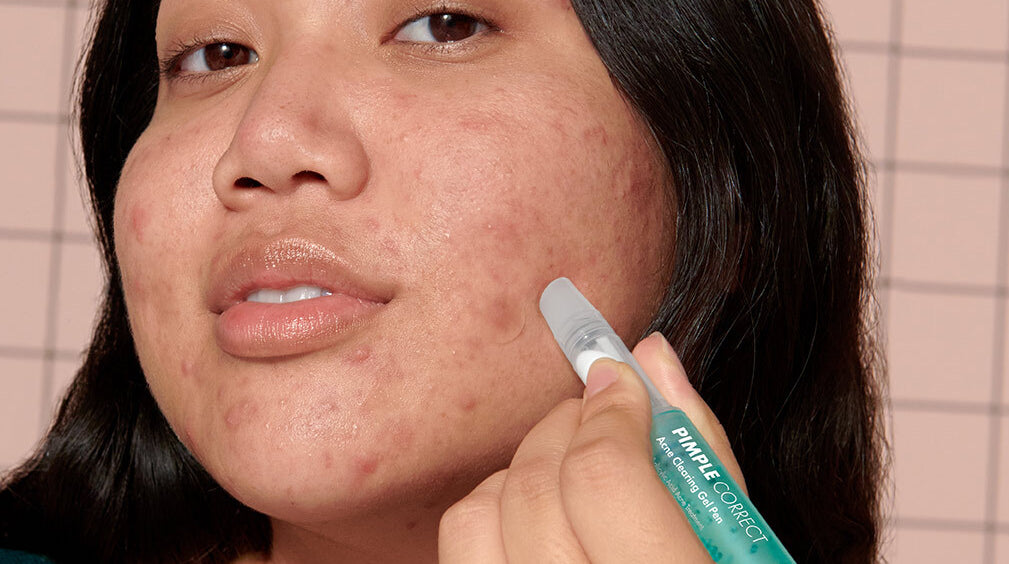 Since the launch of the OG blemish hero five years ago, our product line has certainly expanded. With six different Mighty Patches and one spot treatment, we've literally got all your possible blemishes covered.
With a plethora of options for zapping zits and busting blackheads, it can sometimes be hard to figure out what treatment will work best at each pimple stage. That's why we put together this handy little guide to consult for each and every breakout scenario.
Emerging pimples OR surface pimples: Pimple Correct
Our next-gen spot treatment, Pimple Correct, is effective at any point in the pimple lifecycle. It helps eliminate both emerging pimples (when you can see a bump that's kinda painful but it's not a full-on zit just yet) and surface pimples (when there's visible white or yellow pus or a ready-to-pop whitehead) with powerful ingredients:
Max-strength (2%) Salicylic Acid to exfoliate and help eliminate excess oil and pus inside pores
Lactic and Azelaic Acid to clear clogged pores and help skin appear smoother and brighter
Tea Tree Capsules to help clarify and calm skin
How to use: Apply directly to clean, dry pimples 1-2x daily.
RELATED VIDEOS: All-New Pimple Correct 
Early-stage blemishes: Micropoint for Blemishes
You feel a bump coming and it might be a little sore, but the pimple hasn't quite emerged yet. This is the sweet spot for Micropoint for Blemishes, our microneedle patch that helps gunk come to the surface – or stop it in its tracks altogether.
Teeny-tiny hyaluronic microneedles (173 in each patch) dissolve to hydrate skin and help pimples with:
How to use: Apply directly to a dry, clean blemish. Press down on the patch for 15 seconds. Wait 6 hours and remove.
Surface blemishes with visible pus (PM): Mighty Patch Original
The award-winning, Amazon-best-selling OG hydrocolloid patch visibly flattens bumps and absorbs pimple gunk, so you can wake up to clearer-looking skin.
Just one mighty ingredient gets the job done. Medical-grade Hydrocolloid is a fluid-absorbing gel that gently traps pus, excess oil and pimple gunk. Originally used for first aid bandages and wound dressing, the moist environment of hydrocolloid allows skin to heal.
Plus, it helps protect skin from picking or popping (which can cause scars). Our hydrocolloid is allergy tested and great for sensitive skin.
How to use: Apply to clean, dry skin. Remove 6-8 hours later.
Surface pimple with visible pus (AM): Mighty Patch Invisible+
Got a Zoom presentation? Heading out for girls' night? Seamlessly tapered and barely visible, Invisible+ is our ultra-thin daytime patch. It's got similar pimple-busting Hydrocolloid power, but in a daytime version that's so comfortable, you'll forget it's there (even for a pesky pimple near your lip).
How to use: Apply to clean, dry skin. Remove 6-8 hours later.
Big-time breakout coverage (PM): Mighty Patch Surface or Mighty Patch Face
When one or two patches simply won't do, it's time to call in the big boys. Mighty Patch Surface is a jumbo-size rectangular strip that visibly flattens large pimple clusters (on your face or body) within hours. Mighty Patch Face is a full-face patch set of five XL patches built to fit big breakout zones (like your T-zone, cheeks and chin). Like all of our Mighty Patches, 100% medical-grade Hydrocolloid provides all the gunk-absorbing power – no additional ingredients necessary.
How to use: Apply to clean, dry skin. Remove 6-8 hours later. 
Clogged or enlarged pores on your nose: Mighty Patch Nose
Sooo much gentler than the pore strips of the past, Mighty Patch Nose is our flexibly-thin Hydrocolloid patch that's specially designed to fit the creases and shape of your nose. It not only absorbs pore-clogging gunk and excess oil, but also helps improve the look of pores – no stripping, ripping or skin removal required.
How to use: Apply to clean, dry skin. Remove 6-8 hours later.