The Patch Match: The Best Pimple Patches for All Kind of Pimples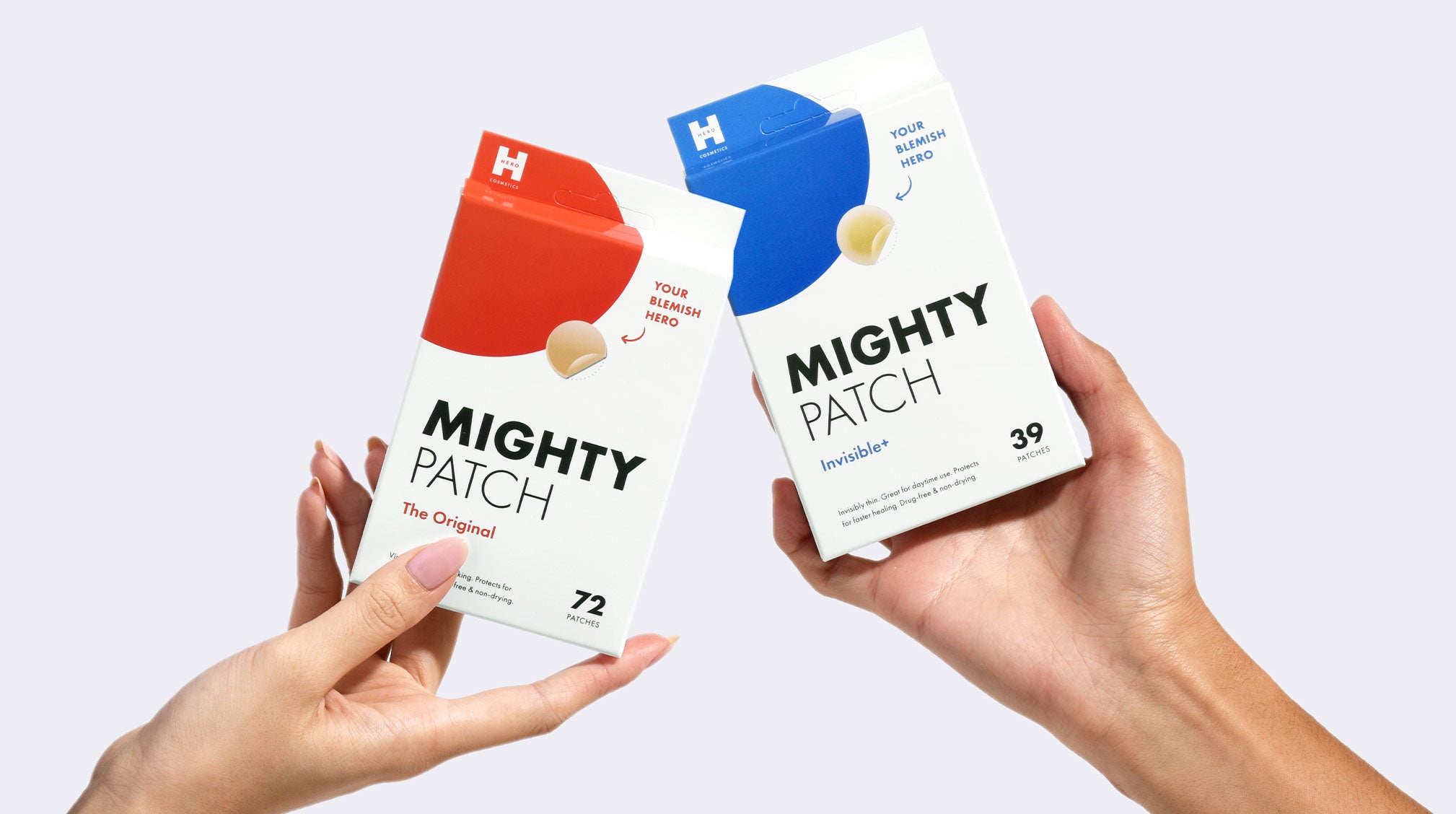 Remember when it was only a few years ago and zit creams were still the go-to spot treatment for a breakout? Now, there are a million pimple patch options out there for your pimple. While all pimple patches help you keep your hands off your breakouts and prevent further irritation, they are not interchangeable. 
Today, we're going to explore how each patch works and when you should use it, so you can feel confident that you are treating your acne (and not just walking around with a sticker on your face).
Your pimple patch cheat sheet
Hydrocolloid patch
The OG patch that began the whole pimple patch craze, these non-medicated patches use only hydrocolloid to absorb pus and gunk from a pimple that has already come to a head. Hydrocolloid patches are the ideal spot treatment for whiteheads and "poppable" pimples, as they pull out pus from the pimple, prevent skin picking and act as a moisture barrier to speed up recovery.
People are often surprised the first time they use a hydrocolloid patch, because you can actually see the pus on the patch when you remove it. It's like the tiny patch did the job of popping your pimple for you, but without leaving your skin angry and inflamed.
What to look for in a hydrocolloid patch
This one's pretty simple: high-quality hydrocolloid. Basically, the better quality the hydrocolloid is, the longer the patch is going to stick and the more it's going to absorb – which is quite essential for it to do its job of clearing the pus.
How do you know if a patch is made with high-quality hydrocolloid?
Trust the reviews. If beauty editors and thousands of reviewers are raving about a patch that's so thin they literally forget it's on their face (yes, we're talking about Mighty Patch), it's a safe bet that it's made with quality ingredients. 
Microneedle patch
If the word needle made you cringe, don't worry! The microneedles in these patches are so teeny-tiny that they don't hurt at all. If anything, applying a microneedle patch is #oddlysatisfying, in the sense that you can feel a slight sensation, which makes you think the patch is doing its job. Because they penetrate the skin, microneedle patches deliver active ingredients to fight acne that's under the surface.
The right pimples for a microneedle patch are under-the-skin, sometimes painful, early stage pimples – all pimples that are "unpoppable." Recently, a new category of microneedle patches has emerged: hyperpigmentation patches, such as Micropoint for Dark Spots. These patches use microneedles to dissolve powerful brightening ingredients in order to target dark spots and even out skin tone. They can be especially helpful in treating post-inflammatory hyperpigmentation, or the dark spots that appear following a breakout.   
What to look for in a microneedle patch
"Medicated pimple patches often contain salicylic acid which help to dissolve dead skin cells and skin debris" says Allawh. Other helpful ingredients include tranexamic acid and vitamin C to brighten and fade dark spots.
The 173 hyaluronic acid microneedles in the Micropoint patches are able to unleash a super-dose of acne-fighting ingredients straight into a pimple's core. 
Medicated acne patches
Flat medicated acne patches are filled with active ingredients that help to kill acne-causing bacteria or fight inflammation. Depending on the ingredients of the patch – which can range from salicylic acid to tea-tree oil, these patches can help to reduce bumps, pain, redness or other acne-related issues.
What to look for in a medicated acne patch
To reduce the size of nodules or cysts, look for salicylic acid and tea tree oil. To regulate excess oil production, find a patch with vitamin A.  
Patch pro tips
Regardless of which type of patch you choose, here are a few tips to follow to maximize effectiveness:


Cleanse and dry your face before patching. The last thing you want to do is trap dirt between the patch and your skin, especially if you are using a microneedle patch. Start with a clean slate and dry thoroughly, so the patch will stick.
Press down for a few seconds. You want to make sure you have a good level of stickiness for any patch. For microneedle patches, pressing down for 15-30s will ensure that the actives are really sinking in.
You may need more than one patch to finish the job. Always follow the directions on whatever patch you are using, but you'll probably want to wash and dry again between patch applications.
Use a post-blemish balm in between and after patching. Our Rescue Balm – the first ever post-blemish balm was design to help repair and renew the skin after you've popped or patched a pimple. Apply a rice-sized amount to nourish the skin.
Visit a dermatologist. If acne is a recurring issue, or patches just don't seem to help, book an appointment with a derm so she can examine your breakouts and help develop a long-term treatment plan.
[[product-ad]]