One Swipe a Day Smooths the Dark Spots Away: Meet Lighting Swipe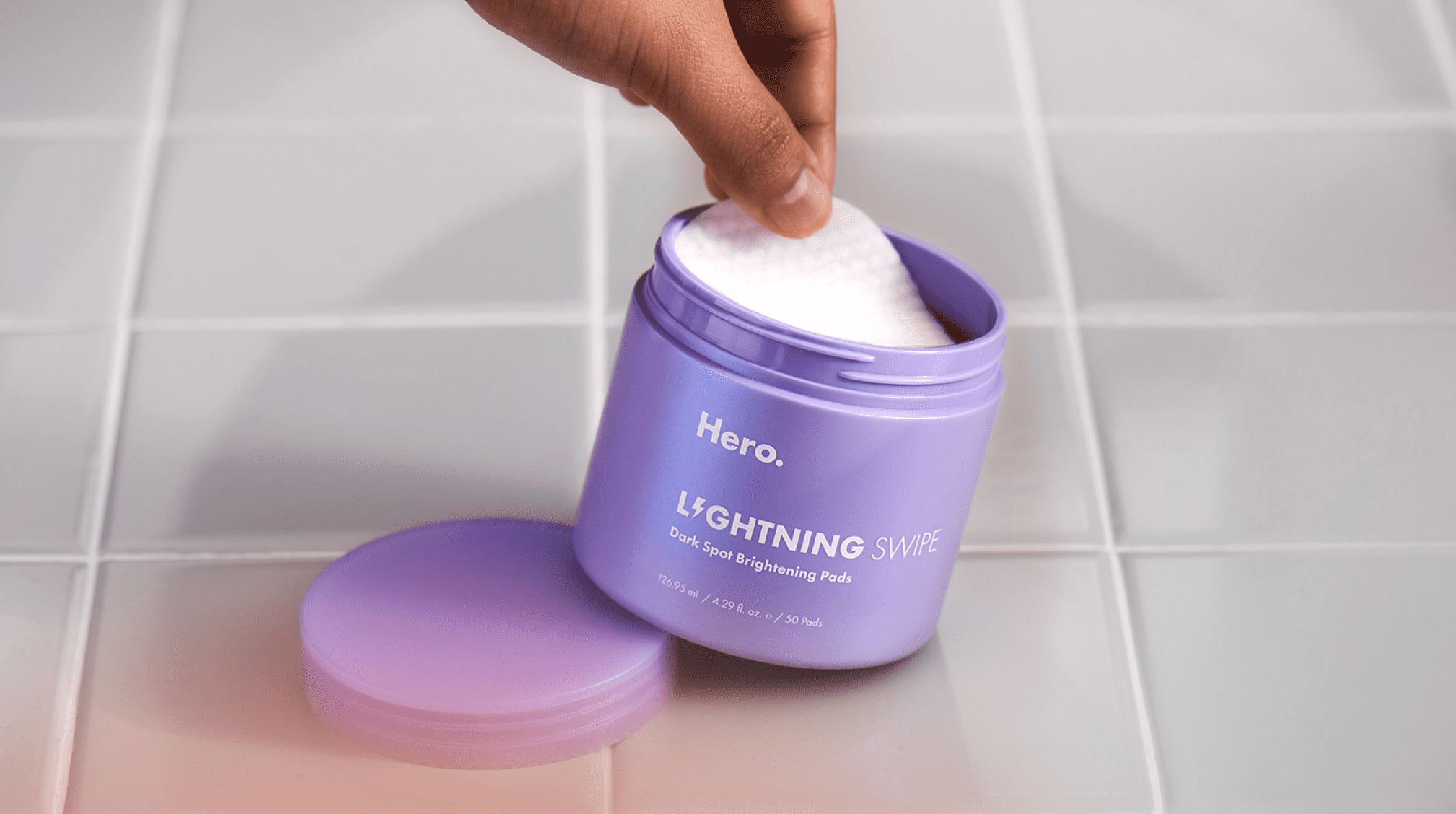 Let's talk about #skingoals. Most of us have multiple at any given time, but one almost universal skin goal — across all ages and skin types — is to boost its overall glow.
Think about what's getting in the way of your glow. It probably has something to do with at least one of these three common concerns: dullness, dark spots and uneven skin tone. Enter the inspo for our newest product: Lightning Swipe. These 3-in-1 revitalizing pads exfoliate, brighten and visibly calm post-blemish (or anytime) skin in one step, once a day.
If you already know and love our Lightning Wand serum, then you are familiar with its brightening power that basically works magic on post-blemish marks. Lightning Swipe has the same spot-brightening power, plus an exfoliating side to gently buff away dull, dead skin. The XL pads effortlessly smooth and illuminate skin anywhere (and everywhere) for full face and body brightening.
Your Cheatsheet
Product: Lightning Swipe
Product type: Facial/Body Pad
Main benefits: Exfoliates, visibly brightens and calms irritation
Who should use it: Anyone with signs of dark spots and post-blemish texture or who wants to increase overall radiance
How to use it: Swipe pad over clean, dry skin once a day
Key ingredients: Tranexamic Acid, Niacinamide, Glycolic Acid, Vitamin Complex, Heartleaf + Kombucha extracts
Why Lightning Swipe is so good at brightening (hint: it's all about the ingredients)
Lightning Swipe can be used immediately after an acne breakout, or anytime you want a brightening boost. It tackles dull skin and discoloration in three key ways:
Niacinamide smooths, fortifies and illuminates skin. Tranexamic Acid helps to visibly fade dark spots. The two powerhouse ingredients (also a Lightning Wand combo) work together to brighten dull, uneven skin tone — so skin looks more radiant, from the very first use.
Vitamin Complex visibly renews post-blemish skin, so it feels smoother and hydrated and looks more even-toned.
Heartleaf + Kombucha extracts support the skin's natural microbiome and revitalize skin with soothing hydration.
RELATED READ: Want Instantly Brighter Skin? Try Vitamin C
What are the best ways to use Lightning Swipe?
The short answer: anytime, anywhere on your body, and any way you want! Tired of covering post-blemish marks with gobs of concealer, foundation and cosmetics? Grab one of these pads and swipe away. Body looking a little dull from the dry, cold winter air? Swipe all over for whole-body brightening. Want to give your skin a little extra glow? Use it daily after cleansing for full-face clarity. Bringing Self-Care Sunday back into your life? Swipe weekly for a revitalizing boost.
Anytime, anywhere brightening is as easy as 1-2-3:
1. Wash with your usual gel, lotion, cream or foaming cleanser. Dry skin.
2. Swipe pad wherever you want to brighten up.
3. Repeat daily for the easiest glow-up ever.
Pro Tip
Try the textured side of the pad for an exfoliating boost – or go extra-gentle with the smooth side.
RELATED READ: Hyperpigmentation 101: Here's How to Get Rid of Dark Spots
Time to get glowing
This one-swipe daily brightening fix smooths away signs of past breakouts, stat. Use it alone or pair it with our other after-blemish brightening products (Micropoint for Dark Spots and Lightning Wand) and let the powerful illuminators, calming moisture and gentle resurfacing deliver that formerly elusive head-to-toe glow. Try Lightning Swipe >>