Your Favorite Post-Blemish Balm Gone Peachy: Introducing Rescue Balm +Dark Spot Retouch.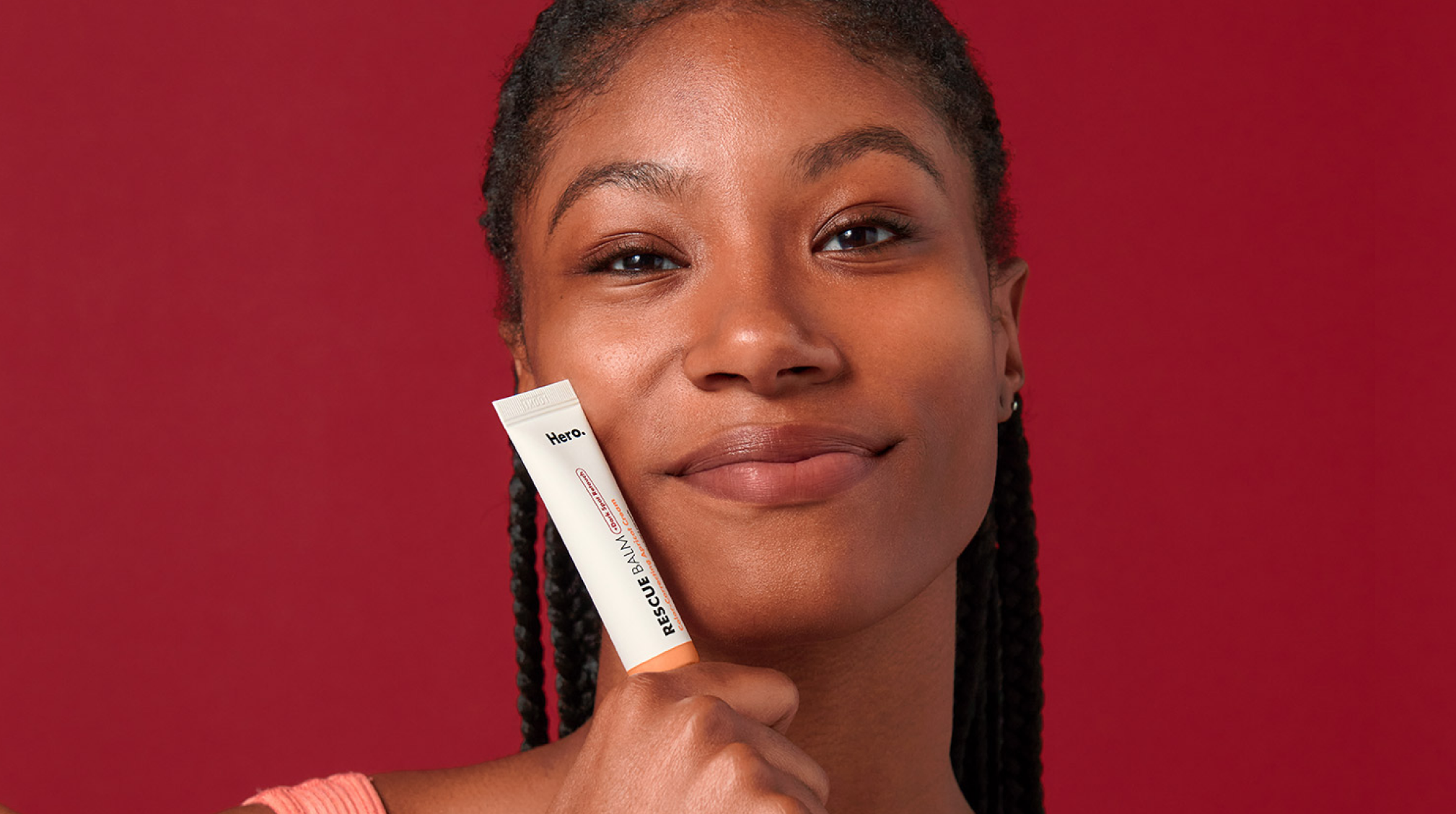 Our customers (along with a plethora of beauty editors and skinfluencers) swear by Rescue Balm to help soothe and calm skin after a breakout. "Your skin's best friend," "repeatedly amazed," and "the holy grail for blemish-prone skin" are just a few of the reviews we encounter on the regular.
It's just that good at helping to nourish and restore moisture to skin that's been invaded by a pimple. And now, it's really good at something else too: camouflaging dark spots and marks, instantly.
Our newest drop – Rescue Balm +Dark Spot Retouch – serves up sheer, color-correcting magic for medium to deep skin tones. It's everything you love about Rescue Balm – now with the power to tone down discoloration.
Your Cheatsheet
Product: Rescue Balm +Dark Spot Retouch
Product type: Tinted, post-blemish balm
Main benefits: Helps nourish, helps calm and color-corrects skin
Who should use it: Anyone with a medium to deep skin tone who wants to soothe skin and camouflage dark spots
How to use it: Apply to dark spots and blend to activate color-correcting powers. Designed for daytime use.
Key ingredients: Apricot Encapsulated Pigments, Panthenol, Beta Glucan + Oligopeptides
How Rescue Balm +Dark Spot Retouch calms skin and camouflages dark spots
After you pop or patch a pimple, skin is often left with dry patches, flakes, bumpy texture or a dark spot (or any combination of those). It's like an annoying extension of the breakout, and it can often last longer than the pimple itself.
Originally inspired by first aid ointment, Rescue Balm +Dark Spot Retouch helps replenish, soothe and color-correct skin with powerful ingredients:
As a humectant moisturizer, Beta Glucan is known to attract water to the top layers of skin. Its deep hydration and antioxidant properties help nourish dry skin. Working together with skin-restoring Oligopeptides, Beta Glucan can revitalize and replenish blemish-ravaged skin.
Also known as provitamin B5, Panthenol is known to function both as a humectant, attracting water to the skin, and as an emollient, softening and smoothing flaky, irritated post-pimple skin.
Rescue Balm +Dark Spot Retouch uses hi-tech Apricot Encapsulated Pigments that activate as you blend, neutralizing dark spots and marks in seconds with sheer camouflaging magic.
Rescue and repeat
After a pimple pops (or you remove a Mighty Patch), use Rescue Balm +Dark Spot Retouch as the last step in your AM skincare routine. Simply use your favorite cleanser (we like one with salicylic acid or another BHA to exfoliate), continue with your usual skincare steps, apply SPF and then blend Rescue Balm +Dark Spot Retouch on the desired area (or all over). Watch the magic happen and repeat daily for as long as you'd like.
RELATED READ: Want Instantly Brighter Skin? Try Vitamin C
Who should use Rescue Balm +Dark Spot Retouch?
This tinted after-blemish balm is great for all skin types and specifically formulated for medium to medium-deep skin tones.
For lighter complexions, Rescue Balm +Red Correct is a more natural-looking option for soothing and neutralizing red spots and marks after a breakout.
And for nighttime use, try the original Rescue Balm – it has all of the same moisture-restoring power without the color pigments.
Is Rescue Balm +Dark Spot Retouch only for your face or post-pimple skin?
Not at all! Think of Rescue Balm +Dark Spot Retouch as a skincare-makeup hybrid. The tint gives you incredibly sheer color-correcting coverage, while powerful, skin-soothing ingredients nourish and moisturize skin.
You can use it anywhere on your body – for dry patches, flakes, scaly texture or dark spots – Rescue Balm +Dark Spot Retouch delivers mega moisture, whenever and wherever you need it.
TL;DR?
Rescue Balm +Dark Spot Retouch is a daytime version of Rescue Balm for medium to deep skin tones – the same cult-fave replenishing formula, now with apricot encapsulated pigments to camouflage discoloration as it nourishes and soothes your skin. Try it today >>