The Right Order to Apply Your Skincare and Acne Products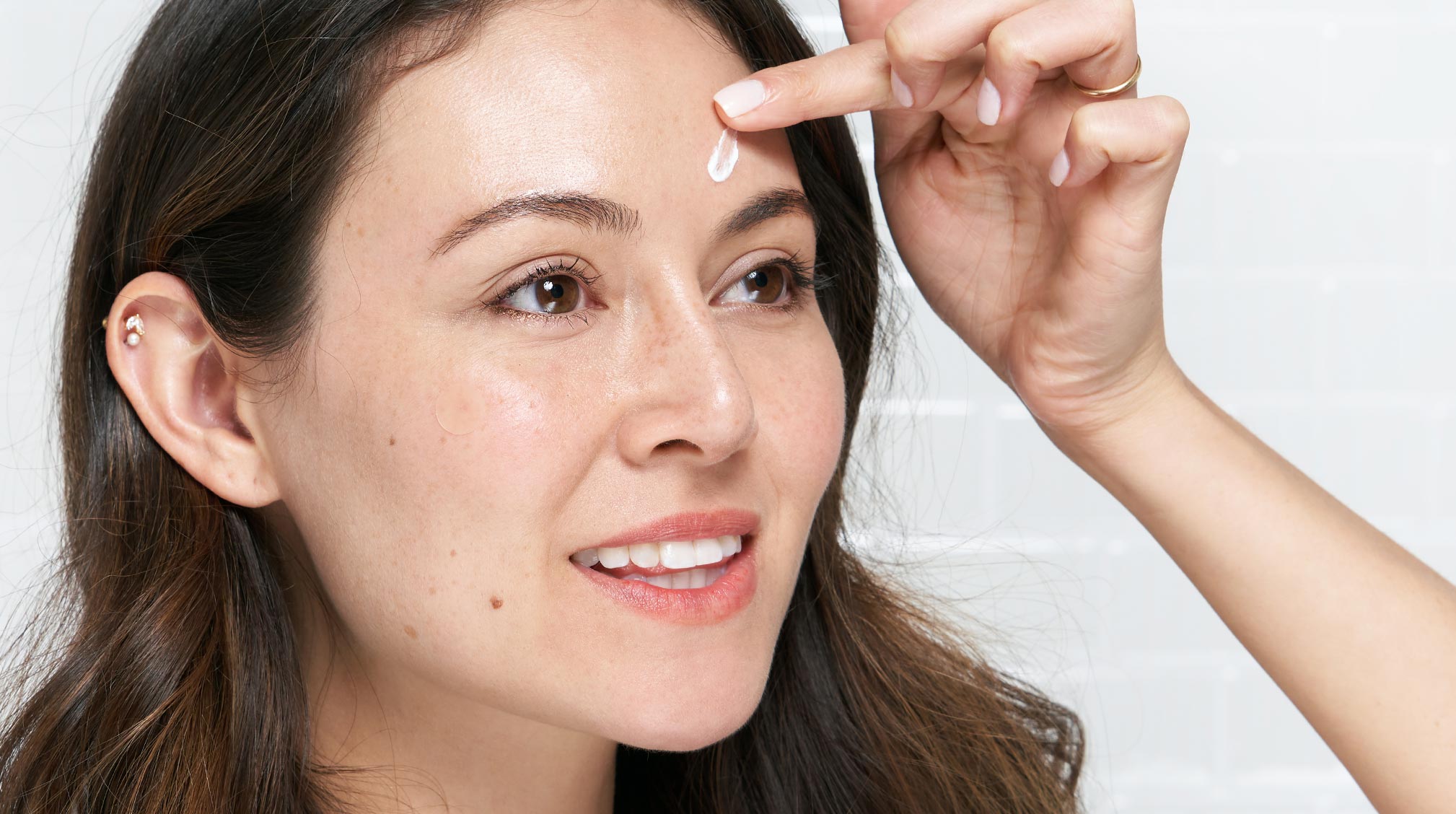 There are so many skincare products out there. Between cleansers, serums, moisturizers, and acne treatments, it can quickly become confusing and leave you wondering: what is a good skincare routine? Which product goes first? How do you use toner? And if you have acne, the big question is, when exactly do I apply my acne treatments? All great questions. In this post, we break down the ideal skincare routine for you step by step, so there's no more guessing. Consider this your recipe for clear, glowy skin.
1. Cleanser
The first step in your dream skincare routine is cleansing your skin. Do this twice a day, morning and night. Your nighttime cleanse is the most important because your skin is likely full of sweat, makeup, and dirt accumulated throughout the day and can damage your skin if you don't clean it off. Gentle is the keyword when it comes to cleansers. You don't want anything too abrasive. For acne-prone skin, in particular, find cleansers that have acne-fighting ingredients like salicylic acid and benzoyl peroxide.
2. Toner
Toner is a skincare step that many people tend to skip, but it's essential to incorporate, especially with acne-prone skin. Look for an alcohol-free toner with salicylic acid to help remove excess oil and prepare your skin to better absorb the rest of the products in your beauty arsenal. Now, how to use toner: apply a small amount of toner on a cotton pad and gently dab it over your skin. Let it dry completely before adding the next products.
3. Serum
Next up is serum. Serums are full of active ingredients that are great for your skin, such as peptides, vitamins, and retinol. So if you've been wondering how to use retinol and when, this is where you would incorporate it into your skincare routine. There are many different types of serums out there. Choose one that is ideal for your skin type and skincare goals. Apply the serum in a thin coat and gently pat it under the eyes. This is also an excellent time to apply any eye serum to keep you looking youthful.
Pro Tip
A general rule of thumb is to apply products on the skin from thinnest to thickest! Essenses/toners tend to feel lighter, watery, or runny while serums/ampoules feel heavier or thicker. But just because a product is called a 'serum' doesn't always mean it's 'heavy'! Just keep in mind that if you apply a heavier or more occlusive layer, the effects of 'thinner' layer product might not reach the skin. That's why it's best to apply from thinnest to thickest.
4. Moisturizer
Once you've applied your serum, moisturizer will help lock everything in. For acne-prone skin, moisturizers that are water-based or contain hyaluronic acid work best. Apply it gently in a circular motion.
5. Acne medications and spot treatments
Here's the fun part! It's time for acne medications and spot treatments, whether they're prescribed or over-the-counter. Applying acne treatments after your moisturizer helps products spread easier and reduces the chances of irritation.
If you use a Mighty Patch to tackle acne (which you totally should btw—they're fantastic!), we recommend wiping off any leftover product from the blemish area before applying it for maximum effectiveness. If you're doing your skincare routine in the morning, however, then a Mighty Patch Invisible+ is the better option. It's an ultra-thin daytime acne patch that seamlessly blends into your skin so no one is the wiser.
Also, if you have acne, you know that zits can leave behind some not-so-fun bumps, spots, textures, and scarring that can last for weeks. So this is also a great time to get your Rescue Balm on. Our Rescue Balm is a post-blemish balm that melts into your skin—literally! It's rich with antioxidants and peptides to get your skin looking fly after a pimple's been popped or patched and fast. We're talking days, not weeks. Pro tip: Some of our team members love applying the balm before any other products. Either way, it works like a charm.
RELATED READ: Where Mighty Patch Should Fall in Your Skincare Routine
6. Sunscreen
Hello, sunscreen! If you're heading out the door for fun in the sun, then this last step in your skincare routine is also crucial. Oil-free sunscreens are great for acne-prone skin, so be sure to check the label before you buy. Slather on a generous amount in the morning and rock on with your bad self.
[[product-ad]]