How to Layer Rescue Balm in Your Post-Pimple Skincare Routine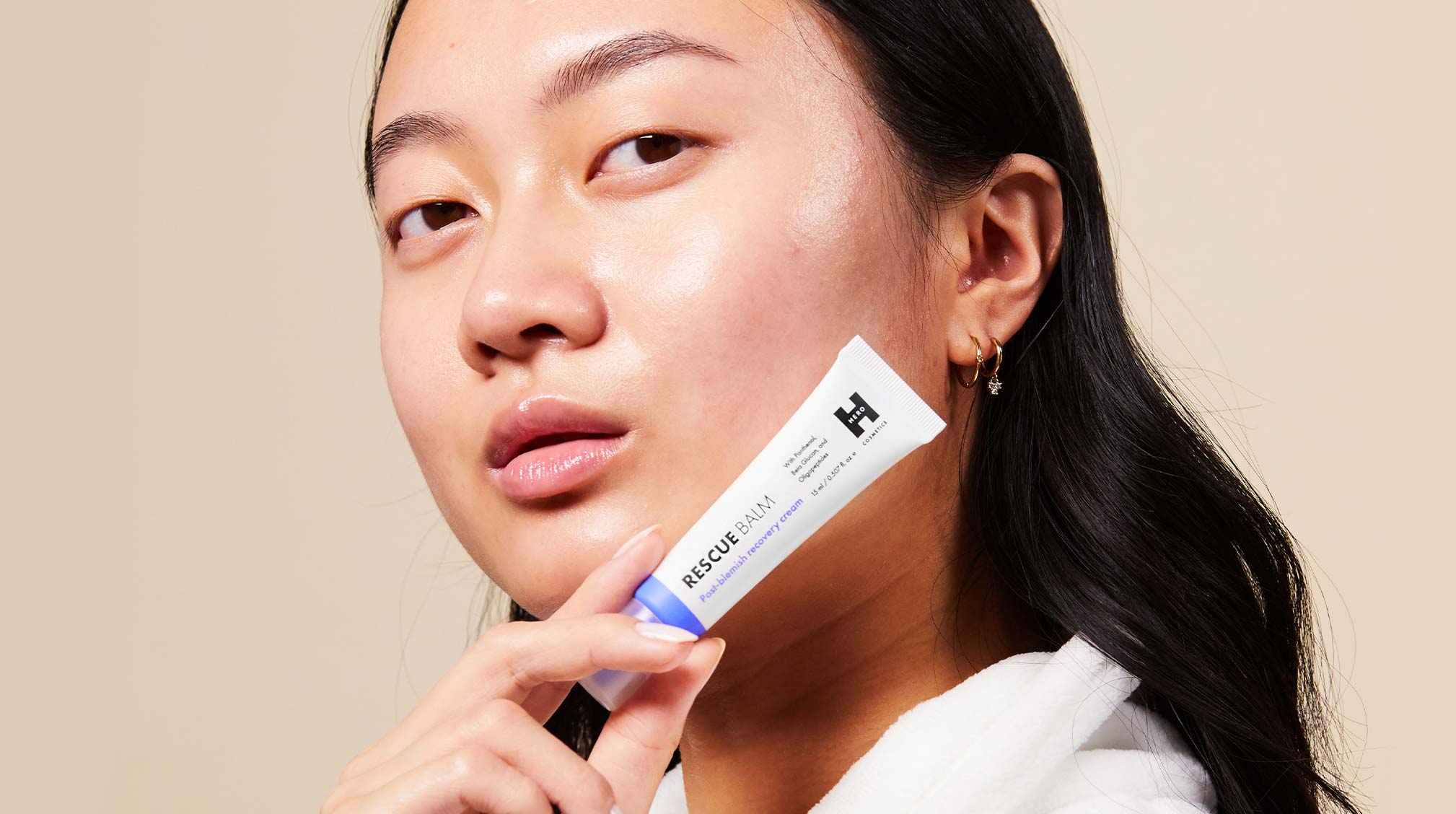 Ever since ELLE named Rescue Balm a 2020 Future of Beauty winner a few months ago, it's been getting a lot of buzz, which means that we've been getting a lot of DMs from people who want to try it … but aren't totally sure what it does, when to use it and where the heck a post-pimple balm should fall in their skincare routine.
We're here to break down why, when and how you should use Rescue Balm. Consider this your simple guide to post-blemish skin recovery.
What causes dry skin and redness after a pimple pops?
Let's talk about post-pimple skin. Sometimes it's oozy, sometimes it's dry and flaky, sometimes it's red. And sometimes it's all of those things at the same time.
Pimples cause injury to the skin's surface as a result of buildup and inflamed skin. Once it pops (or the pus is gently removed with a Mighty Patch), it is essentially an open wound. Pimple scabs are the skin's way of repairing broken skin cells, and pimples that were popped or picked are more likely to have skin cell damage. Using harsh cleansers or astringents to "clean up" post-pimple skin can worsen the situation and lead to even dryer, redder and flakier skin.
Enter Rescue Balm — it's what to put on a popped pimple instead of the zit creams that can further damage your recovering skin.
What is Rescue Balm?
Rescue Balm is the first and only skincare product specifically designed to visibly renew your skin after a pimple. Inspired by first aid ointment (but noncomedogenic and safe for all skin types), it banishes dryness and speeds up the healing phase of a pimple. Here's how it works:
Panthenol (AKA vitamin B5) uses its moisture-retention superpowers to boost skin barrier function and speed up the natural restorative process as your post-pimple skin is recovering.
Beta-glucan hydrates, replenishes and renews skin that is recovering from pimple popping or picking.
Peptides firm, smooth and increase the radiance of your skin, minimizing any leftover signs of those pesky pimples.
Vitamin E revitalizes skin's tone and texture to reduce the appearance of flaky patches and red spots.
RELATED READ: What's the Difference Between Rescue Balm and Neosporin?
How should I use Rescue Balm?
Our customers see the best results when they begin using Rescue Balm immediately after they patch (or pop) a pimple and cleanse the surrounding area. With zero fragrance or irritating ingredients, it's totally safe to use on freshly-popped pimples.
For maximum effectiveness, Rescue Balm should be applied after any acids, toners or serums and before moisturizer. Twice daily, gently rub a tiny dot-sized amount onto the patch of skin where your pimple was. Rescue Balm invisibly melts into the skin to relieve post-blemish dryness and irritation due to sensitive skin — in just a few days.
Pro Tip
Apply Mighty Patch on whiteheads. Leave on for a minimum of 6 hours. After you peel off the patch – nourish skin back to health with Rescue Balm
Your new fave multi-purpose multi-tasker
You know how some people love to use Neosporin or Aquaphor for every possible skin issue under the sun? Well, Rescue Balm is another hard-working, multifunctional skincare solution, but unlike other multi-purpose balms, you don't have to worry about it clogging pores! It can help visibly soothe patches of dry skin, minor skin irritations, razor burn, and small burns from flat irons, straighteners, or curling irons.
By covering post-pimple flakes and ooziness, it also makes a great primer for makeup. If you've got chapped or irritated skin from wearing a mask all day, just layer on some Rescue Balm after you get home for fast relief. And if your skin is in need of some serious TLC, it also works as a replenishing overnight mask. The possibilities are endless.
[[product-ad]]