Get Ready with Mighty Patch: Office Makeup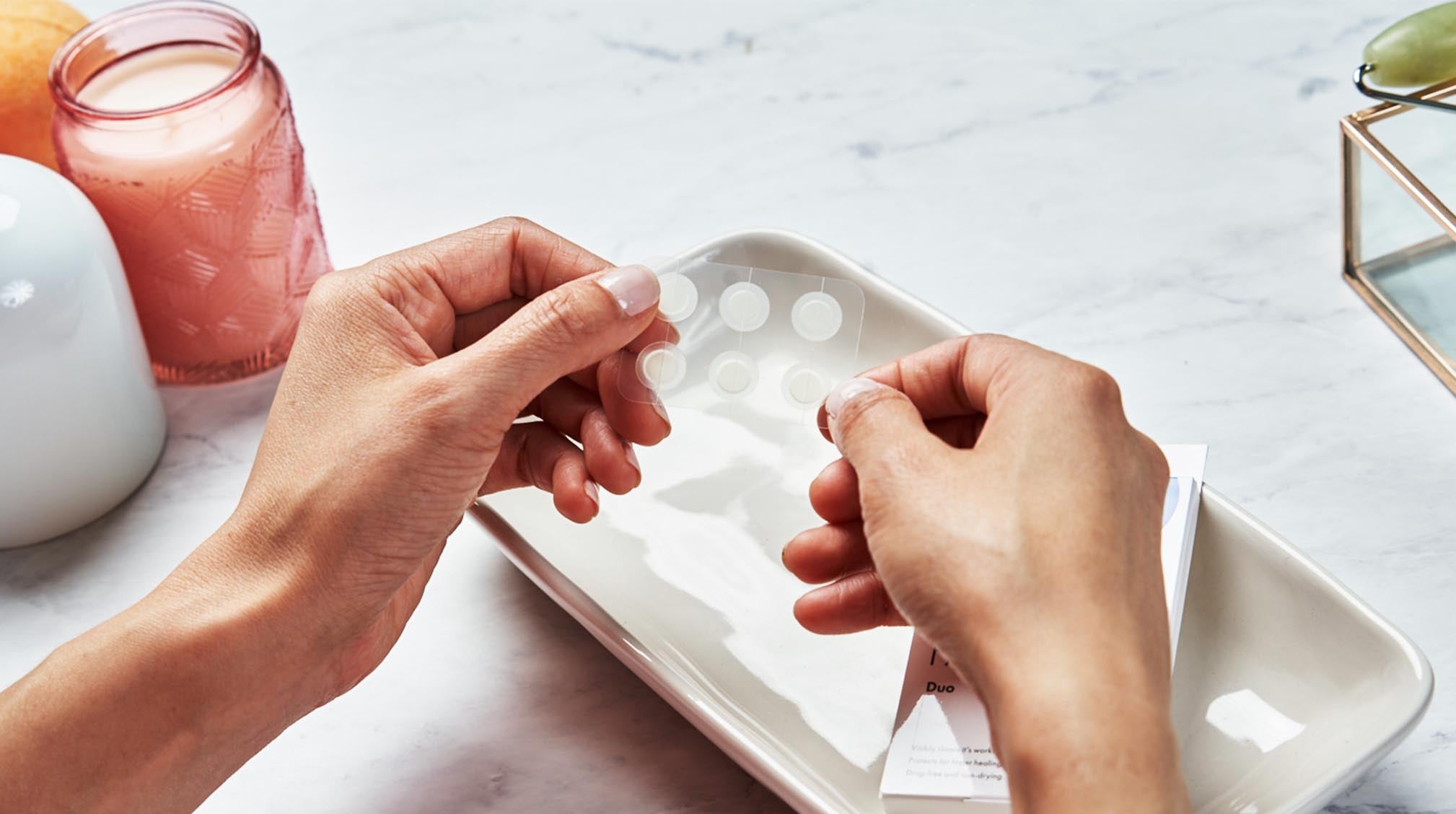 You've prepared your outfit and practiced answering interview questions– but you've woken up with a pimple on your face. Oh no! How do you get rid of it? Unfortunately, pimples almost never disappear overnight. Even if the inflammation has gone down or the whitehead is already absorbed, you'll still want to continue healing with Mighty Patch until it's completely gone. 
That's why we created the Invisible+ for you to heal and conceal pimples during the day. Though the patch is unnoticeable, sometimes the redness from a particularly angry pimple may still peek through. Follow along with us as we show you how to create a simple makeup look over Mighty Patch Invisible+ to hide your pimple and crush your interview!
Meet Ansley!
Ansley works in size-inclusive fashion and likes sporting a light makeup look to work everyday. 
1. Apply Mighty Patch
Before we start, make sure your skin is clean and moisturized! Then take a damp tissue to gently wipe away any product or moisture around the blemish area. Then apply Mighty Patch Invisible+.  This will help the patch adhere better and look more invisible.
2. Foundation
Choose a lightweight foundation and blend with a damp sponge. Coverage wise– that's up to you! There's no reason to avoid a full coverage foundation on a big day, just make sure to really blend it into the skin. When you get to the patch area, make sure there's only a little bit of foundation on the sponge, then gently tap (don't wipe) it into the skin. 
3. Concealer 
Apply a teeny, tiny dot of concealer (thicker works best here) in the center of the patch. Apply with a brush then tap with a finger to blend. 
 4. Translucent Powder
Take a big fluffy brush and in circular motions, load your face with translucent powder. Translucent powder mattifies the skin and takes away any shine that comes from the concealer on the patch. Sometimes applying makeup on pimple patch leaves a ring of concealer around the patch, but translucent powder will "blur" the patch until it's gone and leave a smooth finish. 
5. Brows 
Take a brow pencil and fill in the empty spaces. Tip: Apply product just to the tail of the brow, then use a spoolie to distribute product through the front of the brow.
6. Liner
Black eyeliner can sometimes close off the eye, for a fresh-faced look, opt for a lighter color. Brown eyeshadow is less harsh than black liquid liner, but it'll still give you the same illusion of fuller lashes. 
7. Mascara
Ahhh– our favorite step that forces us to make funny faces and create premature wrinkles on our forehead (but sooo worth it). Take your favorite mascara and apply a single coat over your lashes. Make sure you curl your lashes well and focus the mascara on the center of the lashes. This will open up your eyes and give a brighter, more awake look!
8. Blush
Add some color into the face! Opt for a neutral blush and apply from the apples of the cheek to the tops of your cheekbone!  
9. Lips
Lipstick may smear and/or potentially dry out your lips so choose a tinted balm! Tinted lip balms will hydrate the lips and add shine.
10. Snap a selfie! 
Now go out and crush your interview! 
How do you wear your Mighty Patch? Let us know in the comments below!
[[product-ad]]