Get Ready to Work Magic on Your Dark Spots with the Lightning Wand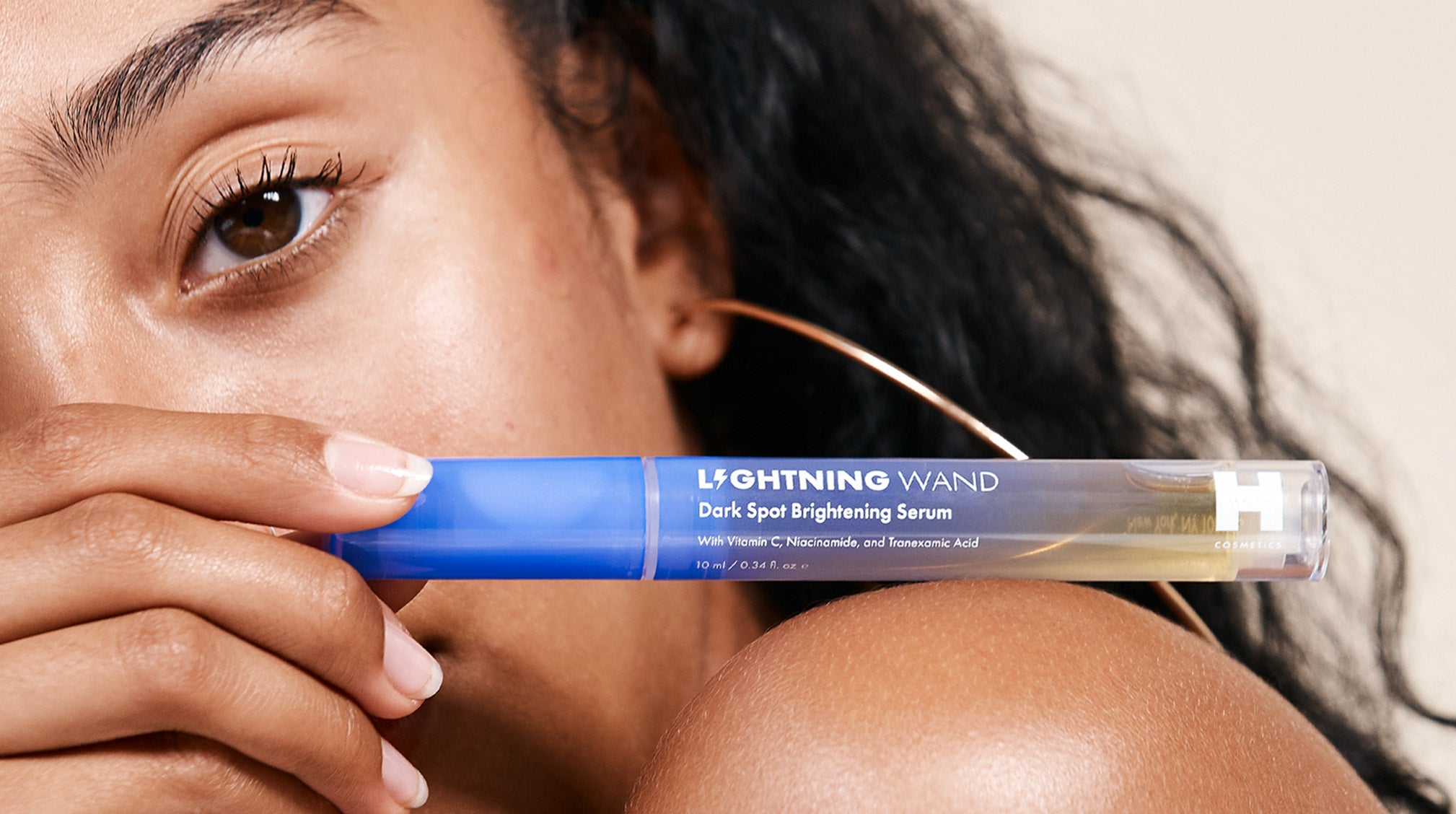 Post-pimple dark spots need no introduction. Sometimes they're red. Sometimes they're purplish. And sometimes they're dark. But regardless of their color, they are annoying reminders of a breakout that you just want to be done with.
What does need an introduction? Our newest product: Lightning Wand! ⚡️
Lightning Wand is a brightening and illuminating serum that visibly fades the look of post-acne marks. The rollerball zaps dark spots with our trademarked trio of advanced brighteners, glycolic acid and a sheer color-correcting tint — so you can bounce back immediately after a breakout.
Your cheatsheet
Main benefits: Exfoliates, brightens, and color-corrects
Who should use it: Anyone with signs of post-pimple marks, dark spots, sun spots, or uneven skin tone.
How to use it: Roll on skin 1-2 times per day as soon as you've extracted a pimple. Repeat until the spot gets brighter.
Key ingredients: Tranexamic acid, niacinamide, vitamin c, glycolic acid, acetyl glucosamine, licorice root, gardenia florida fruit extract
The brightening serum you've been waiting for
Now that you know what Lightning Wand does, let's break down the magic that makes it happen: how it works, what ingredients are involved and how to use it.
As soon as you remove your Mighty Patch or pop a pimple, you can start treating the spot left behind immediately. Lightning Wand tackles post-pimple dark marks in three key ways:
Glycolic acid helps to exfoliate deep within your pores to remove any dead skin left over from the breakout. This allows the lightening treatment to get closer to the source of discoloration in order to work faster.
Hero's Lightning Trifecta™ combines to deliver a hyper-potent brightening strike unlike any other. What's in our trademarked Lightning Trifecta, you ask? Niacinamide to smooth, fortify and illuminate. Tranexamic acid to visibly fade dark spots and even out skin tone. And vitamin C to brighten and revitalize your post-pimple skin.
The sheer peachy-yellow tint of the serum color corrects on all skin tones to keep spots under wraps while the ingredients work their magic. A true skin-illuminating multitasker, Lightning Wand neutralizes the blue-purple undertones in post-blemish pigmentation for an instantly noticeable improvement.
There's more to the dark spot removal magic. Another one of Lightning Wand's key brightening ingredients — Acetyl Glucosamine — has been proven to prompt a synergy effect when combined with niacinamide. Studies have shown the combination is better and brighter together and can drastically improve the look of hyperpigmentation, acne scars, sunspots and uneven complexion.
RELATED READ: Spots 101: Your Ultimate Guide to Differentiating Pigmentation Spots
As we developed Lightning Wand, we were inspired by Ayurvedic medicine and holistic beauty treatments that have been used successfully for centuries. That's why you'll see ingredients like licorice root, turmeric and willow bark combined with a gentle gardenia botanical, and you won't see any harsh ingredients that aren't safe for sensitive skin.
So fresh and so clean
A brilliant formula deserves brilliant packaging. Lightning Wand combines smart airless pump technology with a non-porous stainless steel rollerball, keeping the serum (and your skin) fresh and contaminant-free with every use. Nothing to touch, nothing to spill, and lots of fun to use.
What's the difference between Lightning Wand and Micropoint for Dark Spots?
If you're a Micropoint fan, you may already recognize the ingredients in our Lightning Trifecta. Both products have the same goal — reducing the look of dark spots and red marks — but each plays its own role in your brightening toolkit.
Micropoint for Dark Spots is an intense overnight patch that delivers super-concentrated spot brightening a couple times a week. Its ultrafine hyaluronic microneedles give it an edge for smaller, more intense dark spots. Think of it like a mask for your hyperpigmentation. You use it at home, overnight, for intense dark spot treatment.
Lightning Wand is a twice-daily serum for everyday, all-day brightening. The rollerball makes it perfect for allover use, as it can cover big areas and multiple dark spots — all at once. Plus, the color-correcting tint helps you camouflage your spots without using gobs of concealer.
Lightning Wand and Micropoint for Dark Spots are designed to work as a team for a big-time brightening boost.
Complete your acne-fighting arsenal!
Hero's holistic approach to acne care allows you to take control over your skin's healing journey, from start to finish. From tackling early-stage pimples with Micropoint for Blemishes, to zapping whiteheads with Original, Invisible+ and Surface, to soothing post-pimple skin and fading spots with our after-blemish products, we've got you covered.
Lightning Wand lets you start brightening dark spots on day 1. The brightening treatment pairs powerful illuminators with gentle botanicals, minimizing the look of blemish marks right away. Use it alone or pair it with our other after-blemish products (Rescue Balm and Micropoint for Dark Spots) to push your comeback into hyperspeed.
[[product-ad]]