A Guide to the Best Toner for Oily, Sensitive, Acne-Prone Skin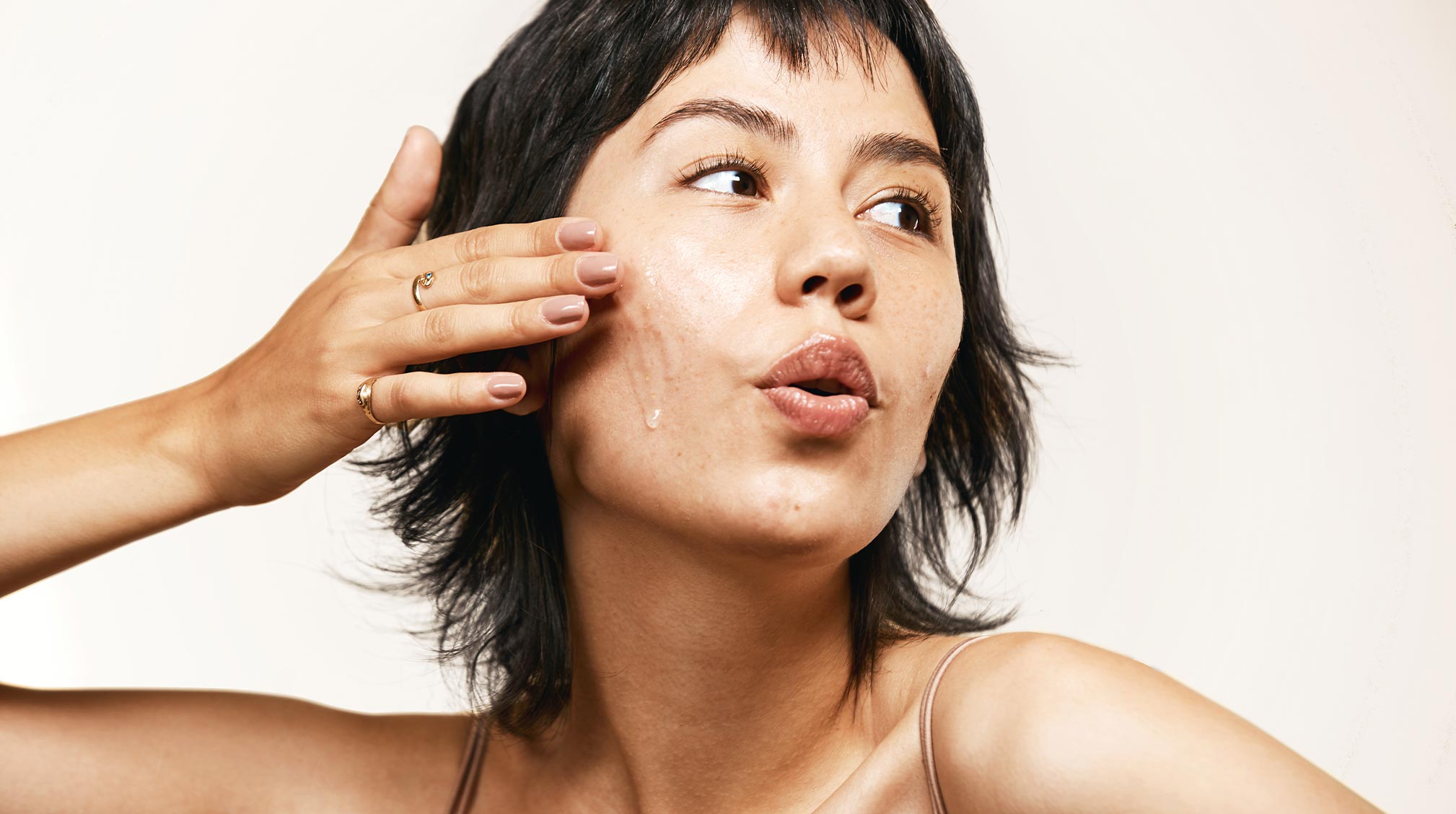 Toner sometimes gets a bad rap, mostly because old school versions were full of drying alcohol and harsh on the skin. However, toners have significantly evolved since the Sea Breeze days and you won't feel the "wow, this must be working" sting from today's gentle, alcohol-free formulas.
In fact, the toner in our brand new Clear Collective line is basically the polar opposite of the harsh astringents of the '80s. Balancing Capsule Toner contains eight — yes, eight — different types of hyaluronic acid to give your skin the hydration it needs for a 24/7 glow. Read on to find out what all that hydration really does to your skin and what you can expect when using the Balancing Capsule Toner.
First, what is a toner?
Basically, toners are liquids that help to balance skin, remove any makeup, dirt, and oil that's left behind after cleansing, and prep skin for the skincare steps to follow. Today's toners are also designed to help with specific skin concerns, such as acne or moisture loss, both of which are addressed by our mega-hydrating toner.

A hydrating toner for acne-prone skin?
Because excess oil (or sebum) is one of the key factors that clogs pores and triggers breakouts, many people assume that hydration is the last thing that acne-prone skin needs. However, all skin needs hydration. Actually, when skin is dehydrated, the sebaceous glands in your pores begin producing extra oil to compensate. And if this overproduction of oil is "treated" with oil-stripping or drying products, that just worsens the underlying cause and your skin gets caught in a very oily, viscous cycle that often leads to even more breakouts.
That's exactly why we created Balancing Capsule Toner! With eight types of hyaluronic acid, it locks in the ideal oil-moisture levels for acne-prone skin, so skin looks healthy, bouncy and satiny (but never shiny).
So, what exactly does all that hyaluronic acid do?
First, let's clear up what it doesn't do: clog pores. Hyaluronic acid is non-comedogenic, does not leave a greasy residue and is safe for all skin types. Think of it like a big drink of water for your skin. As a humectant, hyaluronic acid helps to draw in moisture from the environment and binds that water to skin cells. It also helps to fortify the skin's natural moisture barrier and make skin feel smooth and soft.
Your cheatsheet
Product: Clear Collective Balancing Capsule Toner
Main benefits: Reduces shine, hydrates, tightens pores
Who should use it: Anyone with acne-prone skin
How to use it: Gently press into damp skin after cleansing. Use AM & PM.

Key ingredients: Green tea water, oil capsules, 8X Hyaluronic Multi-Boost, witch hazel extract, zinc PCA
Key ingredients: Glycolic + mandelic acid (AHAs), tropical superfruits, willow bark extract (BHA), gluconolactone (PHA)
What else does the Clear Collective skin toner do?
The benefits of the Balancing Capsule Toner don't end with hydration. Formulated to match the skin's natural pH levels, it controls unwanted shine, tightens pores and moisturizes to reduce signs of redness. The ideal Step 2 in your clear skin routine, toner also preps skin to absorb the serum and/or moisturizer that follow. Pores are left feeling fresh, clear and balanced, while skin feels velvety soft (even before you apply your moisturizer). Balancing Capsule Toner helps skin in four key ways:
Acne-prone skin can often appear red or irritated, especially in the midst of a breakout. Green tea's benefits for skin and anti-inflammatory properties can help visibly calm red, dehydrated skin.
Our unique 8X Hyaluronic Multi-Boost delivers eight levels of hydration to replenish the skin's moisture barrier and reduce signs of redness.
Tiny oil capsules fortify the moisture barrier with mini-bursts of nutrients that naturally seal in moisture for long-lasting hydration and silky-smooth skin.
Its skin-perfecting superpowers end with a combo of Witch Hazel Extract + Zinc for skin, which work together to tighten enlarged pores and banish midday shine without drying out skin. Witch hazel for skin also has powerful antioxidant properties that can help protect skin against future damage.
RELATED READ: The pH Balancing Act: How it Can Help with Acne
How to use a toner
Step 1: Wash face with an exfoliating cleanser
Step 2: While your skin is still slightly damp, apply the toner to hands (cotton pads work too, but clean hands are best). Press and massage toner liquid into the skin. 
Step 3: Finish everything off with a hydrating moisturizer to seal in the benefits. Top with SPF in the AM. 
Finish off your skincare journey 
Totally gentle and alcohol-free, the Clear Collective Balancing Capsule Toner preps skin for greatness on its own, but works even better when used together with the Exfoliating Jelly Cleanser and the Clarifying Prebiotic Moisturizer. Clear Collective makes acne care simple with these three super-effective products that work together to exfoliate, brighten, hydrate, clarify and balance oil. Now that's a super-powered trio! ✨
[[product-ad]]