The Four Skincare Products You Absolutely Need in Your Carry-On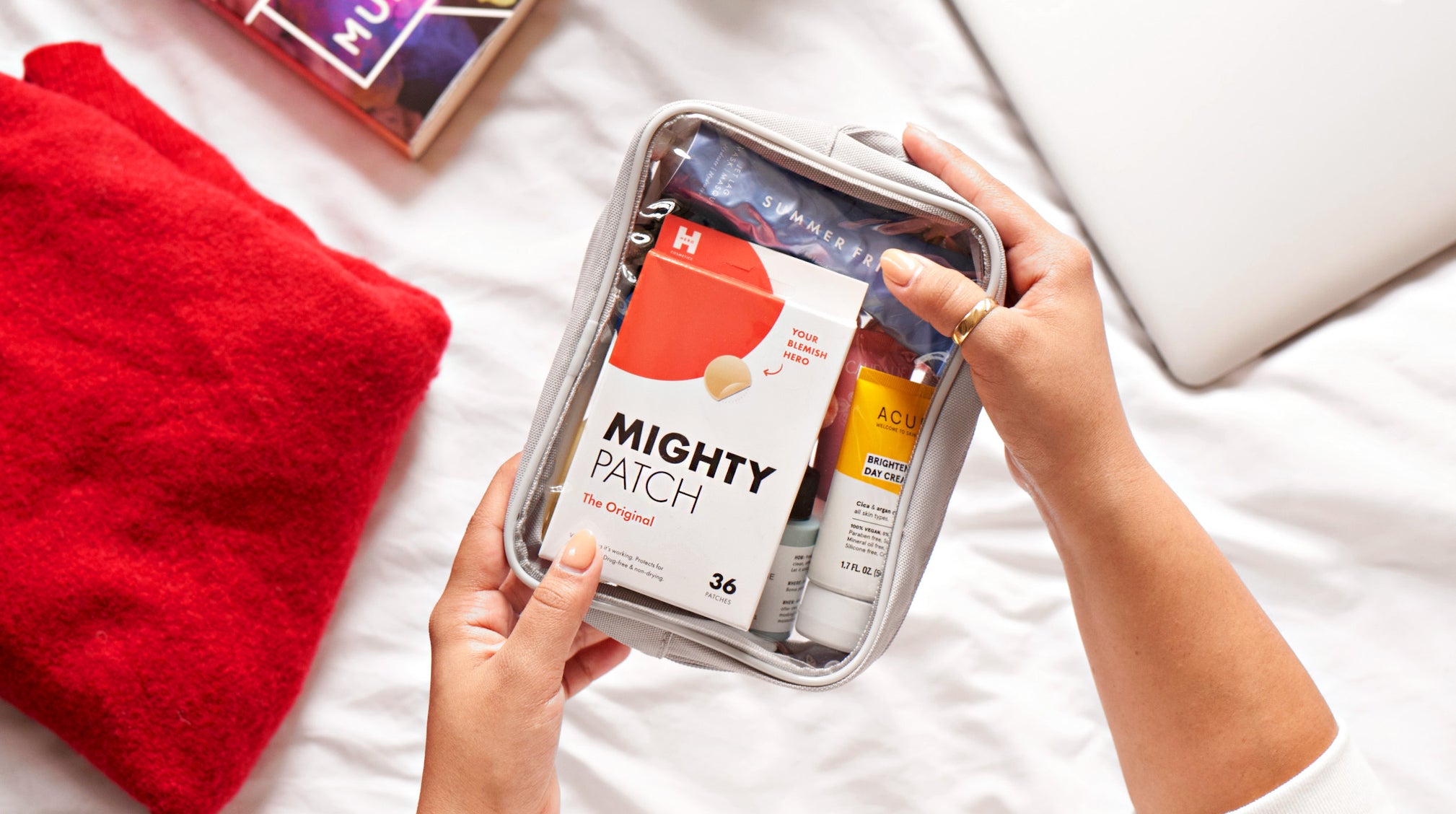 It may be the most wonderful time of the year, but all of the parties, sugar and stress can make our skin feel like it's at its worst. Add to that the blustery weather, dry indoor air and a few airplane flights and the struggle gets even realer!
RELATED READ: Why You're Experiencing Airplane Acne
When you are packing for holiday travel, choosing the right skincare products can be just as challenging as selecting amazing, well-coordinated, wrinkle-free outfits. As much as we'd love to stick to our usual routines, traveling requires us to pare down both in size (to meet the 3.4-ounce limit) and in the number of steps. To help you make those difficult choices, here are the four must-haves for an ideal travel skincare routine:
Cleanse
It's always essential to thoroughly remove dirt, oil and makeup each night, and even more so while traveling. From the plane to the airport to your Uber, you are running into a lot of dirty stuff. And the last thing you want to do is use some harsh hotel "facial bar" - talk about drying out your skin! Try one of our go-to cleansers: CeraVe Foaming Facial Cleanser, which cleans and removes impurities without disrupting the skincare barrier. Plus, it contains hyaluronic acid to help retain your skin's natural moisture and niacinamide to help calm skin. $6 at Amazon.com


Moisturize
You may want to consider tailoring this important step based on where you're going. If you're headed somewhere hot and humid, switch to a lightweight moisturizer with a matte finish to help prevent your skin from appearing greasy. Bioderma Sebium Mat Control absorbs quickly and regulates shine ($20 at Dermstore.com).  For cooler climates, choose thicker moisturizers with peptides for more intense hydration. Philosophy Anti-Wrinkle+ Miracle Worker Line Correcting Moisturizer packs a lot of punch in a tiny jar ($24 at Ulta.com).

Protect
Regardless of whether you'll be surfing, skiing or just sitting on a plane, sunscreen is a vital step in your travel routine. Studies have shown higher rates of skin cancer in pilots and flight attendants, which makes sense. When you're flying, you're 10,000 feet closer to the sun and at a higher risk of exposure to ultraviolet rays. Try SUPERGOOP! Super Power Sunscreen Mousse Broad Spectrum SPF 50. $19 at Sephora.com

Treat
There are so many factors during holiday travel that can lead to breakouts - stress, changes in routine and environment, and all those delicious holiday goodies, just to name a few. Be prepared to zap your zits in just hours with Mighty Patch Invisible+. Seamlessly tapered edges and a clear matte finish make it virtually undetectable. One Allure writer even tested Mighty Patch at the beach! $18 at Herocosmetics.us
Now that you've got your skincare basics covered, it's time to get back to picking and packing those fabulous outfits. And if you need some reading material for your flight, check out our latest and greatest skincare articles at Skin School!