Face Mapping: What Your Acne Could Be Telling You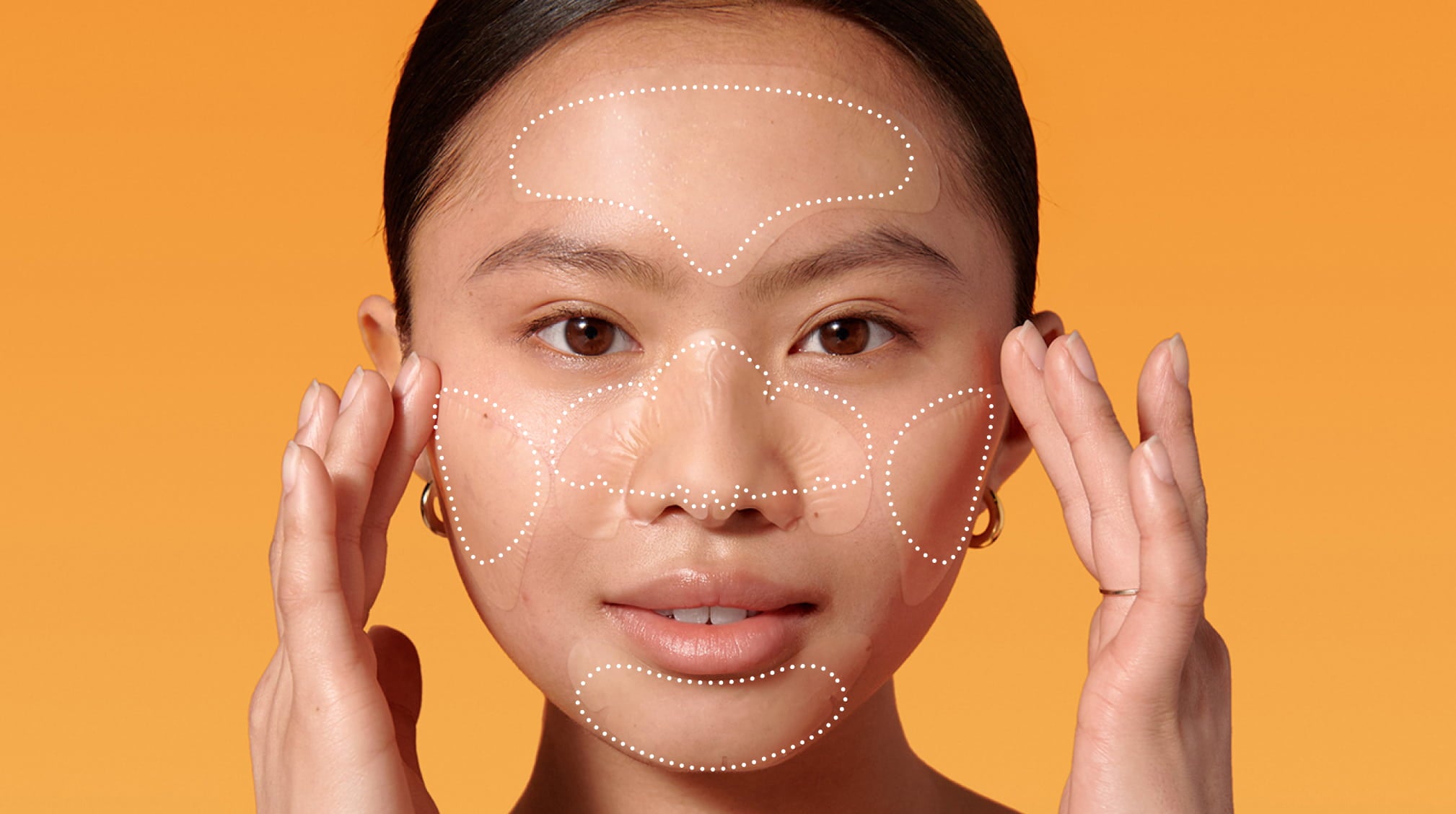 Just about everyone is an active participant in their skincare journey. Whether that involves researching ingredients, obsessively scrolling through real reviews or following skinfluencers, we want to know if something will work, why it works and how it will impact skin in the long run.
In that spirit, face mapping can be an intriguing way to uncover what's actually going on inside your body that may be causing breakouts. The ancient Chinese face mapping theory suggests that a pimple's location on a face chart can help you to pinpoint what's causing it.
"Chinese face mapping originated 3,000 years ago and is used to view the face as a map with each facial area connecting to different organ systems," says Dr. Anna Chacon, board-certified dermatologist and writer at MyPsoriasisTeam. "Traditional Chinese Medicine (TCM) believes that the imbalances in an organ system can also result in blemishes and acne found on the face. With that, face mapping is then useful in directing the diagnosis and treatment approach to treat the root cause of an acne outbreak."
So how does it work, is it accurate and which facial locations mean what? We're breaking down what two dermatologists have to say about face mapping charts and the analysis of how you should treat acne on each area of the face map.
Forehead acne
According to TCM, the forehead is connected to the liver and gallbladder, which means that reducing saturated fats and the amount of processed food in your diet could potentially reduce breakouts.
However, there are other possible causes of acne above the brows. "Acne along the hairline can potentially be triggered from hair products, such as pomades and hair gels," says Dr. Erum N. Ilyas, a board-certified dermatologist. "Yeast and sweat may also trigger a type of breakout considered a yeast folliculitis, or on social media circles, 'fungal acne'."
Making the switch to oil-free hair care products can help alleviate these triggers, as can cleansing skin immediately after a sweat sesh. And if your forehead breakouts have visible pus or whiteheads, try the Mighty Patch Face forehead patch. The flexibly thin, XL patch even curves to cover the hard-to-reach space between your eyebrows.
Breakouts on your nose
"The nose relates to the heart," says Chacon. "Oiliness and acne on or around the nose could point to an issue with cholesterol or blood pressure." Increasing your vitamin B intake, as well as replacing a meat- and salt-heavy diet with fruits, veggies and nuts can help decrease the amount and intensity of flare-ups on your nose.
Mighty Patch Nose – or the nose patch that comes with Mighty Patch Face – is specially designed to fit smoothly across all the contours of your nose, so the hydrocolloid gel can effectively absorb oil and pimple gunk while you sleep.
Cheek pimples
According to Chacon, "the cheeks represent the respiratory system, stomach or spleen. Breakouts in these areas may point to stomach inflammation, sinus problems or allergies." Getting allergies under control, avoiding environmental triggers like pollution and smoke, or cutting back on sugar may all have a positive impact on your skin.
The cheek patches in Mighty Patch Face have a soft triangular shape, so they provide coverage (and gunk-sucking power) from the edge of your nose to your ear and jawline.
Chin acne
There are a few possible causes of chin acne. "Hormonal acne is the most common that we consider in this area, given that it has significant androgen sensitivities," says Ilyas. "However it is also important to note that depending on the age and type of hair growth in this area, ingrown hairs can also trigger significant breakouts, as well as discoloration."
Gut health can also affect hormones, so limiting dairy and sugars right before your period can help. Some experts suggest drinking spearmint tea and taking omega-3 supplements. And of course, we recommend the chin patch in the Mighty Patch Face collection. Its longer, curved shape covers the entire chin without interfering with your mouth or the ability to smile, eat or laugh.
RELATED READ: The Gut-Skin Connection
The best combo for clear skin: The ancient method of face mapping can still work today, especially to address recurrent breakouts in a specific area. When combined with modern day solutions for acne-prone skin (like Mighty Patch Face), you'll be well on your way to clearer, healthier-looking skin in no time.