Next Stop, Hydration Station. The Best Way to Glow All Winter Long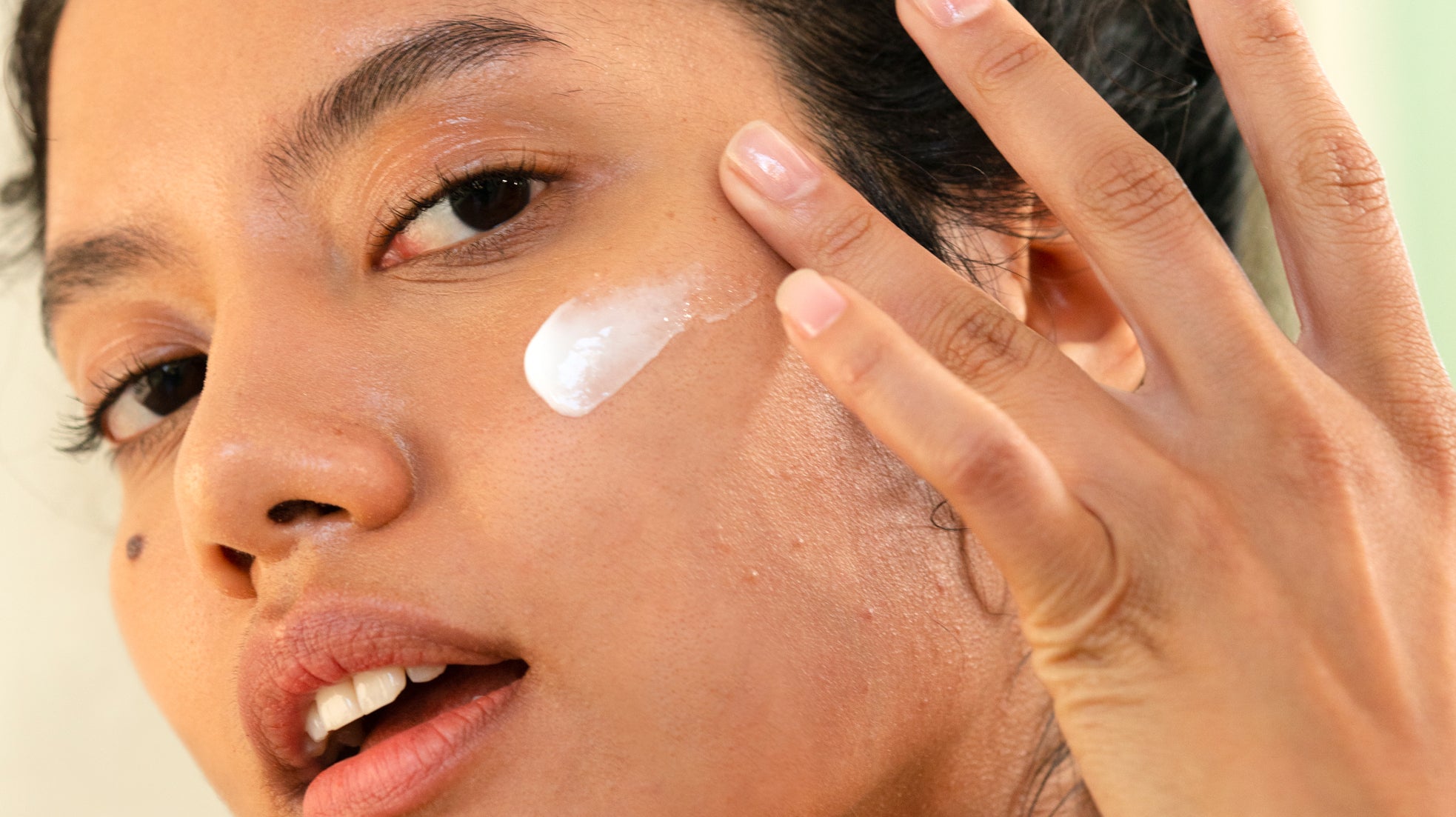 It's cold outside, dry inside and your sun-kissed glow may have faded, but that doesn't mean you have to spend the next six months looking like a scaly reptile.
What it does mean: it's time to up the hydration in your skincare routine. "During the colder months, there is less moisture in the air, which leaves our skin needing a little extra tlc," says Esthetician Eden Gilliam.
Ahead, we break down how moisturizers work, tips to find the best moisturizer for your skin and what powerhouse ingredients can help you get through the colder months flake-free.
The basics: What is a moisturizer and how does it work?
A moisturizer is a skincare product designed for the primary purpose of protecting, hydrating and lubricating the skin. The ingredients doing the heavy lifting in a moisturizer generally fall into three categories: humectants, emollients and occlusives.
"Humectants are ingredients that pull moisture out of the air into the skin and emollients create a barrier to keep moisture in," says Gilliam. "It's important to have both, especially in cooler months." Humectant ingredients are light and absorb quickly, which makes them a perfect choice for acne-prone or oily skin. Since emollients also soften the skin, fine lines and wrinkles, they are great for dry or aging skin.
Occlusive ingredients create an even thicker protective barrier over the skin's surface. Waxes, silicone and oils (olive and soybean) are a few of the most common occlusive agents. Because they are so thick and heavy, it's best to save occlusives for severely dry, sensitive, or damaged skin or limit them to usage at night. If you have acne-prone skin, but need an occlusive ingredient for skin repair, find one that's noncomedogenic, like the dimethicone in Rescue Balm.
RELATED READ: Moisturizers, Explained. What's the Difference between Humectants, Emollients and Occlusives?
The best facial moisturizer for your skin type
First things first. In order to find the right daily moisturizer for your skin, you need to know your skin type. If you're not sure, or think it may have changed, check out our five-question quiz here.
Ingredients aren't the only key to choosing the right moisturizer; consistency counts too. Here's what to look for in the ideal hydrator.
For dry skin
Because it produces less sebum (oil) than normal skin types, dry skin needs a moisturizer that will help replenish the lipids needed to retain moisture. Creams that are thicker in consistency will have an equal balance of water and oil to get the job done. Choose a formula with multiple types of moisturizing ingredients (like humectants and emollients), such as hyaluronic acid + squalane or glycerin + shea butter combos.
For oily skin
On the opposite end of the spectrum, when skin produces excess oil, it can feel greasy, look slick and become more prone to breakouts. Oily skin types should use gel-based moisturizers or a serum-moisturizer hybrid for oil-free, water-based hydration that will help keep skin clear. Hyaluronic acid is a standout ingredient because it can hold up to a thousand times its weight in water. And that means it delivers serious hydration for winter-ravaged skin, all without the shine.
Pro Tip
When it comes to moisturizer, a nickel-sized amount should cover your entire face and neck, even in the coldest weather. Overdoing it will leave skin looking greasy and potentially lead to breakouts.
For combination skin
Combination skin types should look for balance in their moisturizer to bring balance to their skin. Look for a face moisturizer that contains exfoliating, brightening and hydrating ingredients. Lightweight lotions that contain a blend of humectants (hyaluronic acid, aloe vera, urea and glycerin) with peptides, natural sugars or plant extracts help soothe dry patches without adding extra oil. If you're looking to save time in your AM routine, a good option is tinted moisturizer with SPF.
Your body needs hydrating love too
Unless you want to greet next spring with bare legs that look like you've been rubbing them in ashes, don't forget to moisturize the rest of your body too! Your skin is still affected by the elements, even when it's covered in clothing.
If body acne is a concern, you may be a bit hesitant to slather yourself in cream from head to toe. But even the oiliest, most acne-prone skin needs moisturizer. We created the three-step Brave Body routine to strike that balance — minimizing oil and unclogging pores while renewing and softening skin — all at the same time. It's whole-body, all-day hydration that will keep acne-prone skin happy through the winter months, and all year long.