The Difference between Chemical and Physical Sunscreens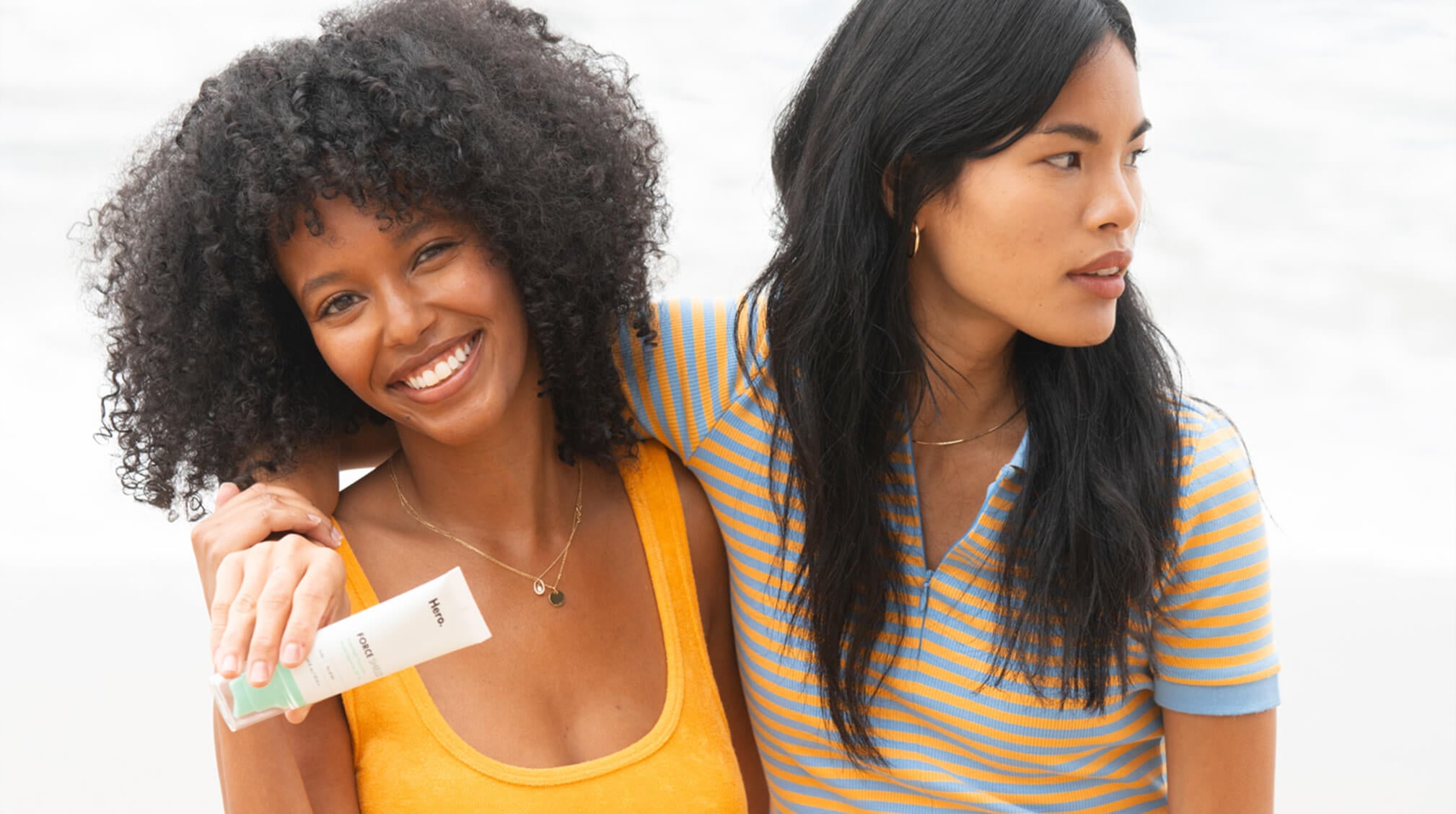 Outdoors, indoors, rainy, sunny — you already know you need to wear SPF every day. But what's the difference between physical and chemical sunscreen? Is mineral sunscreen something totally different? And which is best for my skin? To tackle these top sunscreen questions, we reached out to the experts. Here's what they had to say.
What's the difference between physical sunscreen and chemical sunscreen?
The biggest difference between chemical and physical (AKA mineral) sunscreens is how they protect you from skin-damaging, cancer-causing UV rays. "These sunscreens work differently in the sense that chemical sunscreens absorb into the skin and absorb sun rays and ultraviolet light, converting rays to heat, and then releasing them from the body," says Dr. Anna Chacon, board-certified dermatologist and writer at MyPsoriasisTeam, "Physical sunscreens reflect the sun rays and typically are larger particles that sit on the surface of the skin."
Basically, physical sunscreens sit on top of the skin and reflect the sun's rays, while chemical sunscreens are absorbed by the skin and convert UV rays into heat.
RELATED READ: Time for a Refresher: Suncare 101
What ingredients are used in physical sunscreens? How about chemical sunscreens?
According to skincare chemist Victoria Fu, "The easiest way is to just remember the physical (also called inorganic or mineral) filters. There are just two physical filters: titanium dioxide and zinc oxide. The rest of the filters are all chemical filters (also called organic filters)."
While mineral sunscreens contain only those two possible active ingredients, chemical sunscreens are formulated with any number of active ingredients. "Chemical sunscreen ingredients usually consist of avobenzone, oxybenzone, octinoxate, octisalate, ecamsule, homosalate and octocrylene," says Chacon.
Sunscreen cheat sheet
Which sunscreen is right for you?
All of the derms and experts we spoke to agree: the best sunscreen type is the one you like and will actually wear, since any sunscreen is 💯 better than none. "Our recommendation is to always patch test and choose a formula texture you like enough to slather all over, even if you need to choose a lower SPF," says skincare chemist Gloria Lu. "Better application of sunscreen (AKA applying enough sunscreen, reapplying after 2 hours) is the best way of protecting yourself from the sun and potential skin cancer."
For acne-prone or sensitive skin, dermatologists typically recommend physical sunscreens, as they are less likely to clog pores or cause sensitivity reactions. Physical sunscreens also provide broad spectrum protection against both UVA and UVB rays, and are believed to be safer for the environment.
The best physical sunscreen for acne-prone skin
Superlight Sunscreen SPF 30 delivers weightless protection and lightweight hydration in a sheer green tint that neutralizes redness.The dermatologist-approved, 100% mineral formula won't clog pores, protects skin from both UVB and UVA rays, and doesn't contain chemicals that damage coral reefs. Talk about a sunscreen win-win-win. 🙌