Liquid I.V. Hydration Multiplier: The Fast Track to Glowing Skin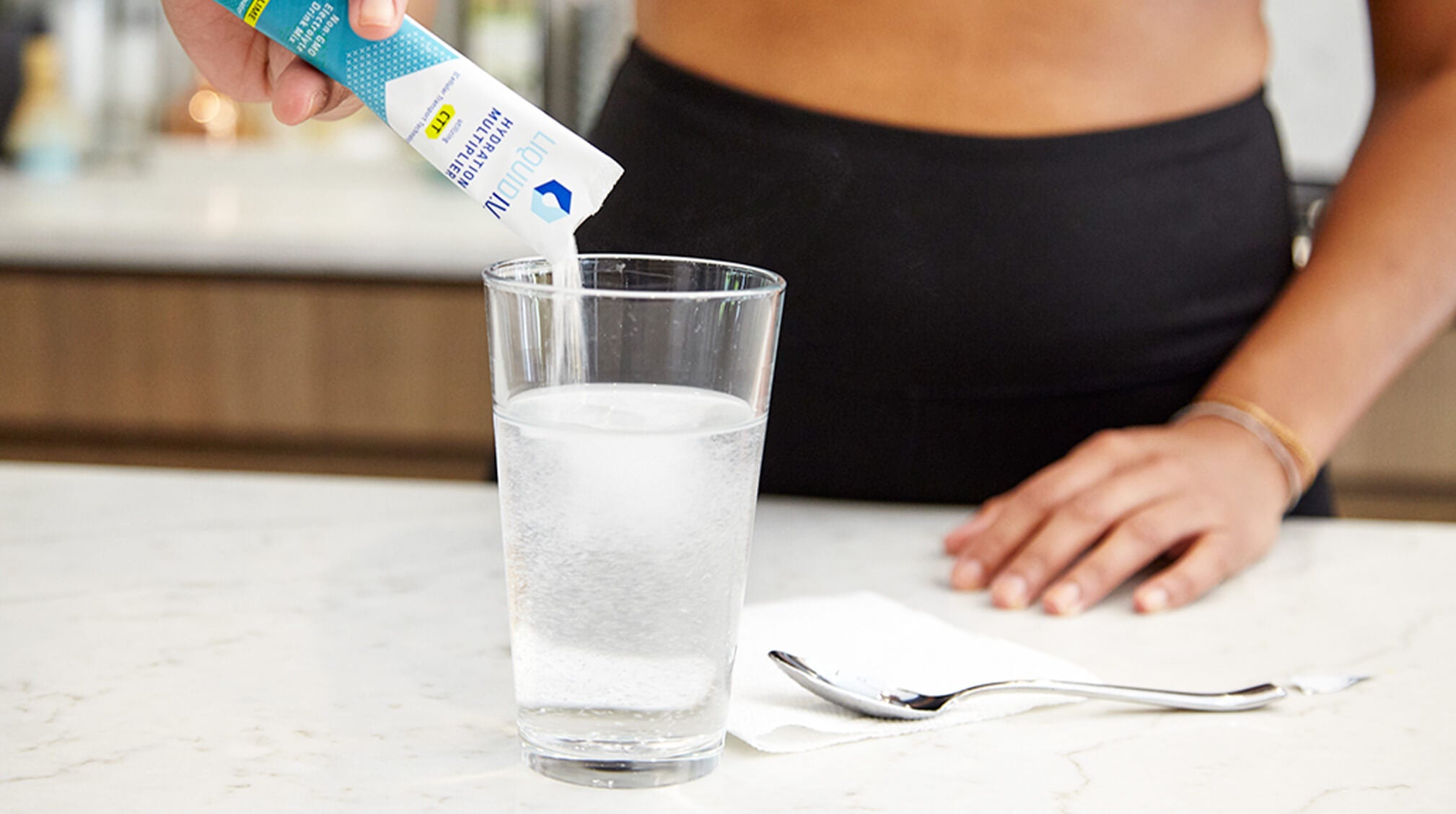 We've all been told dozens of times how important hydration is for the appearance of skin. It reduces dryness and fine lines, giving your face that radiant, dewy, just-left-the-beach look. It beats acne by flushing out toxins that would otherwise get expelled through your skin. It provides moisture, removing the need for your pores to pump out excess oil. Yes, in a perfect world, we would be optimally hydrated —our cells plump, our faces glowing, and our water bottles perpetually full. But who has the time to drink the 8-10 glasses a day we need to actually achieve this Olympic level of hydration?!
Unless we prioritize water intake, it's a pretty difficult task—and most of us have other things we want to prioritize (such as, you know, careers and relationships). Liquid I.V. Hydration Multiplier takes away the heavy lifting of hydration. One stick in 16 ounces of water can provide 2-3 times the hydration of water alone! How is that possible, you ask? Let's dive in:
Waste not, want not 
A little-known fact about the human body is that we can drink all the water we want, but not all of it actually gets absorbed and used by the body. That's why we need to drink so much to stay hydrated—a lot of it turns into waste before it gets to the bloodstream. Hydrating properly is more a matter of increasing the absorption rate than it is about chugging glass after glass.
That's where Liquid I.V. comes in.
LIV has its roots in a simple and highly effective medical formula called the Oral Rehydration Solution, or ORS. Around 1978, the World Health Organization developed ORS, containing a precise ratio of sodium, glucose, and potassium, to help severely dehydrated patients to rapidly absorb the water they needed to stay alive. (No biggie.)
Liquid I.V.'s spin on hydration 
Liquid I.V. is built upon the science of ORS, but they've changed the game—and taken it to a whole new level. They made ORS healthier, better-tasting, and less artificial—perfect for healthy people with active lifestyles. Their nutrient delivery system, Cellular Transport Technology (CTT™), pulls water rapidly into your bloodstream —boosting your hydration, flushing out toxins, and providing your skin with much-needed moisture. Liquid I.V also added Vitamins B and C for a little bit of extra glow. Plus, they worked with the best beverage scientists out there to make sure your hydration solution comes in delicious flavors (so you actually WANT to guzzle it by the glassful!)
Staying hydrated improves acne skin 
Okay drinking more water isn't exactly a cure to acne but it definitely helps! There was probably a time when you thought getting rid of chips in your diet and chugging two glasses of water in one minute can get rid of a pimple overnight. But that's not realistic. However, drinking water does prevent your skin from becoming dehydrated, tight and flaky. Drinking 4-5 glasses a day won't dehydrate you either, but you need water for your organs to function–and the skin is your largest organ so you want at least 8 glasses for look its best!
You'd need to drink a whole lot of water by itself, on a really consistent basis, to achieve a level of hydration that would make a difference for your face. Instead, try Liquid I.V. Hydration Multiplier, and get yourself on the fast track to plump, juicy skin.
Hydration AND skincare—it's the perfect summer beauty hack.
P.S. Did you know? Liquid I.V. is in our wellness pack! You can add a wellness pack to your cart with any purchase anytime during June Acne Awareness Month.