Lightning Wand vs. Micropoint for Dark Spots: What's the Difference?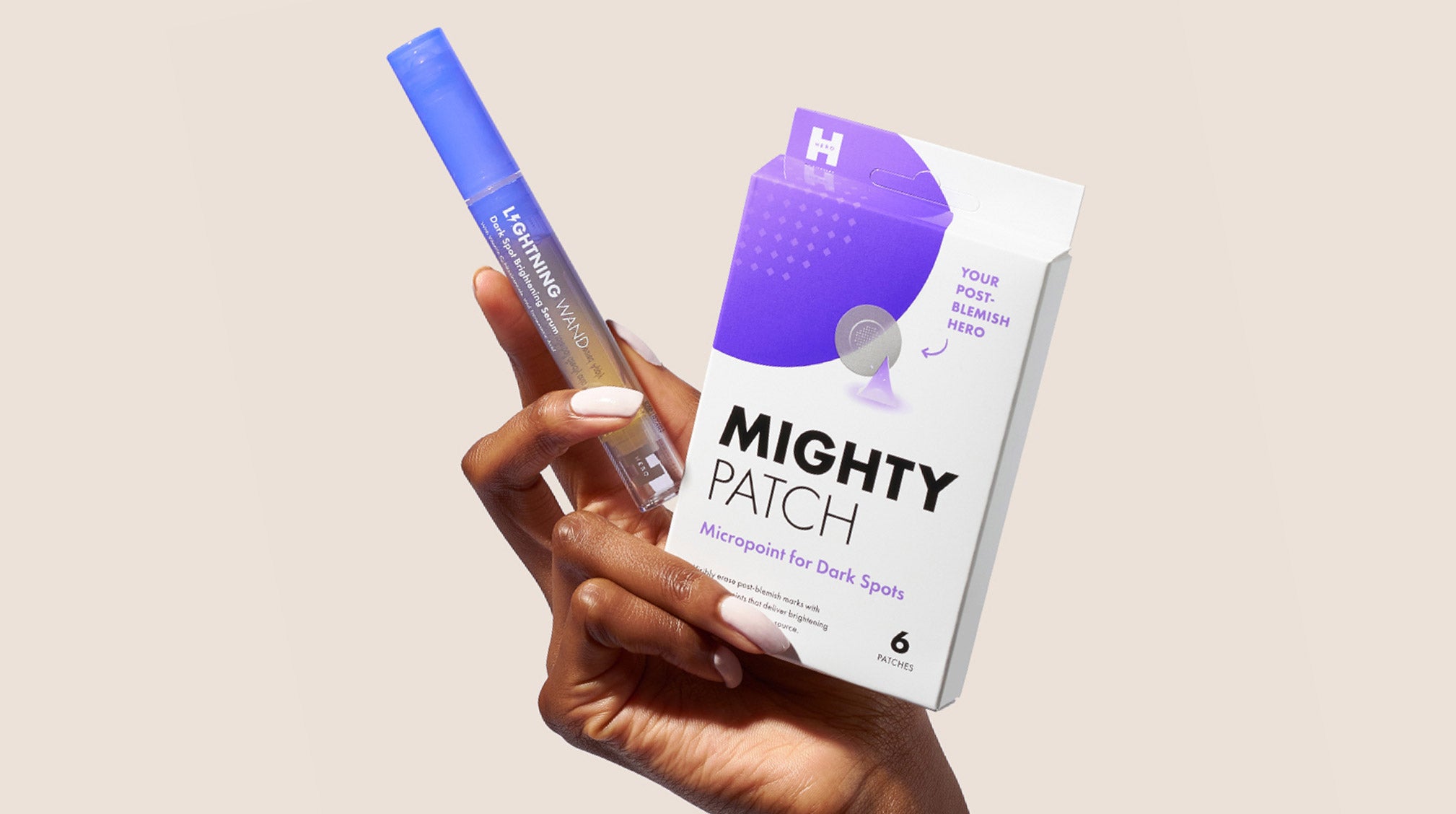 In case you haven't heard the good news, there's a new Hero product in town. Allow us to introduce you to Lightning Wand.⚡️
Here are the fast facts on Lightning Wand:
What is it: Brightening and illuminating serum
It's superpower: Visibly fades the look of post-acne scars and sunspots
Why we made it: Post-acne marks can take months to go away on their own—we want bright skin, fast
Lightening Wand is a triple threat
There are three reasons why the Lightning Wand is a homerun dark spot and acne scar treatment.
It exfoliates — Lightning wand contains glycolic acid that gets rid of dead skin so your skin can better absorb the serum.
It brightens — Lightning Wand slays dark spots and uneven skin tones with a trio of advanced brightening ingredients: niacinamide, tranexamic acid, and vitamin C. It also contains acetyl glucosamine for supercharged brightening, licorice root for boosting skin clarity, and gardenia Florida fruit extract to smooth skin texture.
It color-corrects — Lightning wand doesn't just combat dark spots and acne spots. It also hides them with a sheer peachy-yellow tint while it works its magic.
Also, did we mention the packaging is, dare we say, sexy? It features a super-portable, travel-friendly wand design with a stainless steel rollerball and airless pump technology that keeps the serum and your skin nice and sanitary. We predict Lightning Wand will be making a lot of Instagram cameos.
How to use Lightning Wand and MPDS together
Now, we know what you're wondering: How does Lightning Wand differ from Micropoint Dark Spots? Great question! They're the same, but different.
Lightning Wand and Micropoint for Dark Spots are both dark spot treatments and their objective is the same: reduce the look of dark spots and post-acne marks. They also contain similar skin brightening ingredients. However, their delivery is different, so each product plays an essential role in your skin brightening toolkit.
Micropoint for Dark Spots is an overnight patch that's designed for use after a blemish is gone. It delivers spot brightening ingredients with ultrafine hyaluronic needles. So it's a seriously concentrated spot brightening treatment that's great for tackling smaller and more stubborn marks. Using it one to two times per week is plenty.
On the other hand, Lightning Wand can be used as soon as you've popped or patched a pimple. It's safe to use once or twice per day on the days you're not using MPDS. Its translucent yellow tint looks invisible on all skin tones. So you can wear it under makeup or on bare skin.
Pro Tip
On days you're not using MPDS, add some Rescue Balm to the mix to nourish your post-breakout skin. It's formulated with ultra-replenishing antioxidants and peptides so your skin can look good as new in days.
Here's a recap of the two lightening treatments, bullet-style:
Lightning Wand
Reduces the look of dark spots and post-blemish marks
Rollerball serum with bag-friendly packaging for on the go
Contains glycolic acid, our Lightning Trifecta™ (niacinamide, tranexamic acid, and vitamin C), licorice root, and gardenia florida fruit extract
Use once or twice per day
Can be used all over and cover big areas and multiple dark spots at once
Includes a color-correcting tint to conceal discoloration
Micropoint for Dark Spots
Reduces the look of dark spots and post-blemish marks
Overnight patch with 173 ultrafine hyaluronic needles
Contains brightening ingredients such as niacinamide, tranexamic acid, beta-glucan, and vitamin C
Use one to two times per week
Highly concentrated spot brightening for small and stubborn marks
The takeaway
Like Batman and Robin, Lightning Wand and MPDS are meant to go together. Think of Lightning Wand as a moisturizer you can use daily and MPDS like a face mask you treat your skin to a couple of times per week for a deep treatment. Together, they are your one way ticket to Bright Skin City.
[[product-ad]]