Lightning Swipe vs. Lightning Wand: Which Skin Brightener to Use When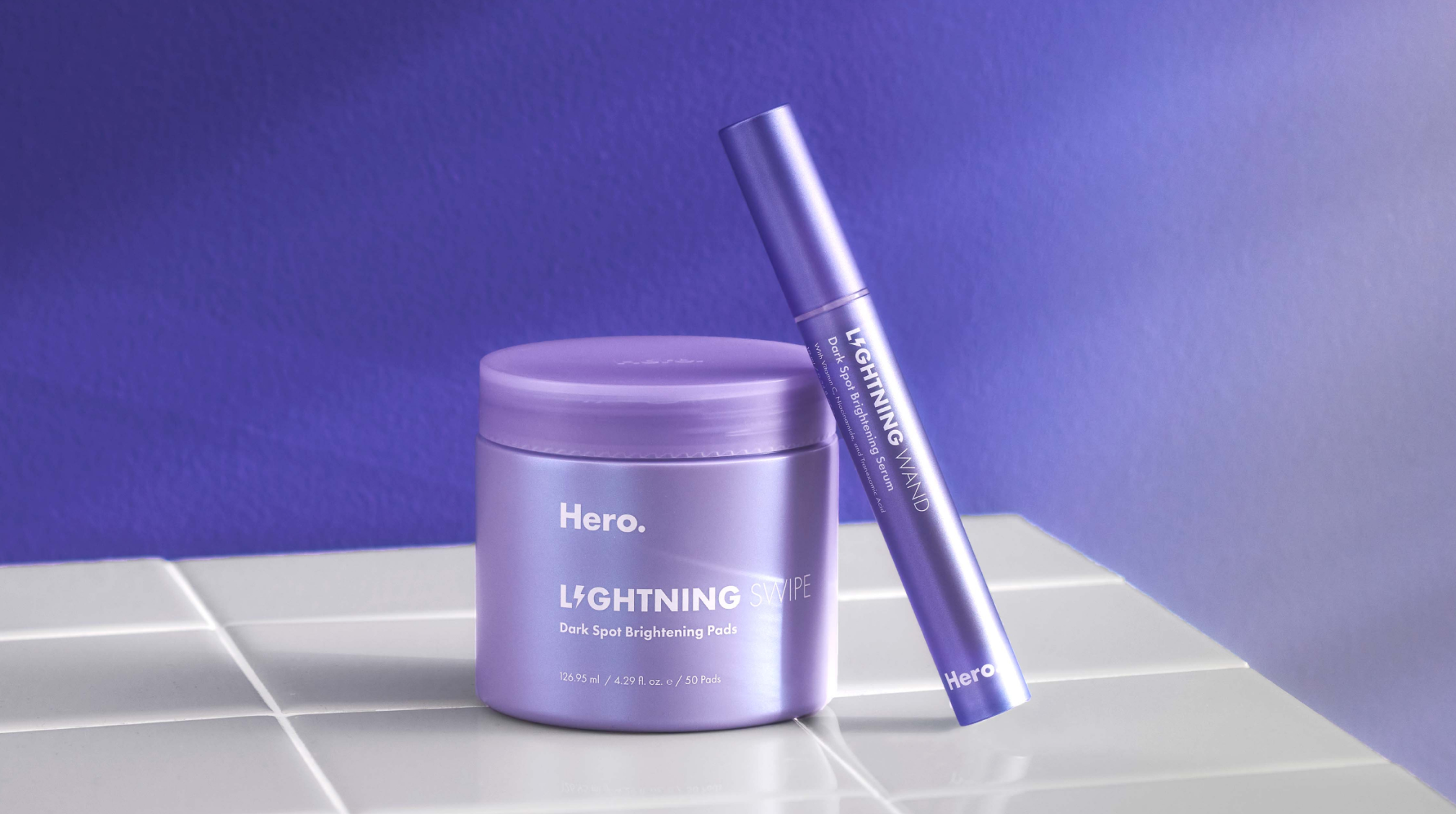 You know what's better than finding a skincare product that actually delivers on its promise to help fade dark spots faster than the weeks or months it usually takes? Finding two skincare products that make quick work of those not-so-friendly reminders of past pimples and breakouts.
If you've already tried Lightning Wand and Lightning Swipe (or read the reviews), then you know what I'm talking about. This duo is the cat's pajamas when it comes to brightening spots, smoothing texture and giving skin an overall radiant glow. But if you've been wondering about the exact difference between the two, and when to use which one, we've got the answers you're looking for.
First, what is Lightning Swipe?
The once-daily, post-blemish, brightening pads for your face and body, Lightning Swipe helps to renew skin tone, texture and clarity on your face or body. The dual-textured pads gently exfoliate skin as Niacinamide and Tranexamic Acid get to work visibly improving dark spots, dullness, and uneven skin tone.
RELATED READ: One Swipe a Day Smooths the Dark Spots Away: Meet Lighting Swipe
And what is Lightning Wand?
Lightning Wand is a twice-daily brightening and illuminating serum that visibly fades the look of post-acne marks. It comes in a fun rollerball format (no messy spills or dirty fingers), so you can easily glide on the trio of advanced brighteners, glycolic acid and a sheer color-corrector tint.
 Your brightener cheat sheet
In your routine: How to use Lightning Swipe and Lightning Wand together for max brightening benefits
Even though Lightning Swipe and Lightning Wand are two products that help get rid of dark spots and uneven skin tone, there's room for both of them in your routine. After all, no one has ever said, "my skin is just too bright and even toned." Here's how to know which product is best to use when.
For everyday brightening
Wash up with your daily gel cleanser or scrub to remove dirt and impurities. Use Lightning Swipe pads once a day to maintain clarity and banish dullness from your complexion.
Immediately after a breakout
Roll Lightning Wand serum on clean skin twice a day to brighten post-pimple marks, dark spot clusters and targeted areas.
Feeling rough?
Lightning Swipe pads have an exfoliating side, which smooths and illuminates dull, flaky skin. Swipe right, swipe left, swipe away to your heart's content.
For a head-to-toe glow
Shower with Brave Body Power Wash and let skin dry. Smooth Lightning Swipe over dark spots and uneven skin tone anywhere and everywhere you need it: face, chest, shoulders, underarms, legs or butt. Finish with Brave Body Once-Over Toner + Mineral Melt moisturizer. Repeat daily for bright, balanced skin all over.
All together now
For the even-toned skin of your dreams (without gobs of concealer), use Lightning Wand to target post-blemish facial spots, and Lightning Swipe as your daily maintenance brightener.