Later, Redness. Hello, Rescue Balm +Red Correct.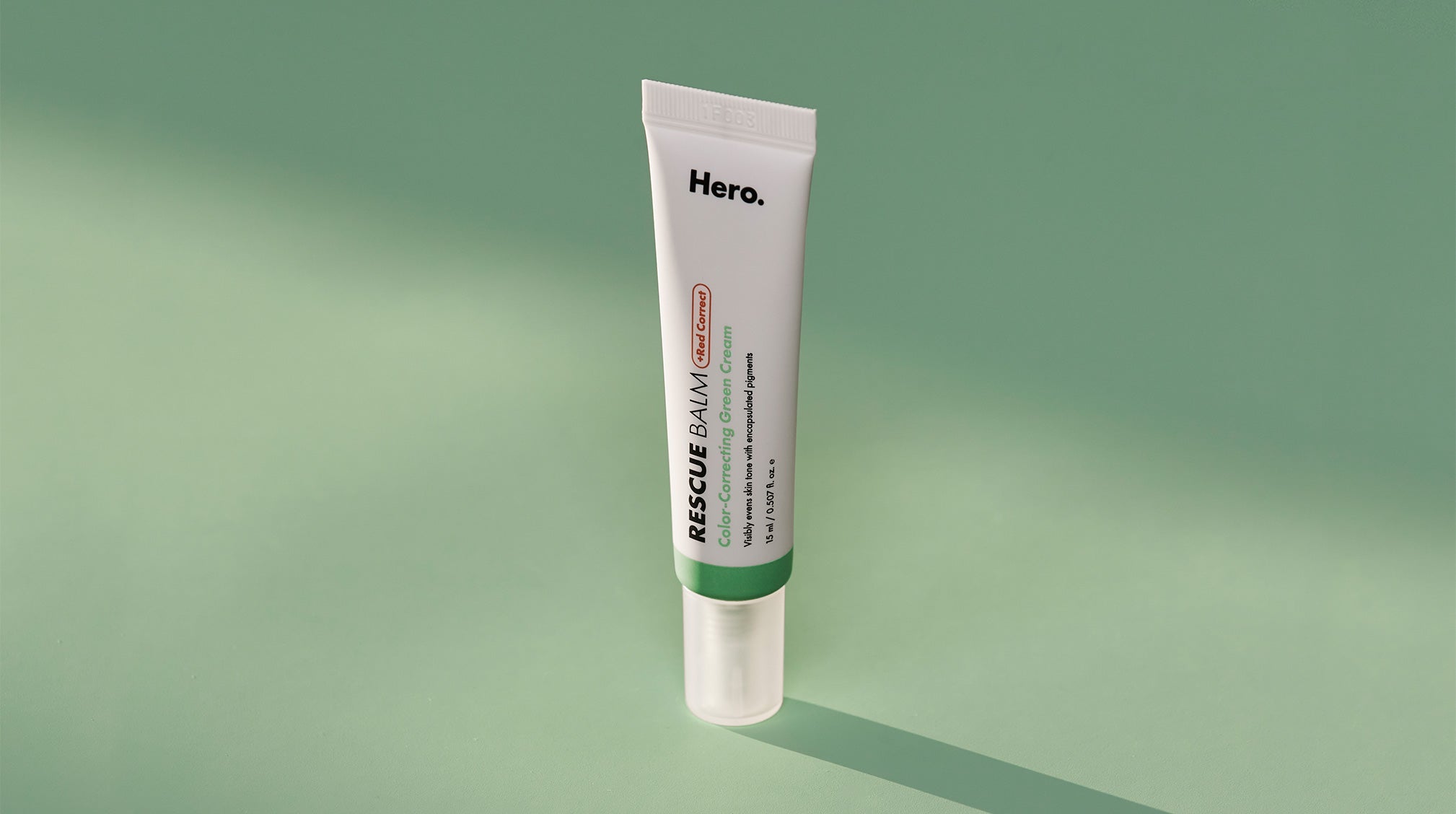 Doesn't it seem like even the smallest of pimples can leave behind a red mark that takes weeks to get rid of? And to make this post-blemish situation even more of a pain, most traditional concealers or foundations cannot keep skin redness under wraps.
Therein lies the inspiration for our newest skin solution: Rescue Balm +Red Correct. It's got the same post-blemish power you already know and love in Rescue Balm original, plus a green tint to blur redness like magic.
Think of it like facial skincare that does double duty. Powerful antioxidants and peptides nourish, moisturize and visibly restore skin that's in desperate need of some TLC after a breakout. And at the same time, the green tint gives you sheer, color-correcting coverage that hides red spots and works as a makeup primer.
How the magic happens (AKA how to get rid of redness on your face)
Think back to kindergarten, when you learned about how certain colors are opposite and others complementary. Well, green is the opposite of red on the color wheel. So when you layer a green-tinted balm or moisturizer over a post-pimple red mark, it's like a color corrector that helps to neutralize and reduce pimple redness on your face.
Rescue Balm +Red Correct is formulated with a unique blend of hi-tech, green encapsulated pigments. These teeny tiny color-changing capsules activate as you blend the cream, turning from green to a beige that adapts to your skin tone in seconds.
Simultaneously, panthenol infuses essential moisture to soothe skin that's dry and flaky - whether from a breakout, sunburn on your nose or cold winter weather. Also known as vitamin B5, panthenol is one of the best ingredients to help speed up the skin's natural restorative process, so you can get your glow back sooner rather than later.
And finally, beta glucan + oligopeptides team up to visibly renew and replenish skin. After you pop or patch a pimple, the skin around the breakout area can look dry and depleted. Beta glucan is packed with nourishing antioxidant properties and oligopeptides help to fortify this recovering skin.
RELATED READ: Derm-Approved Ways to Deal with Red, Irritated, Itchy Skin
Who should use Rescue Balm +Red Correct?
Because the green tint can leave a bit of white cast on deeper skin tones, we recommend Rescue Balm +Red Correct for redness-prone skin, which is generally fair to medium skin tones. For darker complexions, the original Rescue Balm offers all the same skin-replenishing power, minus the tint.

We also suggest that anyone with psoriasis or eczema consult their doctor or dermatologist before use.
Is Rescue Balm +Red Correct only for acne-prone or post-pimple skin?
Absolutely not! Anyone looking to even skin tone, wondering how to reduce redness on their face or searching for dry skin relief will benefit from the color-correcting, nourishing powers of this daytime balm. Use it as a primer or for light coverage on the days you're going for that no-filter glow. It's time to dab, blend and watch the color-changing pigments work their magic!

A green-tinted nourishing balm that visibly evens skin tone and blurs redness on the spot? Seeing is believing with the all-new Rescue Balm +Red Correct.