It Ain't Over 'Til It's Over: Introducing Rescue Balm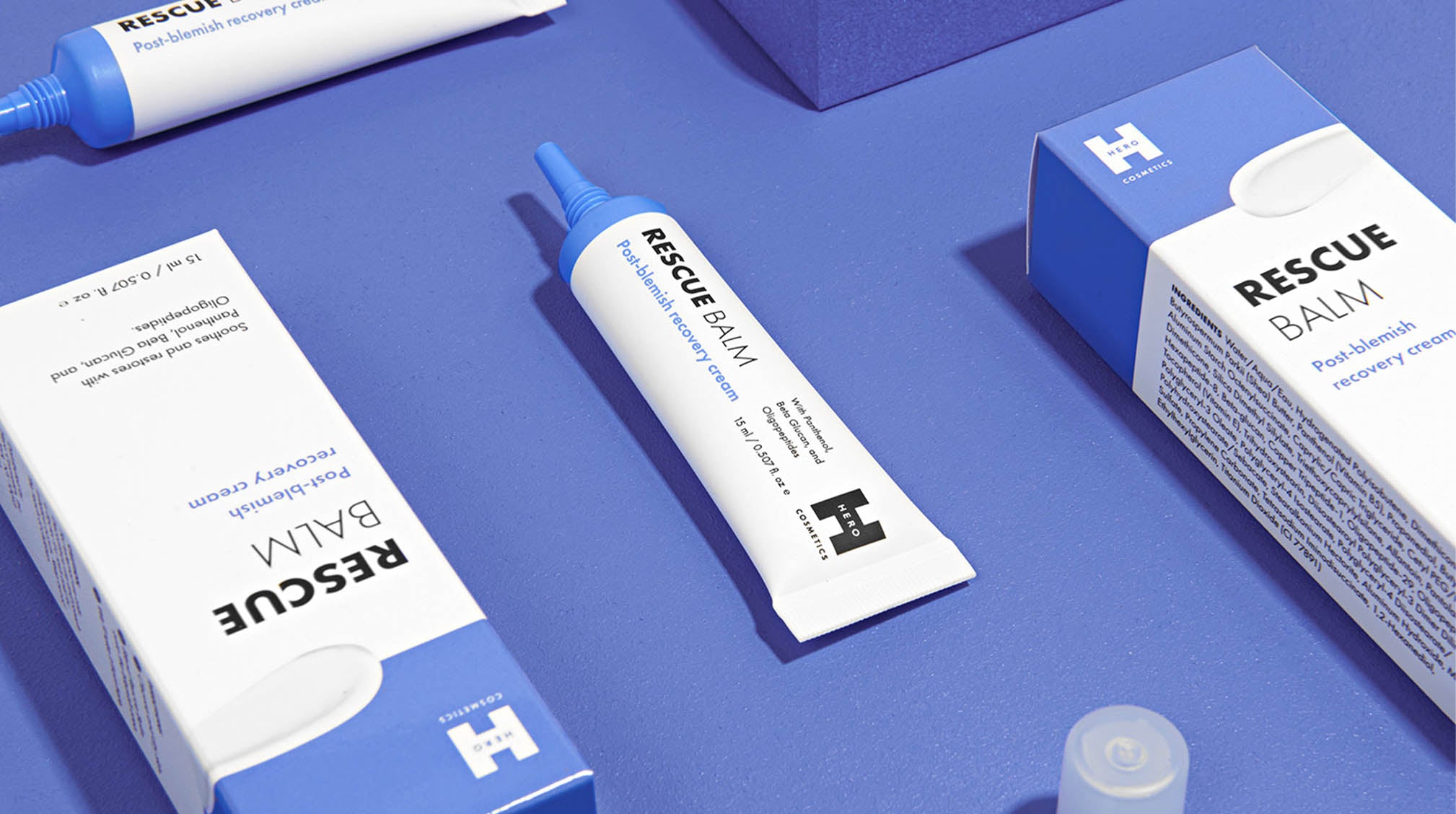 So the pimple is gone, but unfortunately not forgotten. Now what?
Whether you popped or patched a pimple, getting rid of the pus is only the first step. What happens to the redness, bumps, and scaly patches that are left behind?
Today, we're super excited to announce that we have a solution for that: Rescue Balm. With a replenishing ingredient trio of panthenol, beta glucan, and oligopeptides, it relieves post-pimple skin and speeds up the healing process.
How we got here
Since 2017, Mighty Patch has been the go-to acne patch because of its amazing ability to absorb fluids and pus from pimples. The original Mighty Patch has only one ingredient: hydrocolloid. It's gentle and provides a moist healing environment – making it the ideal cover-up for whiteheads and other blemishes.
But pimples don't always have a visible head. Some appear as a small bump underneath the skin or as a tiny "baby" pimple. So we took a step back in the pimple lifecycle and created Micropoint for Blemishes, a Mighty Patch for early stage zits and blind pimples. Filled with 173 microneedles (or "Micropoints") that penetrate the skin, the Micropoint patch delivers acne-fighting ingredients deep into a pimple. The result? The pimple and bacteria is either cleared out or brought to the surface as a whitehead. If it becomes a whitehead, you can use the original Mighty Patch to absorb all the gunk.
After you've peeled off your Mighty Patch and are finished marveling at the pimple gunk, what's next? What happens after the pimple is flattened and the wound is closed? While some people see no trace of the breakout, most need a little more time (and care) for skin to return to its normal pigmentation-less, tone, texture, and moisture levels.
That's exactly where our newest acne superhero, Rescue Balm, comes in.
A post-blemish recovery cream 
Rescue Balm is a one-of-a-kind formula that handles three common post-pimple issues: redness, bumps, and scaly patches.
So, is it a pimple cream or a drying lotion? Or an ointment like Neosporin? Nope, none of those. Rescue Balm is the natural next step in your post-pimple-care routine.
True story: in the verry early days of Rescue Balm conception, we received comments from customers who said they used Neosporin on their pimples. And that sort of made sense to us.
Neosporin is a trio of antibiotic ointments (bacitracin, neomycin and polymyxin B) that kill bacteria and prevent infections in minor cuts, scrapes, and burns on the skin. And since acne is sometimes considered a wound on the skin, it's pretty logical that people would try Neosporin on acne. Yet, the truth is that Neosporin is actually not an effective acne healer.
Acne is caused by three things in the skin: sebum, dead skin cells, and propionibacterium acnes (P. acnes). P.acnes are naturally occuring bacteria – and they're usually harmless! However, acne occurs when our hormone levels rise and cause an overproduction of p.acnes. Neosporin does not kill this type of bacteria. It also contains petroleum jelly, which can occlude pores and cause more inflammation!
Redness? ✔️ Irritation? ✔️ Texture? ✔️ Dryness? ✔️
While antibiotic ointments are formulated to treat open or closed wounds, Rescue Balm was made specifically for your just popped or just patched pimple.
You know how your skin feels a little bare and naked right after you've popped or patched a pimple? Rescue Balm adds moisture and get's skin looking back to healthy quickly - like the blemish never happened! This makes the skin visibly appear more renewed, rejuvenated, and restored.
Post-blemish skin can sometimes be scabby. If you've ever tried putting concealer on a just-extracted pimple, you know it's either Oozy City or Flake City. Rescue Balm provides the nutrient-rich moisture your skin craves, so it looks healthier, bouncier, and silky-smooth.
Pro Tip: At Hero HQ, we also use Rescue Balm as a pimple primer. Its thickness acts as a moisture seal for pimples, allowing makeup to smoothly settle on skin!
Your post-pimple superhero lineup
Rescue Balm is the first and only product specifically designed to visibly renew your skin after a blemish. A dot-sized amount is all you'll need for one pimple, thanks to this strong team of heroes:
1. Panthenol. Also known as vitamin B5, Panthenol encourages hydration and prompts cell growth. Due to its ability to retain moisture, panthenol is used in skincare and haircare products as a humectant. While your post-pimple skin is recovering, panthenol boosts skin barrier function and speeds up the natural restorative process.
2. Beta-glucan. A polysaccharide sugar derived from oats or yeast, beta-glucan hydrates, soothes, and is packed with antioxidant properties. Beta glucan also increases macrophage activity, which involves scavenger cells that destroy acne bacteria. In skin care, the macrophages speed up wound healing and soothe inflammation. This is especially helpful for people with dry, rough, or cracked skin or those suffering from eczema or dermatitis.
3. Oligopeptides. An oligopeptide is a peptide (a building block that makes up protein) that contains only a few amino acids, so it's able to penetrate the skin and boost collagen production. They help to firm, smooth and increase the radiance of your skin, minimizing any sign of those pesky pimples.
The natural next step post-pimple
To sum it all up, Rescue Balm is simply in the next step in your pimple recovery journey. Formulated with replenishing ingredients like panthenol, beta glucan, and oligopeptides, Rescue Balm melts invisibly into the skin to relieve any post-blemish redness, dryness, and irritation due to sensitive skin. We recommend using it daily for 2-3 days for your blemish to fully fade.
Always evolving at Hero Cosmetics
At Hero, we want to help you feel comfortable in your own skin. Our goal is to create products for all stages of acne that visibly tackle breakouts while healing your skin for the long term. We began the company with our Mighty Patches as the start our "Treatment" line for breakouts. Rescue Balm is just the beginning of our "Repair & Restore" line. We're excited about launching our first non-patch product and we have so much more to come. Stay tuned, Heroes! 💪🏼
[[product-ad]]