How to Prevent Seasonal Acne This Winter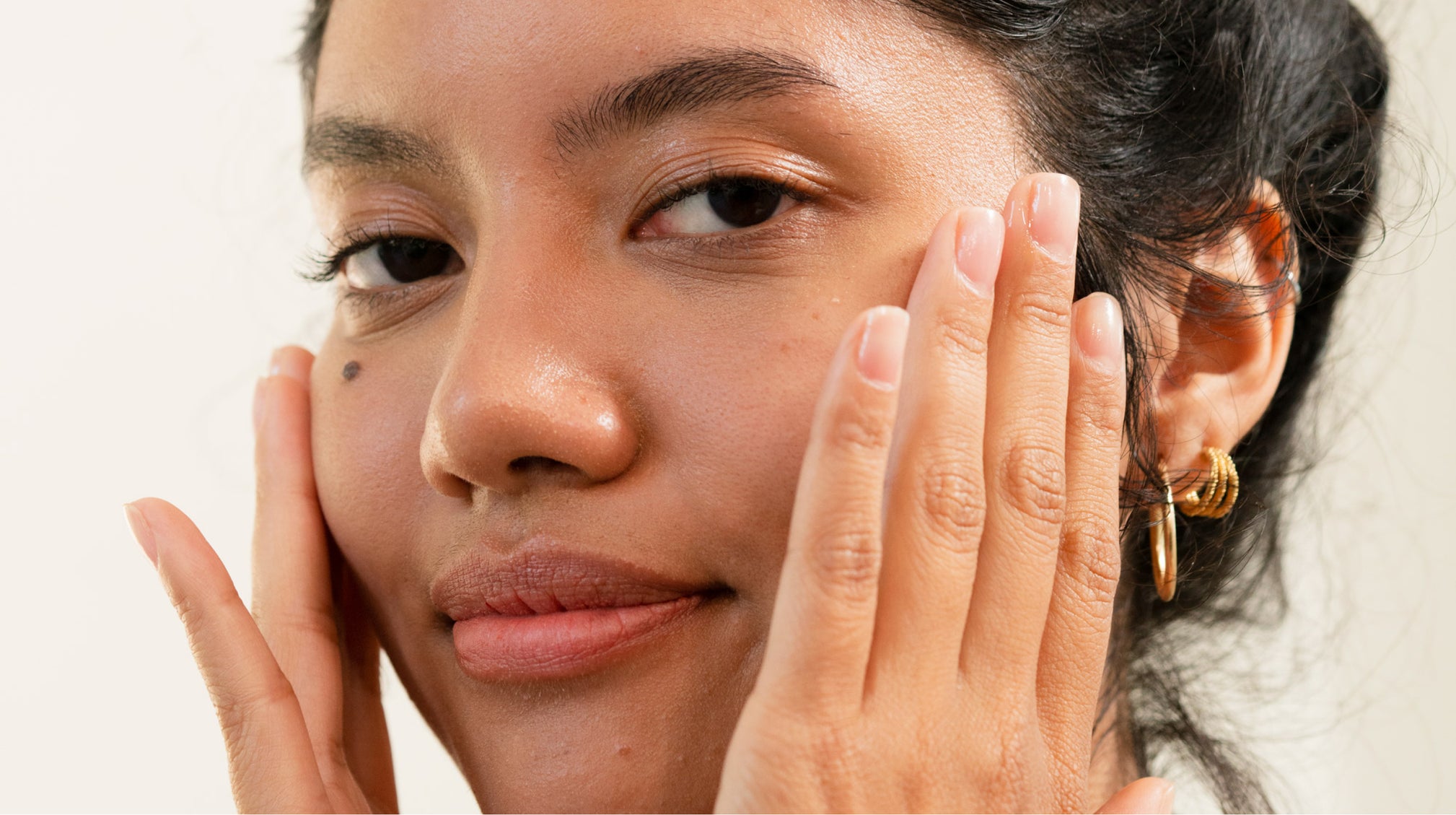 When most people picture "seasonal acne," it probably looks something like this: hot, sweaty skin + pore-clogging sunscreen = pimples galore. And while sweat and bacteria trapped in your pores can absolutely lead to breakouts, seasonal acne can also hit hard during the fall and winter months. Ahead, we break down the primary causes and share some pro tips on how to keep skin clear during the coldest time of the year.
First, what is seasonal acne and why does it occur?
Unlike hormonal acne, which is prompted by your menstrual cycle or caused by other hormonal changes, seasonal acne is triggered by weather and environmental conditions. For some people, seasonal acne is almost like seasonal allergies — there's such a regular pattern that they can look at a calendar and know when their acne will get better or worse.
"Seasonal acne can occur with changes in weather, such as summer and winter, and can worsen with any change in the environment," says Dr. Anna Chacon, board-certified dermatologist and writer at MyPsoriasisTeam. "Any stressors on the skin, as well as rapid/sudden changes in atmospheric composition, can have an impact on the skin's ability to prevent breakouts and also undergo them."
What causes seasonal acne in the fall and winter?
When temperatures and humidity levels drop, there is much less hydration in the environment for our skin to absorb. And with the heat blasting indoors, the air is much drier than it is during the warmer months. Add in some harsh winds, and basically, your moisture barrier is under full attack.
Your skin is dehydrated, which also makes it more sensitive to other irritants that might be lurking in scarves, beanies, hoodies and chunky turtleneck knits. And when clothing or materials repeatedly rub against skin (and combine with sweat and bacteria), it produces the perfect environment for a type of breakout called acne mechanica.
RELATED READ: Acne Mechanica and Maskne: Here's How to Treat Those Pesky Pressure Pimples
Back-to-school stress, a hectic holiday schedule or a bit more overindulging than usual can also contribute to seasonal breakouts.
How to minimize seasonal acne breakouts
While the change of seasons might always be problematic for some people, there are definitely steps you can take to ease your skin into the colder weather. Here's what to do to soothe and protect your skin until the flowers are blooming again.
Keep exfoliating, just do it gently.
You may think exfoliating dry skin is just going to further irritate it, but if you don't remove dead skin before it settles into pores, you'll just end up with more … you guessed it … breakouts. Avoid going scrub-crazy though, as cleansers formulated with nut shells or other large exfoliants can create micro-tears in the skin and worsen existing acne. Choose a cleanser with gentle exfoliants and AHAs to unclog pores without drying out skin.
Try: Exfoliating Jelly Cleanser to smooth skin and unclog pores. 
Switch to a heavier moisturizer.
Many people with oily or acne-prone skin find that a serum stick or gel-based moisturizer provides sufficient hydration for the warmer months of the year. But the combination of cold weather outside and heaters running inside necessitate an alternative, heavier hydrator.
"For colder months of the year, I definitely recommend hydrating and moisturizing the skin, which tends to become parched, leading to an impaired skin barrier in the winter," says Chacon. "Examples include thicker, richer, oil-free and noncomedogenic moisturizers, which typically would be a lighter consistency in the summer months."
Try: Clarifying Prebiotic Moisturizer nourish and balance skin.
Replenish dry skin overnight.
As the sun goes down, it's time to amp up the moisture. To combat the dry air inside, turn on a humidifier while you sleep. Slather on thick moisturizers and treatments right before bed to combat inflammation and flaky patches. Look for skin-soothing ingredients like panthenol, beta-glucan, peptides and vitamin E.
Try: Rescue Balm for intense moisture.
Should your skincare routine change with the seasons? Yes, and here's exactly how >> Seasons Change. Your Skincare Routine Should Too.