Clarifying & Calming, All at Once: Meet Gentle Milky Cleanser for Sensitive, Acne-Prone Skin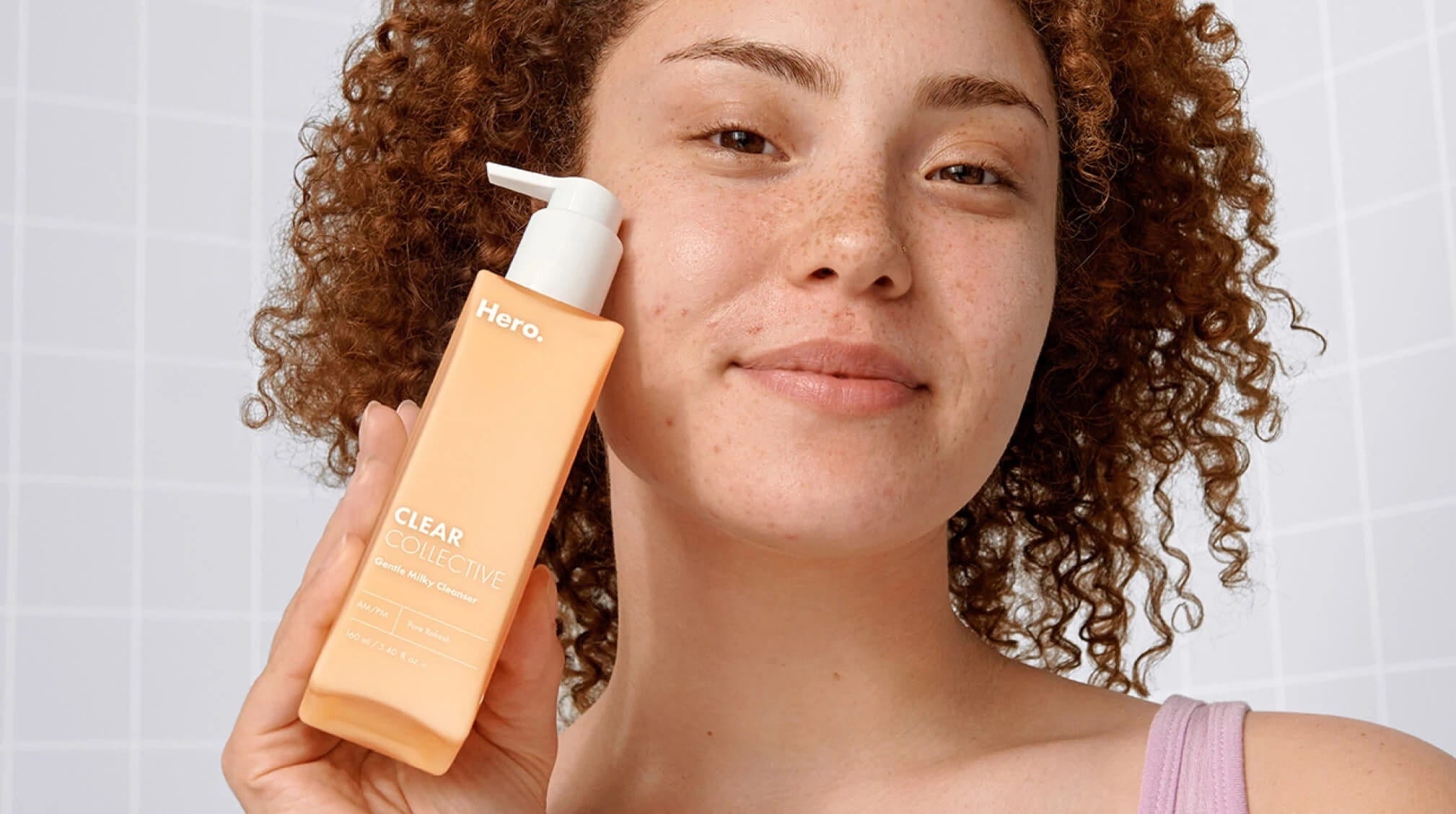 When you have both acne-prone and sensitive skin, finding a good skincare routine can be quite a challenge. Acne care products, designed to control oil and unclog pores with salicylic acid or benzoyl peroxide, can often be too harsh for sensitive skin and leave you red, itchy or irritated.
Dermatologists consistently advise patients with sensitive skin to steer clear of harsh scrubs and exfoliants. But without using renewing AHAs, BHAs or physical exfoliants, how can your skin be its calmest and clearest?
The answer to that million dollar question can be found in our newest drop: Gentle Milky Cleanser. Designed specifically for sensitive, blemish-prone skin, this milky-soft, gel-cream cleanser gently clarifies pores — without drying or irritating skin.
Your Cheatsheet
Product: Clear Collective Gently Milky Cleanser
Product type: Daily facial cleanser
Main benefits: Clarifies pores and soothes dry, stressed skin
Who should use it: Anyone with blemish-prone, sensitive skin
How to use it: Use AM + PM as the first step in your routine. Massage lightly onto wet face, then rinse.
Key ingredients: PHA, Colloidal Oatmeal, Jojoba + Ceramides
The best acne face wash for sensitive skin
Our new Gentle Milky Cleanser is feather-light, seriously soothing, and oh-so-gentle on sensitive skin. But it still gets the pore-purifying job done – with the help of PHA. Here's why: PHAs primarily exfoliate the top layer of skin, making them less sensitizing than stronger acids that provide deep exfoliation. Dermatologists often recommend PHA skincare products to patients who have found their skin to be too sensitive for AHAs and BHAs. And with consistent use over time, PHAs can help brighten and hydrate skin for an overall glowier appearance.
RELATED READ: A Useful Guide to Chemical Exfoliants: What are AHAs, BHAs and PHAs?
Gentle Milky Cleanser is also formulated with other rockstar hydrating ingredients that leave skin dreamy soft post-wash. A longtime derm-favorite for sensitive skin, Colloidal Oatmeal soothes stressed skin by locking in moisture (giving dry skin a chance to rehydrate). Jojoba + Ceramides help to nourish skin while fortifying the delicate moisture barrier.
When it comes to sensitive skin, what's not in a product is almost as important as what is. Gentle Milky Cleanser uses extra-gentle PHA and mild, plant-based surfactants to cleanse and clarify, so there are no harsh, drying sulfates or irritating actives. It's dermatologist tested and fragrance free, so sensitive skin looks and feels baby soft after every cleanse.
Who should use Gentle Milky Cleanser?
Anyone and everyone can benefit from the extra-gentle clarifying formula, but it's especially ideal for sensitive-skin types who are prone to acne or breakouts. How do you know if your skin is feeling sensitive? People with sensitive skin commonly experience:
Stinging or burning after skincare
Redness
Tiny bumps
Tight, itchy skin
Blemishes
Dry, flaky patches
Irritation by fragrance and soaps
Negative reaction to extreme weather and sun
How to use Gentle Milky Cleanser in your Clear Collective Routine
Gentle Milky Cleanser is part of the Clear Collective, our three-step daily plan for clearer-looking skin. Use the Clear Collective sensitive skin routine AM + PM to clarify, balance bacteria and hydrate for an all-day glow.
Cleanse impurities – Massage Gentle Milky Cleanser onto wet face and rinse.
Balance oil – Touch or press Balancing Capsule Toner into slightly damp skin.
Nourish microbiome – Finish with Clarifying Prebiotic Moisturizer lotion. Top with sunscreen (on your face and body) in the AM.
Pro tip: If you have combination or oily skin and typically use the foaming Exfoliating Jelly Cleanser in your routine, Gentle Milky Cleanser is a great swap for those days when your skin feels dry, sensitive or in need of a little extra TLC.
Let's review: If you've spent years trying to find the perfect cleanser that won't irritate your sensitive skin or trigger breakouts, your moment is here. Get ready to rinse the day (and makeup and dirt) away with a milky-soft cleanser designed just for your sensitive, blemish-prone skin. Meet the dreamiest clean for stressed-out skin, Gentle Milky Cleanser >>