This Is How to Get Clear Skin All Summer Long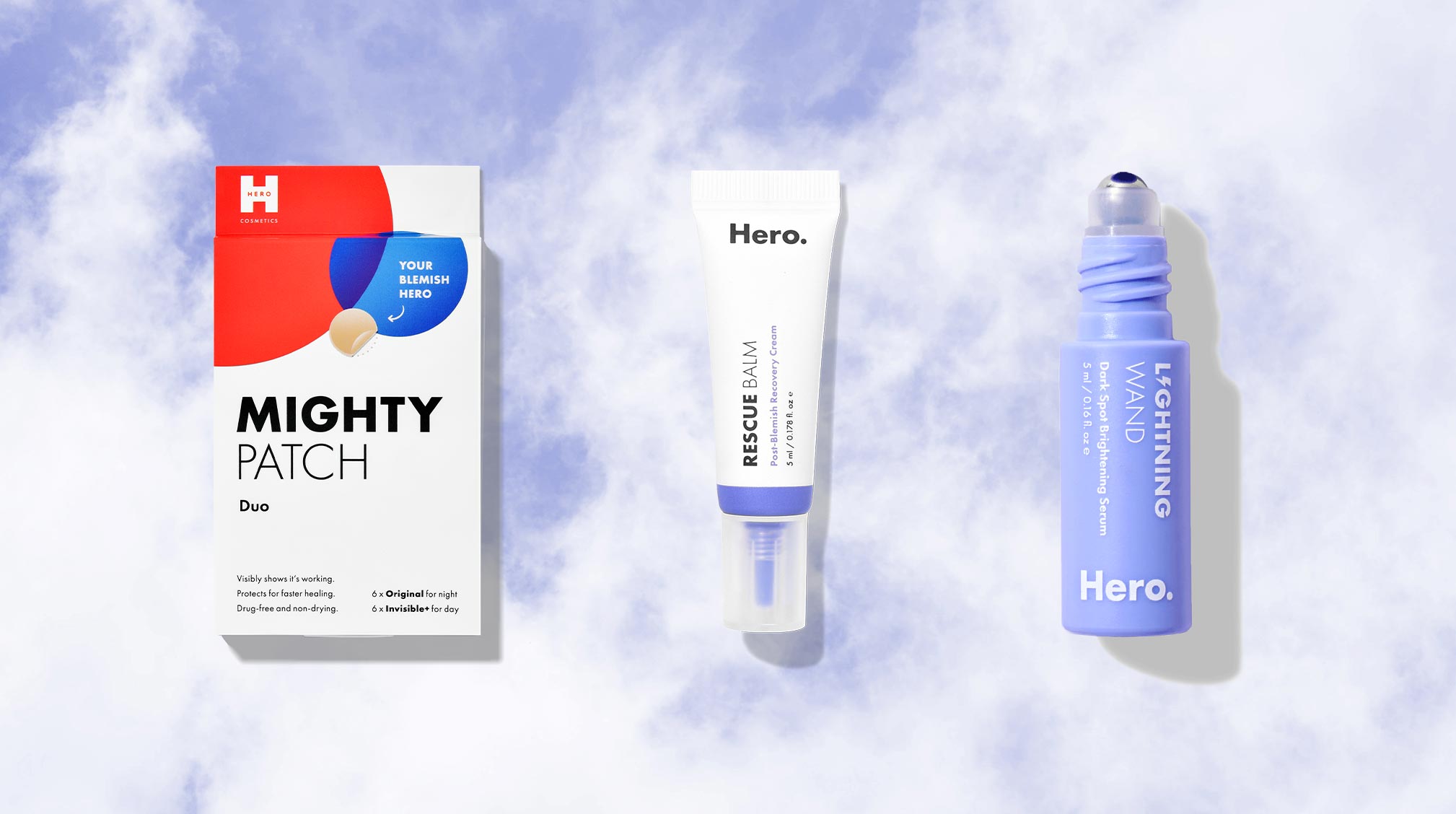 Whether you have epic plans or are just looking forward to gathering with friends and family again, one thing's for sure: The summer of 2021 is shaping up to be a fabulous one.
The hugs will be intense. Seeing full, smiling faces on display will be emotional. Getting out and about will be amazing. So the last thing you want holding you back from all the good times? A skincare emergency!
Luckily, Hero's got you covered with Mighty Patch Duo, Rescue Balm Mini + Lightning Wand Mini. Three of our Target bestsellers, in mini versions that are small enough to toss into any bag (or pocket) so you can handle breakouts and their aftermath — anytime, anywhere.
Mighty Patch Duo hydrocolloid patches for all your pimple emergencies
First, just in case you aren't familiar with Mighty Patch, it's *the* award-winning hydrocolloid patch that visibly flattens and pulls gunk out of pimples in just hours. Hydrocolloid bandages or hydrocolloid dressings were originally developed for wound care, as they cultivate a moist environment that's ideal for healing. In acne care, they act in very much the same manner — gel-forming agents actively absorb fluids and pus without drying the surrounding skin.
Mighty Patch Duo ensures you are fully armed for any pimple emergency, with both Original patches for overnight zit zapping and Invisible+ patches for daytime use. Simply apply to clean skin, go about your day (or night) and remove the patch a few hours later, once it has turned opaque.
Rescue Balm Mini for post-blemish recovery
So, what happens after you remove your Mighty Patch? While the pus and gunk have disappeared (yay!), there's often a not-so-friendly reminder of the breakout left: a red, scaly patch. Inspired by first aid ointment, Rescue Balm replenishes post-pimple skin with powerful antioxidants and peptides. Actually, our customers love to use Rescue Balm as a gentle alternative to medicated ointment, so the mini size is perfect to keep in your purse or beach bag!
Immediately after you patch (or pop) a pimple, reach for Rescue Balm to visibly renew your skin. It delivers intense moisture to the spot, smooths that flaky texture and visibly soothes upset skin. Reapply twice a day until you've got your pre-pimple glow back.
Lightning Wand Mini brightening serum for on-the-go illuminating
When a pimple finally disappears (yay!), there's often a not-so-friendly reminder of the breakout left: a dark spot.
When a pimple causes inflammation, skin ramps up production of melanin, the brown pigment that produces color. This excess melanin is left on the skin, and the next thing you know, you've got a dark spot – AKA post-inflammatory hyperpigmentation (PIH).
Skin Fact
Breakouts and inflammation can also result in the dilation of blood vessels, leaving you with a red spot, or post-inflammatory erythema.
Whatever the color, post-pimple spots are irritating, especially since they can take weeks to months to fade on their own. That's where Lightning Wand comes in. It's a brightening and illuminating serum that visibly fades the look of acne marks. The rollerball zaps dark spots with niacinamide, tranexamic acid and vitamin C.
Use Lightning Wand twice a day, immediately after a pimple has healed. The mini version is perfect for for travel and daily on-the-go activities if you want to use it for some mid-day brightening! 
Your go-to mini emergency skincare trio now at Target 🎯
Think of these minis (Mighty Patch Duo, Rescue Balm and Lightning Wand) as the acne-fighting basics you'll want to have with you at all times. Because you have much more important things to do this summer than worry about pimples, redness or dark spots. 😏 
Get your skates on and build this trio at your nearest Target!