Q+A With Dr. Aimee Paik: Why You Need to Get on Tretinoin if You Have Acne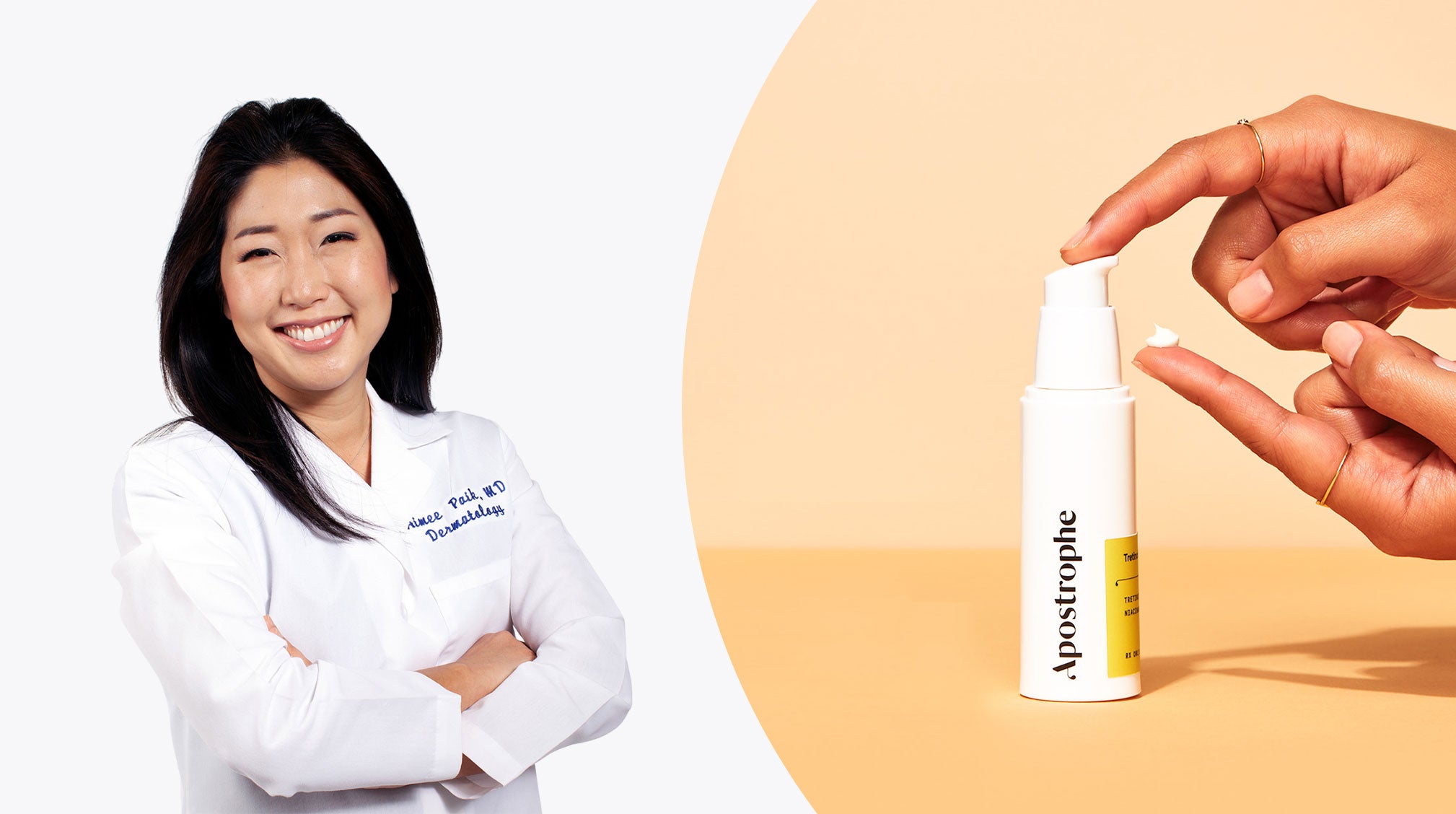 When you've tried all the products at the store and everything raved about online – but you're acne still doesn't clear away... What's left to try? Prescription treatments. 
Today, we're chatting with Dr. Aimee Paik from Apostrophe, they provide the easiest access to prescription treatments by connecting you to board-certified dermatologistss completely online. Dr. Aimee Paik is Apostrophe's Medical Director and a board-certified dermatologist who loves working with her patients at her clinic!  She works closely with the Apostrophe's product team and dermatologists to ensure their patients receive the best care possible.
P.S. She's a working mom with two girls! 👏
1. What types of acne do you typically see? Are most people visiting a dermatologist dealing with severe acne?
I see acne of all severity. But the majority of people who see me have tried and failed OTC treatments and are ready for a prescription regimen.
2. Let's talk retinol and retinoids – What's the difference? Why is it good for acne? How does it work? Who should/shouldn't use them?
Both retinol and retinoids are vitamin A derivatives but the difference is really in their strength. Retinol is only effective after minute conversions of retinol to the active form retinoic acid. In contrast, retinoids are already bioavailable and don't rely on this conversion process. As a result, retinoids are at least 20 times more potent than retinols no matter what percentage comes after either product.
Retinol does have some anti-aging benefits but there is no evidence that it actually helps acne. Retinoids are really the gold standard treatment for acne and anti-aging.
Retinoids help skin cells mature and shed properly to prevent clogged pores. They also stimulate the skin to produce collagen which strengthens the skin and improves fine lines and scarring. Cell turnover is increased which helps dark pigment -- such as that left behind by acne -- lift and fade more quickly. Finally, retinoids promote vascular growth which results in overall brightening of the skin. I think nearly any person would benefit from a retinoid barring those with the most sensitive skin.

3. Most people are concerned about side effects like dryness, redness, irritation, and sensitivity. What do you tell patients who want to try retinol but are afraid to?
OTC retinols are weaker so they typically cause only mild irritation that subsides within a few weeks. On the other hand, prescription retinoids are stronger and potentially more irritating so I can understand the concern there. Prescription retinoids have so many fantastic benefits from treating acne to general skin rejuvenation that I believe they are well worth the initial adjustment process.
Starting with the right percentage is very important. I like to see minimal to no irritation in my patients who start a retinoid. Contrary to popular belief, peeling is not necessary for the medication to work. If you start with a strength that is too high, your skin will get overly irritated and most people will give up which is the worst case scenario! Seeing a trusted board-certified dermatologist will help determine which strength is best for your particular skin type and situation. A dermatologist could also appropriately increase the strength of your retinoid as needed and tolerated.
4. How do you get started with retinol or other skin prescription treatments?
It's important to start slowly. Using a new retinoid 2-3 times per week for the first 2-4 weeks will help your skin slowly adjust to the medication. Overzealous patients may be tempted to apply copious amounts of the product in an attempt to improve their skin more quickly. Unfortunately, this will be very irritating and often require a break in therapy. Less is more here. A pea-sized amount is really sufficient for the entire face. Using a moisturizer twice a day is also incredibly important. It can be applied immediately before or after the retinoid at night to reduce irritation without compromising its effectiveness.
If your skin becomes flaky or dry during the course of treatment, this should be taken as a sign you need to take a little step back. You can skip 1-2 nights and restart once your skin has returned to normal.
It can take anywhere from 1 week to 3 months to fully adjust to a new retinoid but that is normal and perfectly fine.
5. What's a derm's take on hydrocolloid patches like Mighty Patch?
Hydrocolloid patches can be a great adjunctive treatment for acne. While we generally advise acne patients not to pick at their skin, there are times when a red pimple comes to a white head (what dermatologists call a "pustule") and the contents need to be expressed for the pimple to go away. A hydrocolloid patch can be used afterwards to prevent drainage and protect the skin as it heals.
That being said, picking at most acne lesions will cause unnecessary inflammation and result in worse scarring. For those who have a tendency to pick, the Mighty Patch can be a powerful physical reminder to avoid picking active lesions.
6. Is it okay to use Mighty Patch with prescription products?
Absolutely. I would apply your prescription products first and then the Mighty Patch as needed.
7. How do you use Mighty Patch in your own skincare routine?
After washing my face with a gentle cleanser such as Cetaphil, I apply Apostrophe's Azelaic acid formula and Tretinoin formula followed by a good moisturizer. I really like the CeraVe Skin Renewing Night cream since it's very rich and hydrating. If I had a pimple that had come to a head and needed expressing, I would then apply Mighty Patch afterward to soak up the drainage and help the skin heal.
8. Any Mighty Patch hacks or pro-tips you can share?
Mighty Patch can be very helpful to prevent skin picking. It can serve as a physical reminder and barrier between a pimple and fingers. It's good for daytime use or under makeup. If you have a lesion you have picked, it's great to apply Mighty Patch afterward to promote rapid wound healing.
Tired of all the acne hacks that only disappoint? Fight back with acne treatments that deliver 💪
⁠⁠For the entire month of February, all orders placed on hercosmetics.com will receive an exclusive discount code to get $15 off their first visit online with a  dermatologist at Apostrophe! 
[[product-ad]]