International Women's Day: One-on-One Series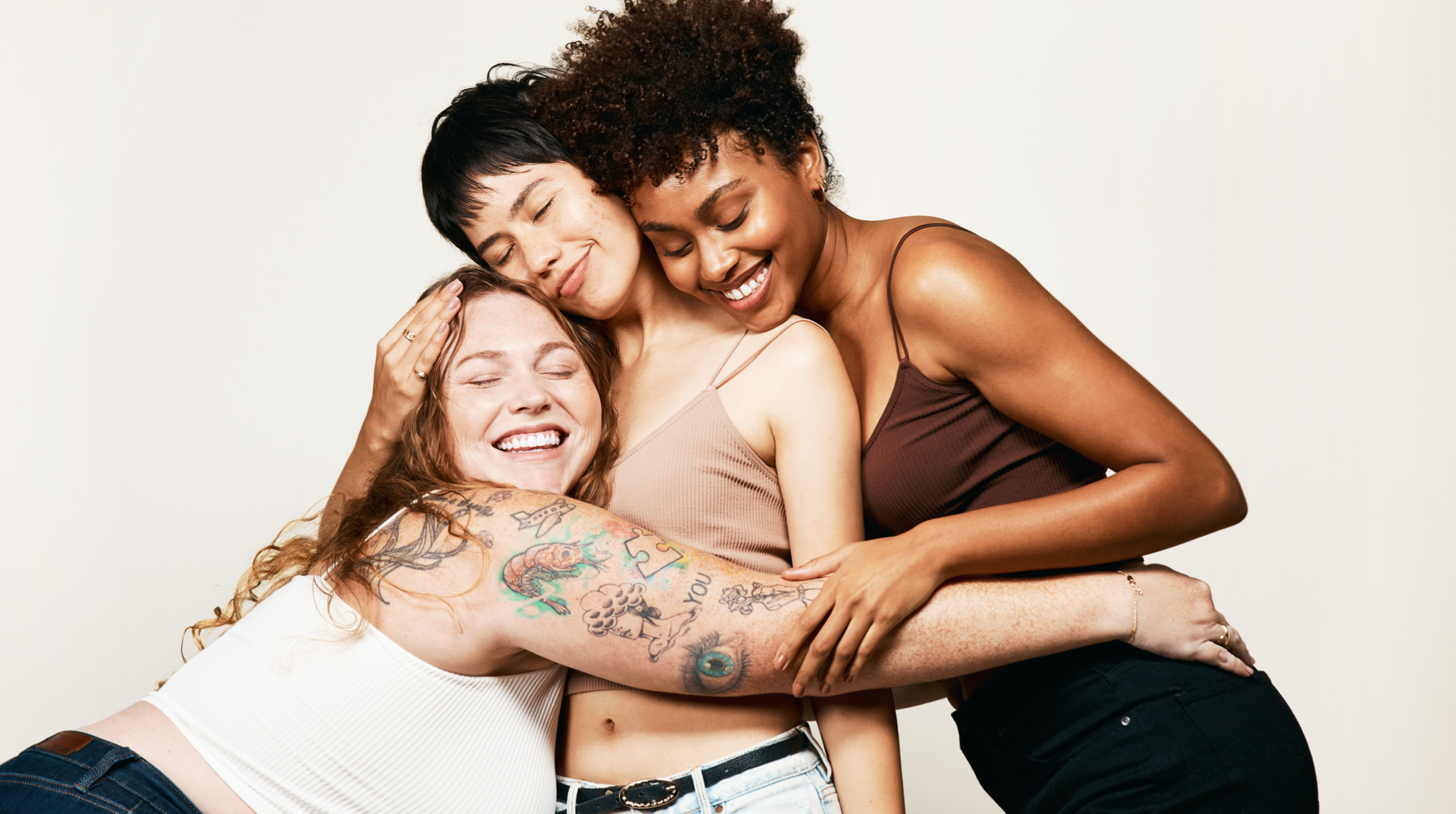 Happy International Women's Day ✊♀🤍 Today we celebrate the economic, political and social achievements of women past, present and future.
Today also marks the first of our Female Hero One-on-One series!
To kick it off, our CEO + Co-founder, Vice President of Marketing, and Product Development Director will be answering your questions:
CEO + Co-founder, Ju Ryhu
Did you always envision yourself being an entrepreneur?
I always wanted to be an entrepreneur. My dad is one and I grew up watching him be his own boss, set his own schedule, and have independence and I wanted that for myself.
How and when did you come up with the idea for Hero/Mighty Patch?
I was living in Seoul, South Korea as an expat and struggling with breakouts. I saw Koreans walking around with these stickers on their faces. I tried them for myself and was blown away by how well they worked without drying out my skin. I thought it was the best thing and wanted to bring these acne patches to the US to let more people in on this secret weapon for pimples.
What key lessons did you learn from starting a business from scratch?
Knowing how to spend money efficiently and how to be efficient with your time are important. And then prioritizing projects and plans is equally important. It's easy to get distracted by all the shiny things in front of you but it's more important to do a few things well than to do 100 things mediocre.
The other lesson is to be kind to everyone. The world is an incredibly small, connected place and your reputation will precede you.
What advice would you give young women wanting to start their own business?
Have a bias for action and even if it means starting small, just start.
Build your founder's network. They will be great mentors and become dear friends.
Hire well. A company is a team sport so it's important to have a great culture, hire great people, and treat them well.
If you could give any advice to your younger self what would it be?
Stop comparing yourself to others and throw any timelines out the window. Let go and enjoy life's wild ride.
If you could pick just one, what secret/reason/attribute would you attribute to your success?
Working with amazing people who give their best all the time.
What's one lesson that you had to learn the hard way?
It's ok to say no. In the beginning of Hero, I said "yes" to almost everything - people who wanted to connect, retailers who wanted to try our products, invitations to dinners/events. Now, I saw "no" way more often and it took practice because it wasn't something that was natural to me.
What's it like being a female CEO in the cosmetics industry?
Women are underrepresented in many industries but less so in the beauty industry. I have a lot of female founder peers and am lucky to work with amazing women across all disciplines in this job. We all support each other, celebrate each other's wins and cheer each other on. It's the best community.
VP of Marketing, Amy Calhoun
How did you start your career?
My first "job" with an actual paycheck was as a dishwasher in our small town's local luncheonette, but the beginning of my career was my first job out of college working for Tommy Hilfiger as an assistant to the VP of Men's Advertising. I answered phones, made photocopies, typed memos, and kept binders of all of our magazine ads. It was crazy and I loved it.
How would you describe your experience as a female climbing the ladder in many male-dominated industries? If you encountered any obstacles, how did you overcome them?
I have been very fortunate that most of the men I have encountered throughout my career have been incredibly supportive of me as I've grown as a marketer and a leader. That said, several of the biggest leaps in my career journey have been the result of other women pulling me up with them. I've learned along the way that it's very important to build connections and meaningful relationships with the women around you throughout your career - peers, mentors, leaders, friends. These are the people who will lend a sympathetic ear, be your cheerleaders, your counselors, and your advocates when you need them.
Is there a specific milestone in your career so far that stands out?
Answer: Becoming a Chief Marketing Officer at age 40 (on my birthday, no less!) is a milestone that really stands out to me. My 22 year old self would be astonished to know this - I never had becoming a CMO on my radar screen, and even if I did, I would have thought it would be much later towards the end of my career.
What's one lesson that you learned the hard way?
Just because someone says something will happen, it doesn't always mean it will actually happen. It's important to advocate for yourself.
If you could give some advice to your younger self, what would it be?
Don't be afraid to reach higher! You are capable of doing more than you think.
Do you have a favorite moment from your Hero career thus far?
There have been so many, but the launch of Mighty Patch Nose is my favorite so far! The response to the product and our marketing campaign exceeded our wildest expectations - it's so rewarding to see people react to how well the product actually works, and then recommend it to other people.
How do you balance being a mom and a VP of Hero?
One step at a time! It's honestly a bit crazy, and (most of the time) I love it. Rather than thinking about it as balance, to me it's more about integration. You never know what the day is going to bring, so you need to be ready to flex at any moment. My kids are really involved in what I do - they love to join me on zoom calls to see who's there, ask what they do, and sometimes even provide product feedback. They also love seeing our products on the shelf at Target and Ulta, and will often help me organize the shelves.
Director of Product Development, Ashley Paulino
How did you go from becoming a chemist to a product developer?
I grew up in a family where in my senior year of HS, my parents told me to choose between being a Doctor or a Lawyer. I was always interested in how and why things work and helping others, so I started my college journey as a Chemistry major in Pre-Med. In my Senior year I did an internship with a college professor and Nuclear Chemist. We studied the Chemistry of Nail Polishes and pigments used in makeup. I was so fascinated and never realized that beauty was so science focused. I fell in love and landed my first job at Avon Inc as a Cosmetic Chemist. I LOVED developing cosmetics and would stay up every night learning about the skin and how chemicals worked, but I wanted to be more involved in the front end of innovation and come up with ideas from scratch. I eventually learned that PD was a hybrid of MKTG, Innovation, Creativity and Chemistry - everything I love into 1, so after 3 years on the bench, I went to pursue Product Development instead. 12 years later, never turned back.
Dream product for Hero to launch? (This might be a secret - but maybe give some hints/sneak peaks?)
Good question! I can't give away any secrets, but something that would help people with cluster/cystic acne. This is the hardest to get rid of and what I suffered from growing up.
How long does it take to make a new product from scratch?
Ideally it takes about 12-18+ months to launch a great product from scratch.
What's the process of developing a new product? What team members are involved in creating the product formulas?
I would say there are about 7 main steps to launching a product such as; Idea Generation, Research, Planning, Prototyping, Sourcing, Costing, and then Commercialization. And then you're not done yet! You should always recap, gather consumer feedback and adjust accordingly if needed. I would say we don't do it alone, it takes an entire team to create a good product from the scientists in the lab, to Marketing, Operations, Creative, Demand Planning, Social and more! Each department has a crucial role in getting the product to the next step. Here's some photos of our team!
What's one insider secret about the beauty industry? (It's okay if you can't reveal too much about other brands specifically but anything more general about the industry such as anything about white labeling, overarching practices from large corporations people may not know about, the clean skincare process and underworld, etc.)
I think the biggest secret is there is no clear definition of "clean or natural" in the beauty industry. Every brand and retailer has their own version of clean, so make sure to research ingredient labels and choose ingredients that are efficacious, because everything that's organic or natural doesn't mean its necessarily good for your skin.
How is working for Hero different from other skincare brands? (can speak to ethical practices, clean standards, inclusion/diversity commitment, etc.)
I think what makes Hero unique is the people. We have a woman CEO and everyone is really passionate about what they do. I think we also did a great job picking experts in their field. I learn so much from everyone everyday. Lastly, every single product we make not only looks beautiful, but really works! Many people on our team suffer/suffered from acne so we all have a deep passion to heal it and let the true Hero inside shine (which is all of our amazing customers!)
What do you think makes a good product? (Doesn't have to be skincare specific!)
A product is 360. Its the Marketing and the packaging that usually catches your eye first, then the experience. If consumers can see the results from your product, this is what will keep a loyal customer. In PD we focus mainly on making efficacious products that really work.