Meet the Force Shield Duo: Your Daily On-The-Glow Boosters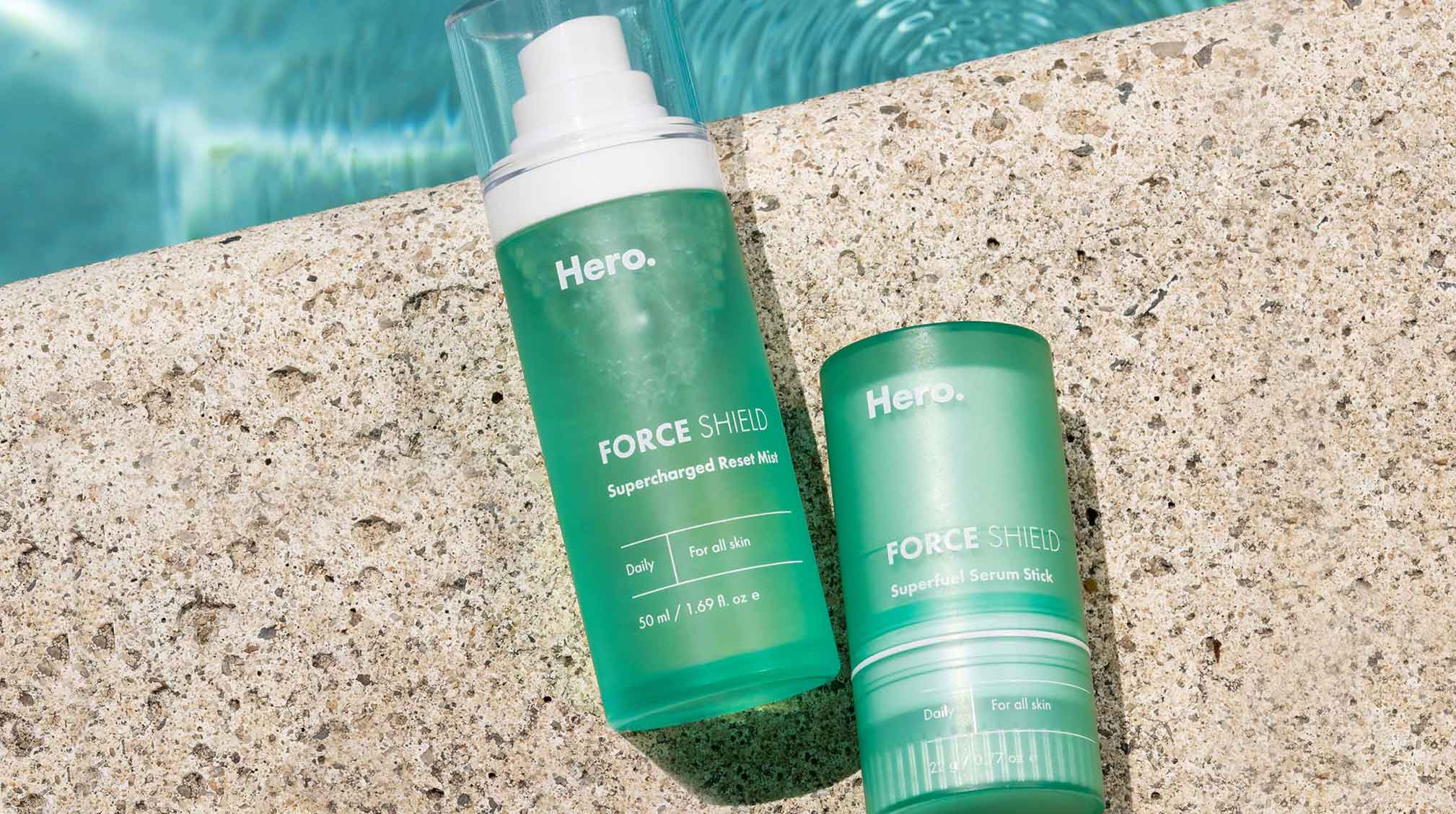 Hot girl summer, hot vax summer or whatever sort of hot summer you're looking forward to, we've got two BRAND NEW skin refreshers to make sure your summer is sizzling even after Labor Day.
For most of us, skin care involves a regular routine that occurs twice a day, in the morning and before bed. But what happens in between those routines, during the 16+ hours that our skin is exposed to countless aggressors that can irritate acne-prone skin and result in a damaged skin barrier? We're talking about UV rays, blue light, perspiration, dust and pollution.
Enter the Force Shield Balance Duo – your daily defensors designed to give your skin an instant reset, wherever life takes you. Through bacteria balance, moisture barrier protection, and calming hydration, Force Shield takes a holistic approach to microbiome health.
How to strengthen the skin's protective microbiome: Superfuel Serum Stick
Breakouts, dullness and redness are all signs that your layers of skin are on the defense from skin stressors and need some backup support from the Superfuel Serum Stick. The first and only product of its kind, this prebiotic-powered, swipe-and-go gel serum feeds the good bacteria in your skin microbiome. A balanced microbiome works together with your moisture barrier to protect skin from environmental stress and impurities. The result? Skin looks and feels calm, hydrated and ready for anything life throws at it.
This cooling gel melts into skin with probiotics, hydrators and energizing nutrients — all the ingredients a strong microbiome needs.
Green microalgae + lactic acid work together to nourish skin with good bacteria, reinforcing the skin's natural shield, so skin looks smoother and feels balanced, calm and visibly restored.
Calendula flower protects and replenishes the skin's moisture barrier.
Elderberry fruit extract gently infuses powerful antioxidants for all-day protection from aggressors.
Sodium hyaluronate visibly calms red, dehydrated skin for a complexion that's fortified and fresh.
With the Serum Stick, you can boost skin's biome defenses in the AM, replenish them in the PM, and recharge any time of day for stronger-looking, glowy skin 24/7.
How to refresh skin: Supercharged Reset Mist
You start out the day clean, fresh-faced and feeling great, but a quick midday glance in the mirror has you wondering how your fabulous glow turned into a greasy, reddish, flaky mess. We've all been there!
The truth is, regardless of skin type, sweat and oil build up in your pores all day long – and so do the bacteria that love to eat it. The Supercharged Reset Mist balances bacteria for an instant reset to the look you had (and loved) first thing in the morning, AKA noticeably clearer-looking and refreshed skin.
This clarifying mist keeps trouble in check and resets skin with a hydrating cloud ofskin-purifying botanicals.
Herbal toning complex jumpstarts the cleansing process and refreshes skin.
Tea tree oil naturally clarifies skin.
Totarol protects the bacteria balance for a happy microbiome.
Elderberry fruit extract delivers effective antioxidant protection to purify and tighten pores.
Toss the Reset Mist in your bag or car to clarify and refresh skin on-the-go — whether you're working out, traveling, running errands or jamming out at a festival.
In your routine: superfueled + supercharged skin, all day, every day
So, where should the serum stick and reset mist fall in your skincare routine? Basically anywhere and everywhere! This Force Shield duo was designed as a round-the-clock skin reset, whenever your skin needs it.
But to help you get started with a routine that's a bit more specific, we can make a few recommendations. Glide the Superfuel Serum Stick over skin AM + PM after cleansing and toning, perhaps as a microbiome boost before masking up or to hydrate thirsty skin after a pool or beach day. And when it comes to the Supercharged Reset Mist, just close your eyes and spray evenly over your face whenever you need a mini-reset (no cleansing required), whether that's after your morning run, in between Zoom meetings, or before happy hour.
Calming. Hydrating. Rejuvenating. Force Shield is all about balancing skin without missing a beat, so you can keep the good skin vibes going, all summer long. 😎
[[product-ad]]