Hero for the Holidays: Rescue Mission Skincare Gift Set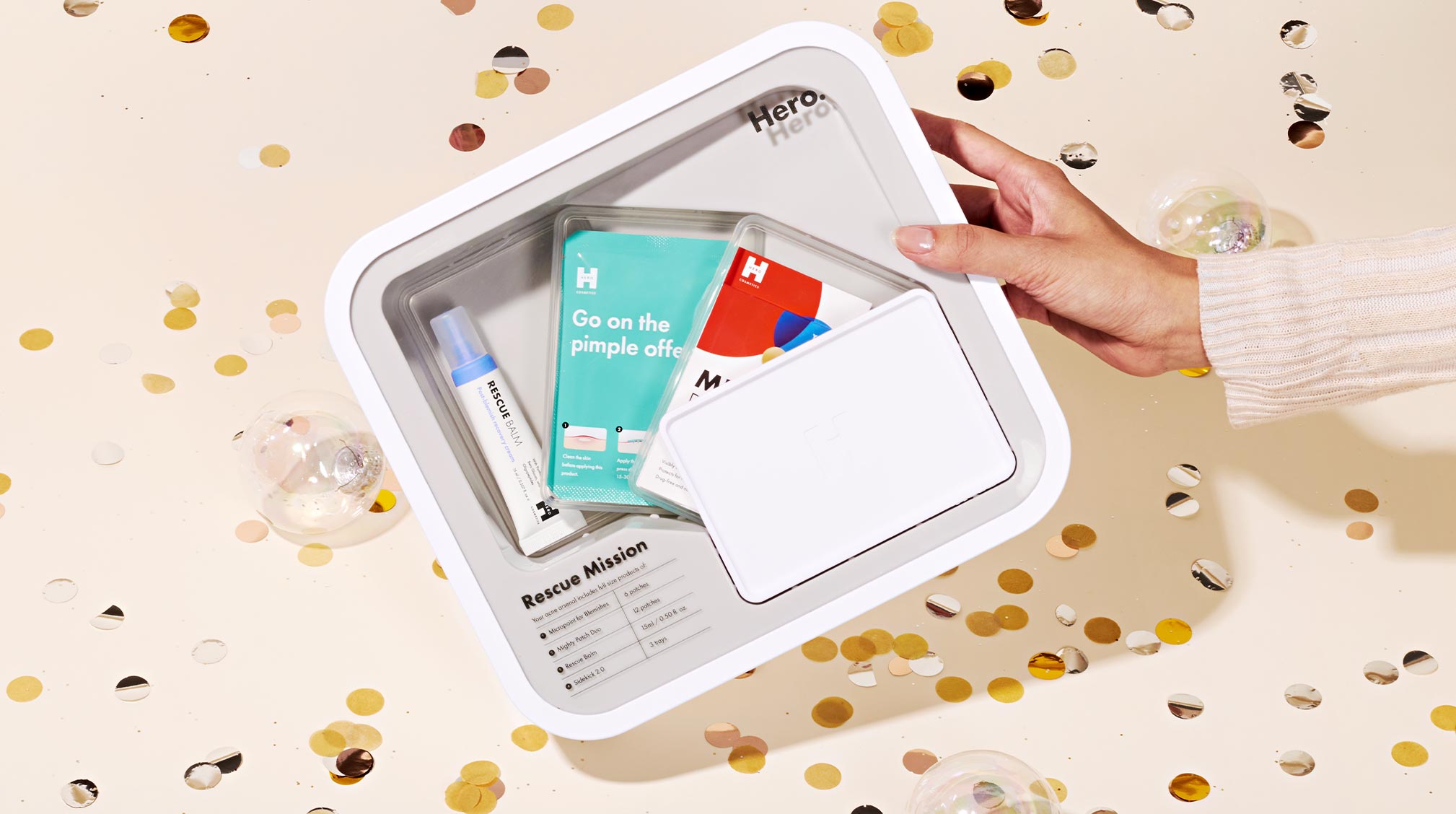 No one really knows what this holiday season will look like, but one thing shouldn't change — it's still the season of cheer and giving and we're so here for it. 🤗
So whether you're spending the holidays sipping mulled wine by the fire at home or out sharing special moments with family and friends, Hero's got your skin care covered with our first ever holiday gift set: Rescue Mission!
We've stocked the Sidekick 2.0 with all the holiday skincare essentials you'll need: Mighty Patch Duo, Micropoint for Blemishes and Rescue Balm. Plus, the chic packaging makes it perfect for gifting (or treating yourself, which you totally deserve).
Holiday beauty tips: how to use Rescue Mission
Micropoint for Blemishes takes down early-stage pimples
Feel a pimple coming on? Tackle that bad boy before he's even made an appearance. Micropoint for Blemishes uses 173 hyaluronic acid microneedles to unleash a super-dose of acne-fighting ingredients right into the core of under-the-skin or blind pimples. Salicylic acid and anti-inflammatory ingredients help to shrink the pimple, calm redness and bring pus to the surface in just 1-2 patches. Simply cleanse and dry skin, apply the patch and press down for 15-30 seconds, and remove 6+ hours later. That pimple didn't stand a chance!
RELATED READ: Blind Pimples: What They Are and How to Get Rid of Them
Mighty Patch Duo stealthily shrinks the look of whiteheads
Whether you used Micropoint to bring a hidden pimple to a head or woke up with a brand new whitehead, our OG award-winning patch will zap that zit in no time. Hydrocolloid extracts pus and impurities in mere hours, while the matte color camouflages breakouts to conceal while it heals. Use Original overnight and our ultra-thin Invisible+ for daytime. Just cleanse and tone as you normally would, apply a Mighty Patch to any pimple with visible pus, and remove it when it turns opaque from all the pimple gunk (about 6 hours later). Pimple problem solved.
Rescue Balm kicks post-pimple recovery into hyperspeed
Rescue Balm is a one-of-a-kind formula that handles three common post-pimple issues: redness, bumps and scaly patches. You know how your skin feels a little naked and scabby after you've popped or patched a pimple? Rescue Balm is formulated with replenishing ingredients like panthenol, beta-glucan and oligopeptides to provide the nutrient-rich moisture your after-breakout skin craves. It also makes a great "pimple primer," like a moisture seal for pimples, so makeup goes on nice and smooth. Just cleanse and dab on a tiny amount once or twice daily, for 2-3 days until your skin appears visibly more renewed, rejuvenated and restored.
All packaged in the super-fun Sidekick 2.0
This stackable vanity tray keeps your entire acne-fighting arsenal organized in one place — so you can get a head start on your New Year's organizational resolutions! The inner trays are custom-sized to stash all Mighty Patch and Micropoint sleeves, while the multipurpose lid holds Rescue Balm, jewelry or any other tiny essentials.
We could all use a bit of a rescue this year, and with one less thing to worry about — maskne or breakouts of any sort — we can spend more time feeling glam, fresh faced or simply more confident in our own skin. 🙌
[[product-ad]]