Got Maskne? Try These 3 Hacks to Prevent & Treat Mask Acne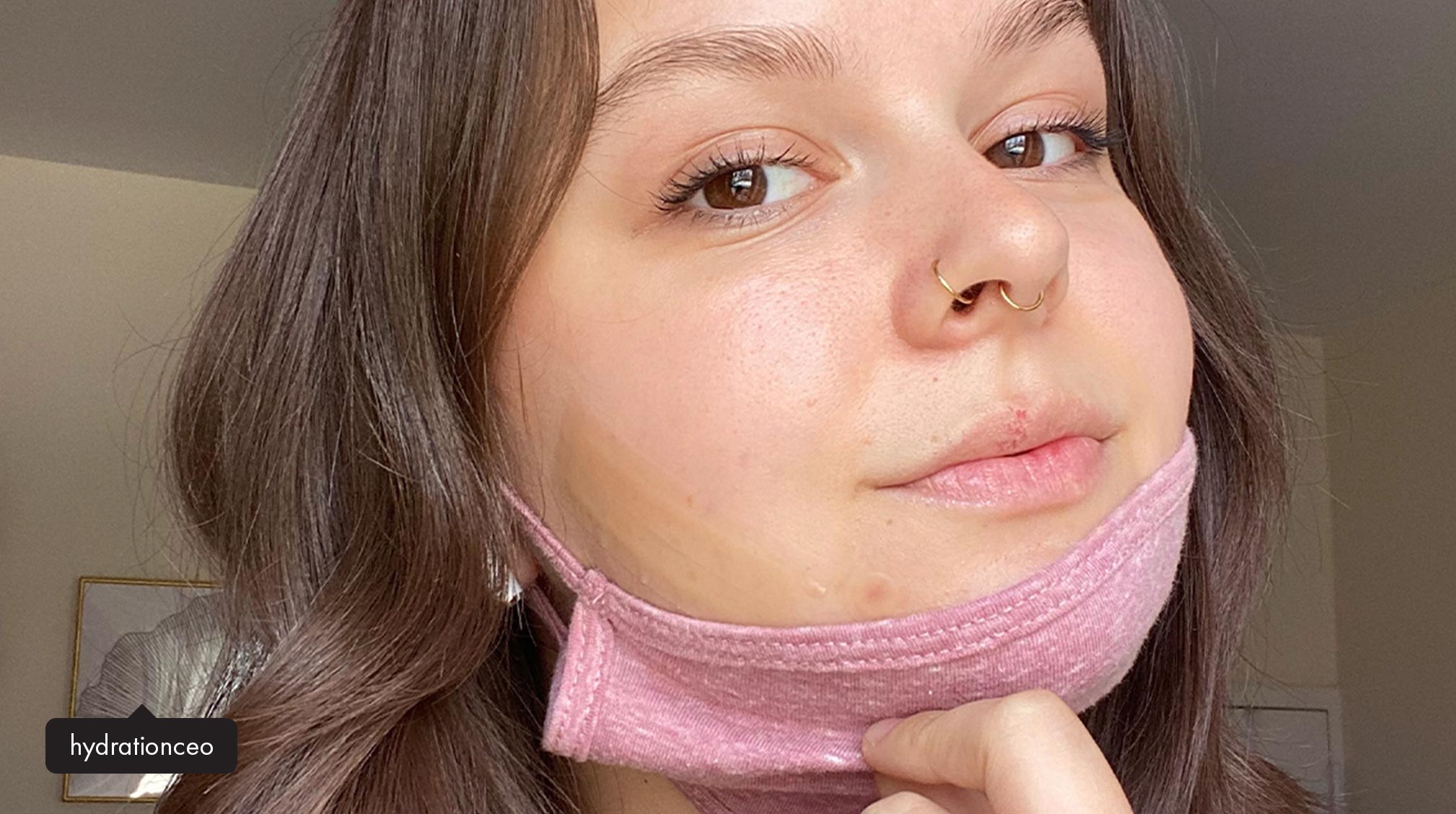 Wearing a mask in public has become our new normal, and that's a good thing right now. After all, it's one of the best (and easiest) ways to reduce the spread of COVID-19, according to Dr. Anthony Fauci, the CDC and just about every other reputable medical expert around the world.
"Face masks have now become an essential part of our daily routines due to their many benefits related to preventing the spread of COVID-19," says Dr. Jacob Steiger, a Florida-based, double board-certified plastic surgeon. "However, for many people, frequent mask wearing combined with the summer heat can cause a severe skin irritation, known as maskne."
"Maskne" or mask acne isn't your run-of-the-mill acne, and it shouldn't be treated as such. In fact, stripping and irritating skin with the harsh ingredients found in many over-the-counter (OTC) "acne-care" treatments and astringents will actually worsen the situation. We consulted four dermatologists to find out how to avoid acne from face masks.
First, how do you know if your breakout is actually maskne?
"Mask acne is the acne or acneiform rash that can develop on the mid and lower face due to wearing a face mask," explains Dr. Tsippora Shainhouse, a Beverly Hills-based, board-certified dermatologist. "It usually presents as discrete or confluent pink bumps or inflamed pimples."
The official name for maskne is acne mechanica, which includes any skin issues caused by friction, pressure, rubbing or squeezing.
While athletes who wear helmets, protective gear or baseball caps have long experienced this inconvenience, for most people, it's something new.
A mask-related breakout is different from hormonal acne, which involves hormonal fluctuations triggering skin inflammation and the production of excess of oil (sebum) in your pores. "If you are prone to hormonal acne, then you know that it tends to present as tender cysts on the chin and jawline, even up the sides of the face/sideburn area," continues Shainhouse. "Wearing a mask can irritate them, but doesn't cause them."
So, if it's not nearing that time of the month, and your breakouts are basically located in the areas where your mask rubs against your skin, it's probably maskne.
RELATED READ: Maskne is Real: 6 Dermatologists Tips to Treat Mask Acne
What's the best face mask for acne?
If maskne is a persistent and/or serious skin issue for you, disposable masks may be your best bet. According to the dermatologists we spoke to, regular, disposable surgical masks are typically lighter and have a looser fit than cloth masks. This means they cause the least friction and will not collect oil and dirt because they are replaced so frequently.
However, using a new disposable mask every day may not be sustainable or desirable for everyone. Whatever mask you choose, pay close attention to the fit. "Masks that fit snugly on the edges, so that that they don't move around, but which have a wider, larger, stiffer bill so that they don't lie flat against your nostrils/mouth/chin are best for minimizing skin irritation and maskne flares," says Shainhouse. "For fabric masks, smoother fabrics are less likely to cause friction (satiny and silky textures). These smoother fabrics can be used as a lining for a thicker fabric mask."
Of course, if you work in a medical profession, mask type may not be optional. N95 masks, which are considered essential protection for many healthcare workers, create a very tight seal around the nose and mouth. Wearing them for long hours can cause not only maskne, but also pressure ulcers and irritant rashes.
A maskne hack, according to mask type
Regardless of mask type, cleansing your face before and after wearing a mask can help reduce mask acne. It may also be wise to slightly adjust your skincare and makeup routines to decrease mask-related irritation as much as possible. Steiger suggests avoiding heavy cosmetics, switching to a non-comedogenic mineral-based sunblock and skipping retinol altogether if your mask is causing irritation, sores and broken blood vessels.
"Treatment products are the powerhouse of any skincare routine," says Dr. Michele Green, a board-certified, NYC-based dermatologist. "These products should be lightweight and packed with antioxidants, peptides and retinol to facilitate cell turnover. However, you should avoid using treatment products during the daytime under your mask. Apply these products at bedtime to help repair the skin."
How to deal with maskne based on your mask type:
N95 or other tight-fitting masks
Pre-protection prepwork is key here. If you create a physical barrier between the mask and your skin, you'll reduce irritation and the spread of bacteria.
Before masking up, apply Mighty Patch Surface to the places where your mask would rub against your skin. The large, rectangular size fits the area across your cheeks where a mask would begin and you can cut them in half for chin coverage. Plus, the hydrocolloid will treat and eliminate any existing pimples in those areas while you're masked.
As soon as you're home and can remove your mask, cleanse your face and apply a soothing treatment with panthenol or peptides, such as Rescue Balm. If your N95 mask is causing extreme dryness or eczema, an over-the-counter cortisone cream may help. Try using it once a day for one week, then give your skin a week off, and continue that pattern as needed.
Disposable surgical masks
Treat maskne promptly and gently, so you don't worsen the situation the next time you put on a mask.
After your post-wash cleanse, assess your skin for any breakouts. If you see a visible whitehead, try a hydrocolloid patch like Mighty Patch Original to eliminate pus and gunk in just a few hours. Then follow up with a post-blemish skin-soother like Rescue Balm so your skin looks as good as new in no time.
And remember to throw away your disposable masks each day, so you won't expose your skin to buildup from makeup, oil or dirt.
Cotton or cloth masks
Pay attention to how you wash your mask.
"Masks should be washed every day in hot water with laundry detergent and white vinegar (has antibacterial, antiviral, and antifungal properties) and dried on higher heat settings in the dryer," says Dr. Elizabeth Mullans, a board-certified, Texas-based dermatologist. "Detergents with fragrances can leave residue in the fabric, which can also cause a rash in people with sensitive skin. Since repeated washing and drying may cause fabric masks to deteriorate faster, and because some people are sensitive to fragrance, I recommend using a mild, fragrance free detergent such as Arm & Hammer Sensitive Skin Free and Clear."
If you do find your skin in need of some post-mask moisture or are suffering from redness-related irritation, try Rescue Balm to get your skin back to feeling soft, silky and renewed in no time.
For an under-the-skin pimple that's just starting to form (without a visible head), try a new acne treatment patch like Micropoint for Blemishes, which uses microneedles to deliver acne-fighting ingredients right into a pimple's core in order to eliminate it before it fully emerges.
Maskne is a real issue that many people are facing right now. But it sure seems trivial when compared to a life-or-death public health crisis. Wear a mask. Just follow the tips above to keep your mask acne to a minimum.
[[product-ad]]