A Guide to Our Rescue Balm Collection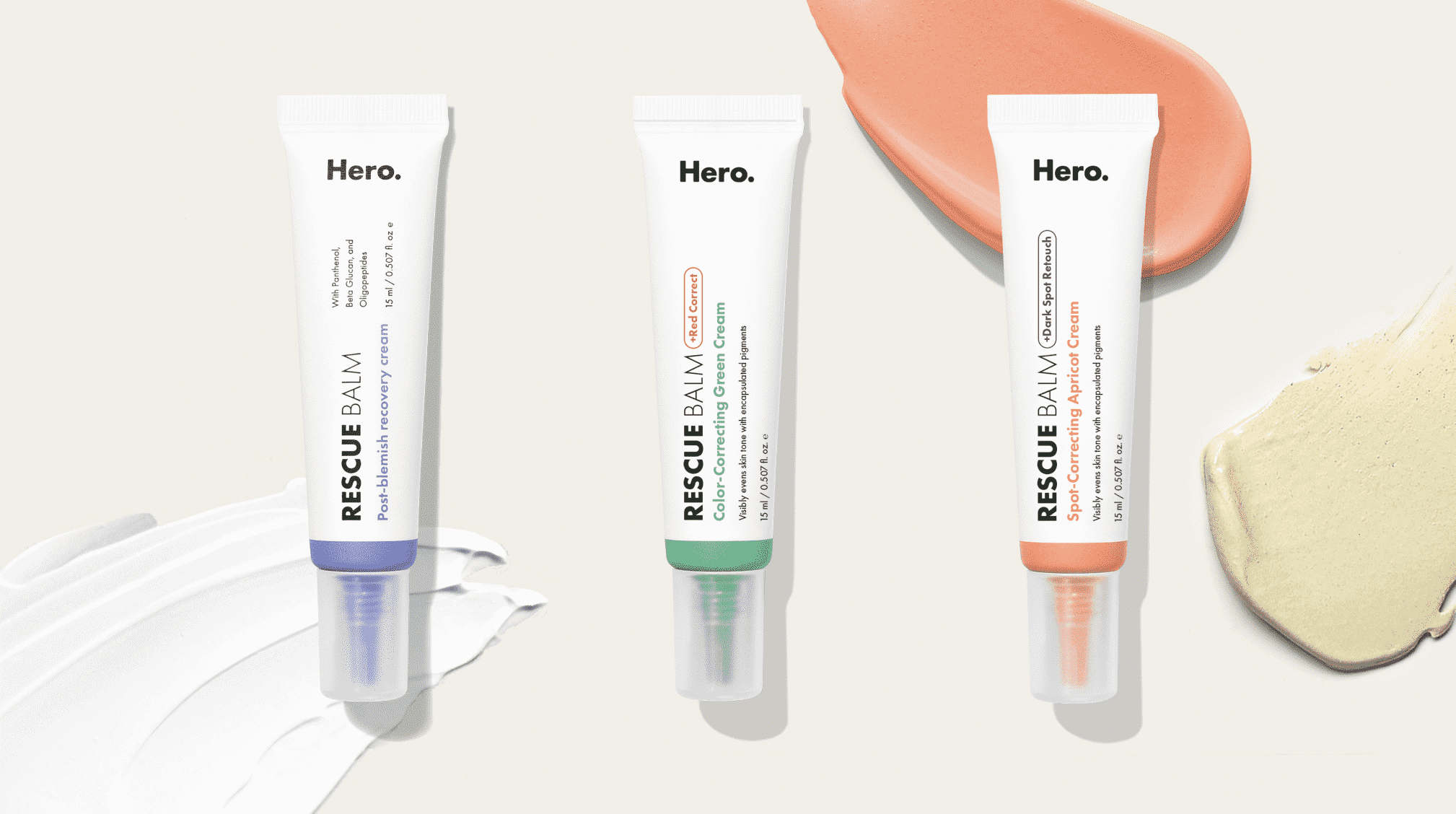 When we launched Rescue Balm +Red Correct, it was met by much love because people were thrilled by the fact that they could soothe dry, flaky skin and blur redness at the same time. It also prompted customers who were more prone to post-pimple dark spots instead of red marks to clamor for their own spot-camouflaging Rescue Balm.
You asked, and we answered – with Rescue Balm +Dark Spot Retouch. The apricot-tinted balm is perfect for blurring dark spots and marks on medium to deep skin tones. It's invisibly sheer, melty-smooth, and everything that you need to nourish, calm and color-correct post-blemish skin – super fast.
There's only one downside of having three Rescue Balm products: knowing which one to use when. For those of you who need some advice, we're here to help. Below, a color-corrector guide to using the Rescue Balms, so you can jump right into all the camouflaging, nourishing goodness.

First, what is Rescue Balm?
The OG Rescue Balm was the first and only product of its kind – a post-acne balm full of nourishing ingredients to help push your comeback into hyperspeed. With powerful antioxidants and peptides, it tackles the four most common post-pimple issues: redness, dryness, flaky patches and bumpy texture.
You can use it anytime, day or night, at home or away, and even if you aren't waiting for signs of a breakout to fade naturally. It's a perfect skin soother for maskne on your face, a way to try slugging without clogging pores with excess oil and a great cream to have on hand for whenever your skin needs a replenishing boost.
Then, what are the other Rescue Balms?
Basically, they are daytime versions of the same cult-favorite Rescue Balm formula, each with an added bonus benefit:
Rescue Balm +Red Correct blurs redness with Green Encapsulated Pigments. The green-tinted balm is best for light to medium skin tones and doubles as a color corrector and hydrating primer.
Rescue Balm +Dark Spot Retouch tones down discoloration and camouflages dark spots with Apricot Encapsulated Pigments. The apricot-tinted balm is designed for medium to deep skin tones and doubles as a color-correcting makeup base.
RELATED READ: What's the best color corrector for dark spots?
How to use color corrector and OG Rescue Balms
You can double up on post-blemish spots with Rescue Balm original for night and one of the other two balms for daytime color correcting and replenishment. Use the Rescue Balm +Red Correct Duo before concealer and makeup if your skin tone is on the lighter side and you want to get rid of redness. Use the Rescue Balm +Dark Spot Retouch Duo if your skin is prone to dark spots and on the deeper side. With either duo, you get 24/7, day-to-night skin recovery + replenishment. 🙌
Two balms are better than one. Save 11% when you bundle Rescue Balm original with Rescue Balm +Red Correct or Rescue Balm +Dark Spot Retouch. Shop now>>