Q&A with Laura Schubert, CEO and Co-Founder of Fur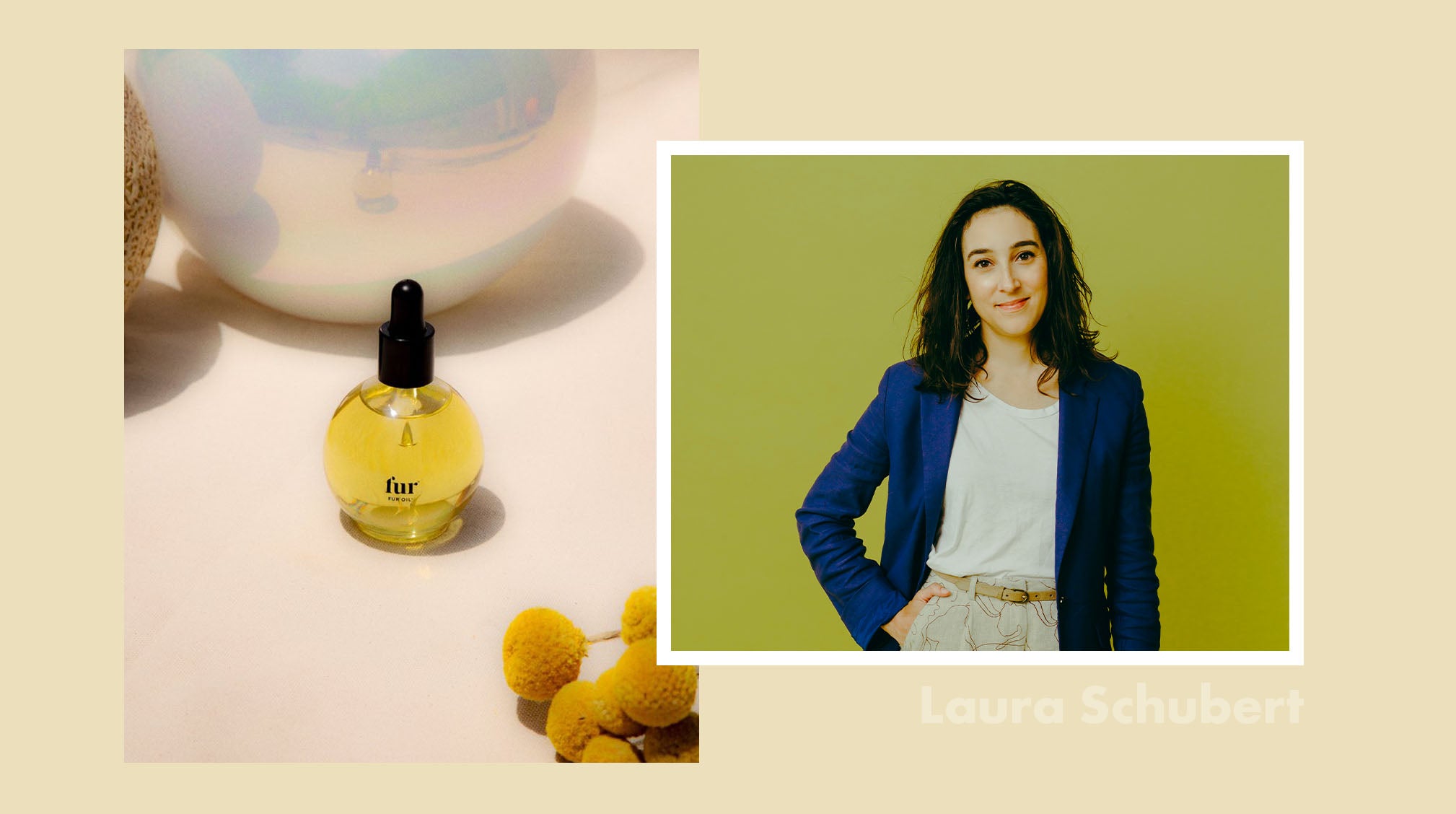 Pubic hair. Whether those two words make you giggle, blush or both (and feel like you're back in middle school), everyone has it. But people rarely discuss it. Laura Schubert and Lillian Tung, Cofounders of the unisex bodycare collection Fur, are on a mission to change that. We spoke with Laura about launching the first pubic haircare brand, her experience as a female founder and her skincare go-tos.
1. How did you come up with Fur? What was the goal behind creating a brand that tackles body hair? And how were the early days?
I was talking to my sister about pubic and body hair and we realized that no one ever discussed how to care for it. Not only that, but there weren't any product options that were clean and sophisticated. The category simply didn't exist. So, I started calling chemists and tried to formulate the product that I had been looking for myself. I also spent a lot of time, along with my business partner Lillian and our early creative partners, crafting a brand world that would elevate a topic that many people find taboo and embarrassing. Through messaging, we wanted to create a safe space where people could discuss body hair and how to care for it.  
From our earliest days, Fur has been polarizing. Some people understood it immediately, asking why pubic hair care didn't exist before. We have also been hung up on, laughed at and endured many nervous giggles. I love destroying this taboo and making people a little more comfortable in their own skin. Our mission is to be body positive, to be a force for acceptance in this world.
2. What's it like to be a female founder? What are the benefits and drawbacks of having a female-founded brand?
I can't really speak to being any other kind of founder, but I definitely think that the bar is higher for a female founder to be taken seriously. I've had exploratory talks with investors who said they would give the products to their wives or girlfriends to try, while I could see the razor burn on their own faces! Ultimately though, I think it's great to be a female founder and I really appreciate the flexibility that entrepreneurship affords me as a mom to a young daughter.
3. Some people have very strong, negative opinions about body hair. Can you share a little about the general feedback Fur receives? How do you think Fur contributes to the conversation that's alleviating the stigma?
People seem to have extreme reactions either way. The backlash hasn't necessarily been surprising. It's a taboo topic, so that naturally makes people nervous. But at the start, it was disappointing for certain retailers to say that we had to take "pubic" off our packaging to sell, or having our Instagram photos taken down because they're "inappropriate" for showing women with body hair. 
On the flip side, we've been encouraged by the positive feedback. As a mom raising a daughter, it's so rewarding to help champion body positivity and watch it turn into a full-blown movement. That movement makes us believe that it's just a matter of time before these roadblocks no longer exist.
Fur has pushed the conversation past just talking about hair removal — we're talking about body hair in any and all forms, while celebrating individual choices on how to care for it. By consistently championing all hair types, hair styles and body choices, we hope to highlight that the stigma is unnecessary, because body hair (and the routine we have for it) is normal and valid. 
4. Let's dive into your skin care! How does your morning skincare routine differ from your nighttime routine? Any skin tips for our readers?
My morning skincare routine is quite minimal - splash my face with water, a quick spritz of toner (I have many, but love the one from New Zealand brand Savar), a dab of face moisturizer (I switch up the brand, currently Ursa Major), and mineral sunscreen (La Roche Posay). I don't usually wear makeup. In the evening, I add Omorovicza thermal mud and under eye cream to this routine. Two to three times per week, I exfoliate with Fur's Silk Scrub all over my body (including my face), and use a hydration mask from my facialist Christine Chin if I have time.
5. How does your relationship with your own body hair influence Fur's core values?
I was a gymnast in high school (in fact, Lillian and I were co-captains of our high school team) so I had to choose how to manage my body hair from a young age, whether it was winter or summer. I didn't feel comfortable discussing these choices with anyone. In college, I started practicing regular hair removal - basically because magazines told me it was the right thing to do. It wasn't until later that I began questioning these choices and actually started talking about them with people, including my husband. I realized that it was a choice no one felt comfortable speaking about, myself included. But when asked, everyone wanted to talk about their body hair choices. It was fascinating.
6. Where do you see Fur in the future? What kind of brand do you think Fur will become?
Our objective has always been to create a timeless brand and be the leader in a completely new category. Our biggest role model is Anastasia Soare, who literally shaped the eyebrow category.  Beyond this commercial goal, we are on a body positive mission to increase acceptance for all different types of body hair expressions. We hope that Fur can decrease the shame and embarrassment many people feel about their choices.
Want to hear more about the Fur story or explore their product line? Visit https://furyou.com/.