Learning to Love Our Skin With Acne Advocate Christina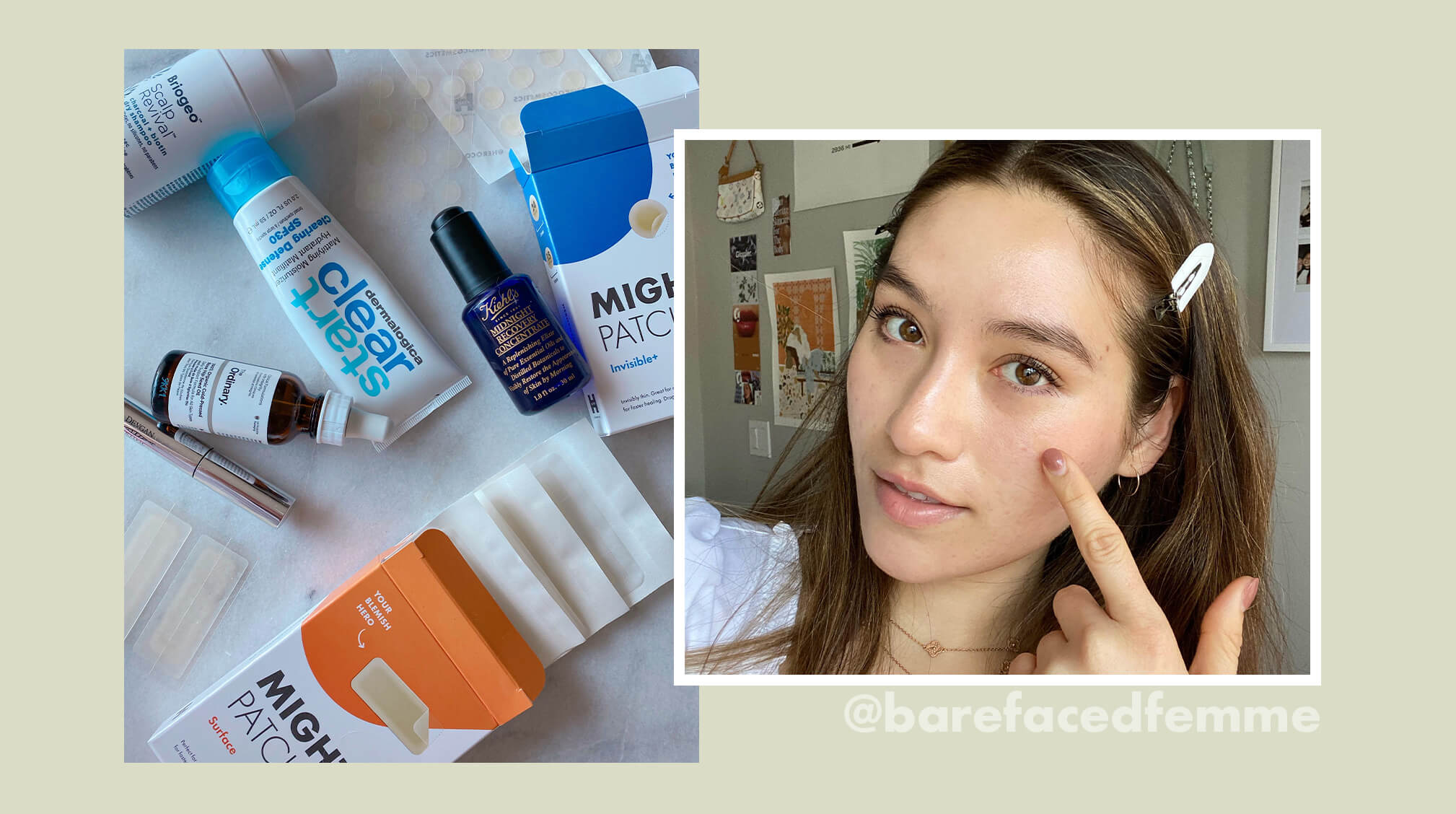 In the midst of fighting with acne, behind the struggle of trying tons of different acne products, there's one overarching struggle – the loss of control over yourself. Not being able to control how our skin looks is very frustrating, especially when you've spent so much time and effort trying to help heal your skin. 
In today's guest post, we chatted with acne positivity influencer, Christina, your @barefacedfemme, to share her acne journey. Christina was diagnosed with PCOS in college which exacerbated her acne and lowered her self-esteem. Read our interview with her down below to learn more about Christina and her path to self-confidence! 
SKIN
What's your skin type?
My skin type is a combination! I got off of accutane just four months ago so I have dry skin around my cheeks but oily on my t-zone, but not nearly as oily as I was about a year ago before I was on accutane! 
Tell us your skin story! When did you start getting acne? How did having acne make you feel? 
I got my first breakout when I was just 12 years old… petrifying! I struggled with my skin from about the 5th grade up until my junior year of high school! I would get facials, treatments, lasers, hormonal medications, antibiotics… you name it! Luckily, my skin calmed down my senior year of high school up until the fall of my junior year in college, September 2018. 
From September 2018 to February of 2019 my skin got especially worse, as bad as it's ever been. I went to numerous dermatologists and even an endocrinologist to figure out what was going on internally and was diagnosed with PCOS, Polycystic Ovary Syndrome, where my body was producing excess male hormone, testosterone and producing an overall higher androgen level within my body. Thus, my body was producing more male hormones than female hormones, so my body was reacting to this by producing excess oil, which then would clog my pores and caused me to break out all over my face: my forehead, cheeks, lower jaw, and chin. From December to March I tried numerous birth controls and antibiotics, yet again, and nothing worked to help reverse my PCOS. Accutane was always on my mind. I've always heard of it but knew it was a very intense medication. 
By March, I was at my breaking point. I was unable to look anyone in the eyes anymore. I was unable to feel comfortable without any makeup in front of my close-friends and family. I barely could even get out of the house and go to school. I knew something had to change. I talked to my dermatologist about Accutane and she said I was the perfect candidate cause I exhausted all other options to help reverse my acne. Luckily, after 9-months on Accutane, April 2019 to November 2019, my skin cleared! 
Do you feel differently now about your skin than before? What have you learned about your skin through these years?
It was not the easiest journey but I finally have control over my skin again! I am so proud of my acne journey because it has made me so much emotionally stronger. I am so proud of my acne scars cause they remind me of how strong I am and how much I have been through to get to where I am today. I am so appreciative of the lows I have endured because it has made me who I am today. 
ROUTINE
Walk us through your skincare routine!
My skincare routine is the one time a day I have for me! It is almost like meditation for me! I love to have the time to pamper myself! Whether AM or PM, I always start with a cleanser, then serum, oil, then moisturizer! And of course, during the day I use an SPF, either Elta MD or Dermalogica Clear Start! 
Any favorite acne-fighting products that you want to share? 
A pimple treatment I particularly love is the Dermalogica Clear Start Breakout Clearing Booster. This spot treatment is amazing for moments I can't put on my patch! I even sometimes add a patch on after I apply this spot treatment for a boost! 
How do you use Mighty Patch?
When a breakout looms I reach for my mighty patches! I particularly use mighty patch to help me prevent myself from picking my face! I am notorious for loving to pop so when I put my patches on it helps calms my mind. Using the patches helps me from picking at zits and helps heals them too! Win-win! 
YOU
Instead of letting your skin define you – what defines you? What makes you feel confident?  
Today, I feel the most confident when I leave my house without any makeup on. I feel so confident to show my acne scars because they are a reminder of how my acne-care journey made me stronger— mentally, emotionally, and physically. 
Any tips and secrets you can share for those of us who are just starting their acne-care journey? 
For those who are just starting their acne-care journey and struggling, you are not alone; acne is normal. We have all been there! Please remember to be patient with yourself, everyone's skin is different and we all have our own individual journeys that make us stronger in the end. Remember to take care of not just your skin, but your soul too! 
No one's acne journey is ever finished! Follow Christina to keep up with her skin journey.