Update Your Bodycare With PiperWai And CORA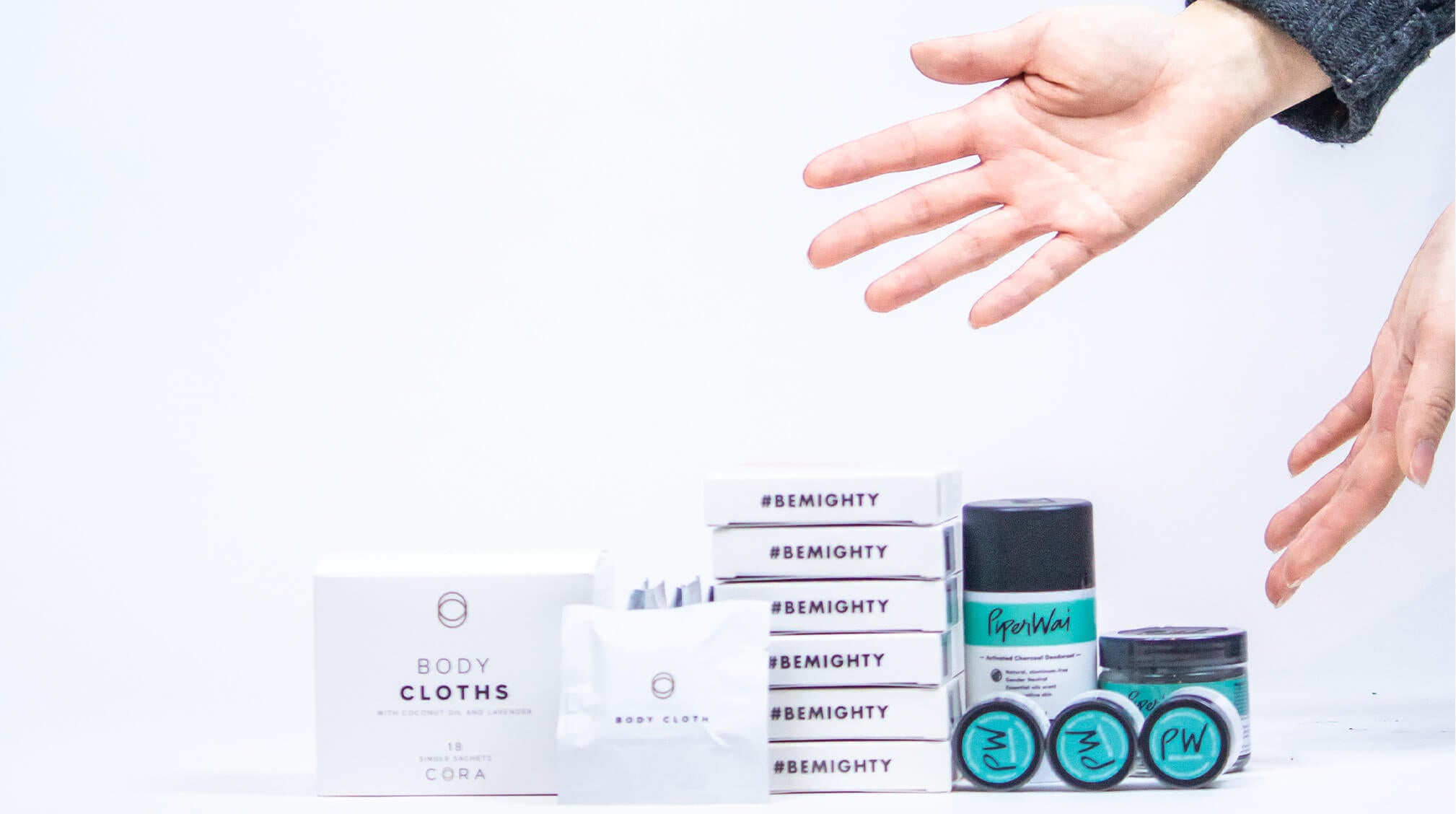 We're halfway through January, have you kept your New Year's Resolution of going to the gym at least 5 times a week? Don't let the cold stop you! This winter we've partnered up with PiperWai and CORA to bring you natural remedies for your pre-gym and post-gym hygiene. At Hero Cosmetics, we believe that skincare goes beyond our face. So we've chosen some new, all natural products that your body will adore during the cold weather.
PiperWai Natural Deodorant
You know it's winter in NYC when you layer up on sweaters and scarves expecting to fight the cold, but once you walk into that subway, you start to sweat while waiting for the train to arrive. But what are you sweating? The founders of PiperWai know a little something about your body's chemistry (big understatement!) but here's our rundown:
Your body has two sweat glands, one of them is known as the apocrine gland, A.K.A. your "stress sweat." This stress sweat will occur in areas like your underarms and feet. Usually odorless, this gland secretes an extra protein molecule that causes you to stink. Your body sweats more of this stress sweat when you eat certain foods or when you're under a lot of stress.
Their solution? Fight a naturally occurring body process with an all natural deodorant. The PiperWai Natural Deodorant is made with 100% natural blend of 11 therapeutic-grade essential oils. Even sensitive skin will feel hydrated and safe under the pH-balanced mix of organic coconut oil, shea butter, cocoa butter and vitamin E. The key ingredient is the activated charcoal—which is super absorbent and will neutralize your body odors and absorb any unwanted moisture and toxin.
Just scoop out a pea-sized amount and rub it under your dry underarms until it's completely clear and spread out. The warmth of your fingers will melt the deodorant into the your skin and keep that area dry.
CORA Body Cloths
Wherever you're planning to visit this season, you're gonna want to keep these at hand. CORA Body Cloths are travel-friendly and ultra soft on the skin. They are made from sustainably sourced bamboo and soaked with coconut oil to keep your skin hydrated. There's lavender oil to detox and soothe any redness and inflammation your skin may have. Plus, the natural lavender scent is a calming fragrance that will help you de-stress.
It's also infused with aloe vera and red raspberry leaves, which are antioxidants that will heal and tighten the skin. CORA body cloths are also PH-balanced, biodegradable and made without glycerin, alcohol, parabens, dyes, sulfate or any added fragrance, so it's completely safe for us sensitive gals!
We love CORA because they produce products that are good for you and the planet. AND every CORA product you purchase helps provide period care and education to a girl in need in a developing country!
Each body cloth comes in its own individual packet to keep its freshness. Perfect for a quick wipe down after a yoga class or for those moments when you want a quick refresher. Just throw one in your backpack, purse, or gym bag, and you're ready to go.
You can now try a sample of the PiperWai deodorant and CORA body wipe when you purchase a box of Mighty Patch!
How else do you take care of our body? Let us know in the comments below!