5 Genius Ways to Use Tea for Clear, Glowy Skin—Beyond Just Drinking It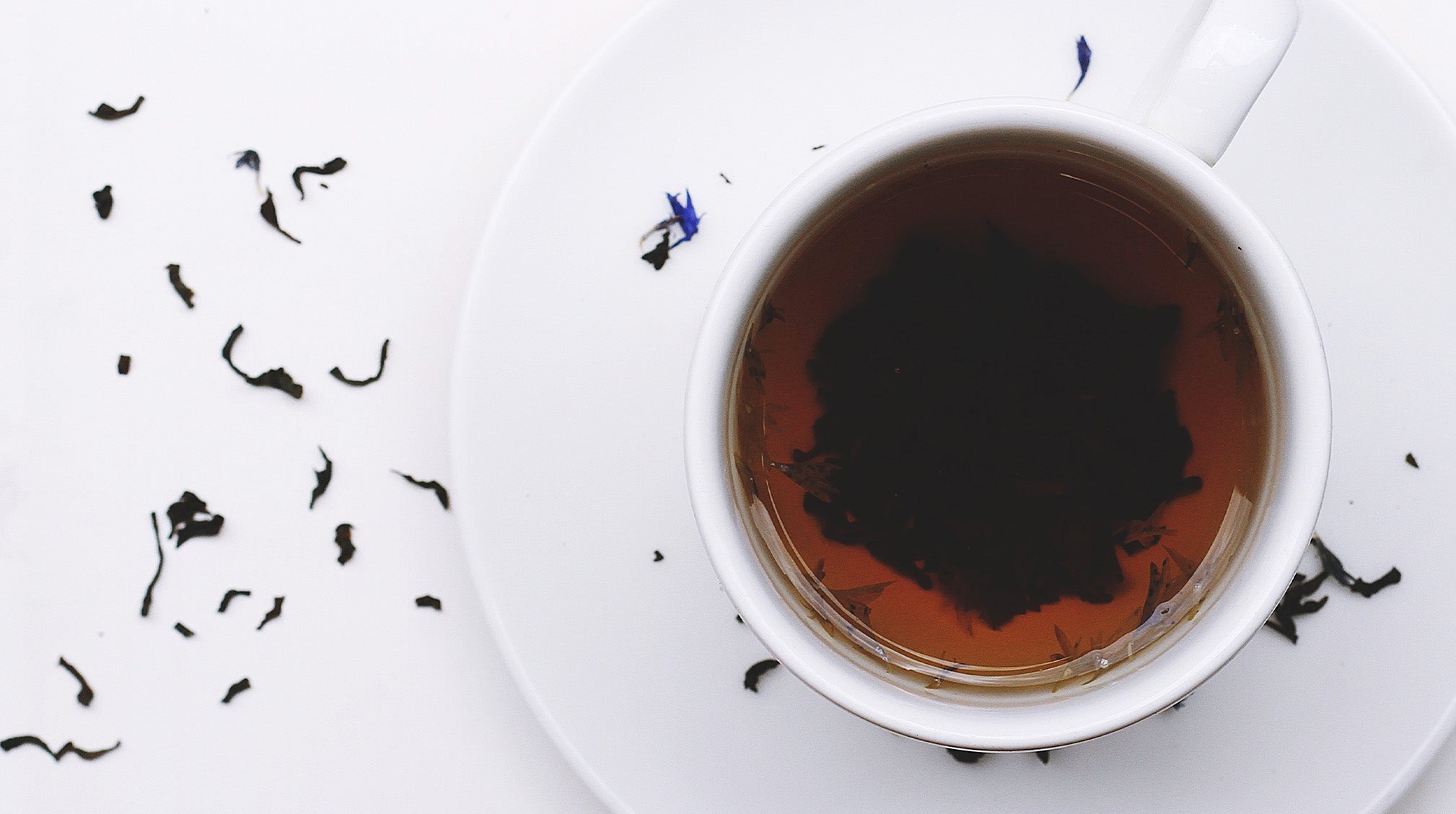 There are so many good things to say about tea. It's there for you when you're sick. It relaxes you before bed and energizes you in the morning. And the best part: tea has so many benefits, and we're not just talking about health benefits. Tea, whether you drink it or apply it topically, is excellent for your skin too and is said to help clear up acne. 
For all those reasons, suffice it to say, our love for tea runs deep. So to help you reap the beautifying, skin-enhancing benefits of the soothing beverage, below, we compiled a cheat sheet of the best teas for your skin. Plus, we also threw in five genius ways you can use tea to achieve clear, glowing skin. Let's dive in. 
Two best teas for acne and skin
Green tea
"Is green tea good for your skin?" is a question that's often Googled, and the answer is heck yes! Green tea (aka the best antioxidant tea) is pure magic. Let us count the green tea skin benefits. For one, green tea is rich in epigallocatechin gallate (EGCG), a highly potent antioxidant, which research has shown helps reduce oiliness of the skin and improve acne. Two, its high antioxidant content also protects the skin against UV damage. And three, when applied topically to the skin, green tea also helps reduce redness and soothes irritated skin. *runs to computer and orders 13 boxes of green tea*
Spearmint tea
Spearmint tea is another raved about tea for its acne-clearing benefits, and the proof is in the pudding. A study by the American Academy of Dermatology conducted in 2015 found that drinking two cups of organic spearmint tea for one to three months reduced inflammatory acne lesions by 25-51%. In other words, spearmint tea benefits include way fewer breakouts and redness just by sipping some tea. We'll give you a sec to pick up your jaw off the floor. 
Best teas for skin runner-ups
Chamomile tea

has anti-inflammatory and anti-fungal properties and helps calm and naturally heal the skin. 
Peppermint tea

is anti-septic and anti-bacterial. And, it's super soothing and cools down the body internally and externally. 
Black tea

also contains anti-inflammatory properties and antioxidants that our skin needs to protect against premature signs of aging. 
5 genius ways to use the best teas for skin
Depuff your eyes
If your eyes are looking puffy and sleep-deprived, caffeinated tea can help with that. The natural caffeine in teas helps constrict blood vessels, soothe the eyes, and reduce puffiness. 
Instructions: 
To try it out for yourself, brew some caffeinated tea (green or black works great for this) and then pop it into the fridge.
Once the tea is cold, soak a couple of cotton rounds in the tea and place them on your eyes for 10ish minutes while you chill out and listen to music or a podcast. 
Make a face mist
There's no need to drop your dollars on a fancy face mist when you can make one yourself. All you need is an empty spray bottle, preferably a dark glass one, and a bag of peppermint tea. 
Instructions: 
Steep the peppermint tea in hot water for about eight minutes. Be sure to cover it. 
Next, pour the peppermint tea into the spray bottle and then put it in the fridge for a few hours. 
Once the tea is nice and cold, it's ready to use as a face mist whenever you want to refresh and hydrate your skin. 
Do a DIY mask
We've already gushed on all the skin benefits of green tea, so using it to make a DIY mask is pretty much a no-brainer. Here's how to do it.
Instructions: 
Head to your tea drawer (or wherever you keep your tea collection) and grab a couple of green tea bags and open them up. 
Dampen the tea leaves with some warm water. 
Mix the leaves with some honey. 
Apply the mixture to your acne-prone areas. 
Leave the mask on for up to 20 minutes to let it work its magic. 
Repeat a couple of times per week to achieve that coveted glow up. 
Take a bath with it
Yes, you can even bathe in tea. Black tea works great with this method, but you can use any tea of your choosing. We recommend going all out and making it a spa-like ritual complete with candles and calming music. Can you say luxurious?
Instructions:
Steep a pot of black tea (or your fave skin-boosting tea). 
Pour the tea into your bathwater. Be sure to remove the tea bags first.
Get in the bath and relax so hard. 
Use it as a toner
Again, you don't need to spend money on all the pricy skincare lotions and potions to have clear, glowing skin. Tea also makes a great toner. Everything you need is likely already in your pantry. 
Instructions: 
Steep a cup of your favorite green tea in hot water and cover it for a few minutes.
Once it's done steeping, toss the tea bag and pour the tea into a clean, empty glass bottle.
Add 1 cup of witch hazel or aloe vera juice.
Apply your new green tea toner to clean skin using a cotton pad.