5 Beauty Hacks for Tired Moms (Basically, Every Mom in 2020)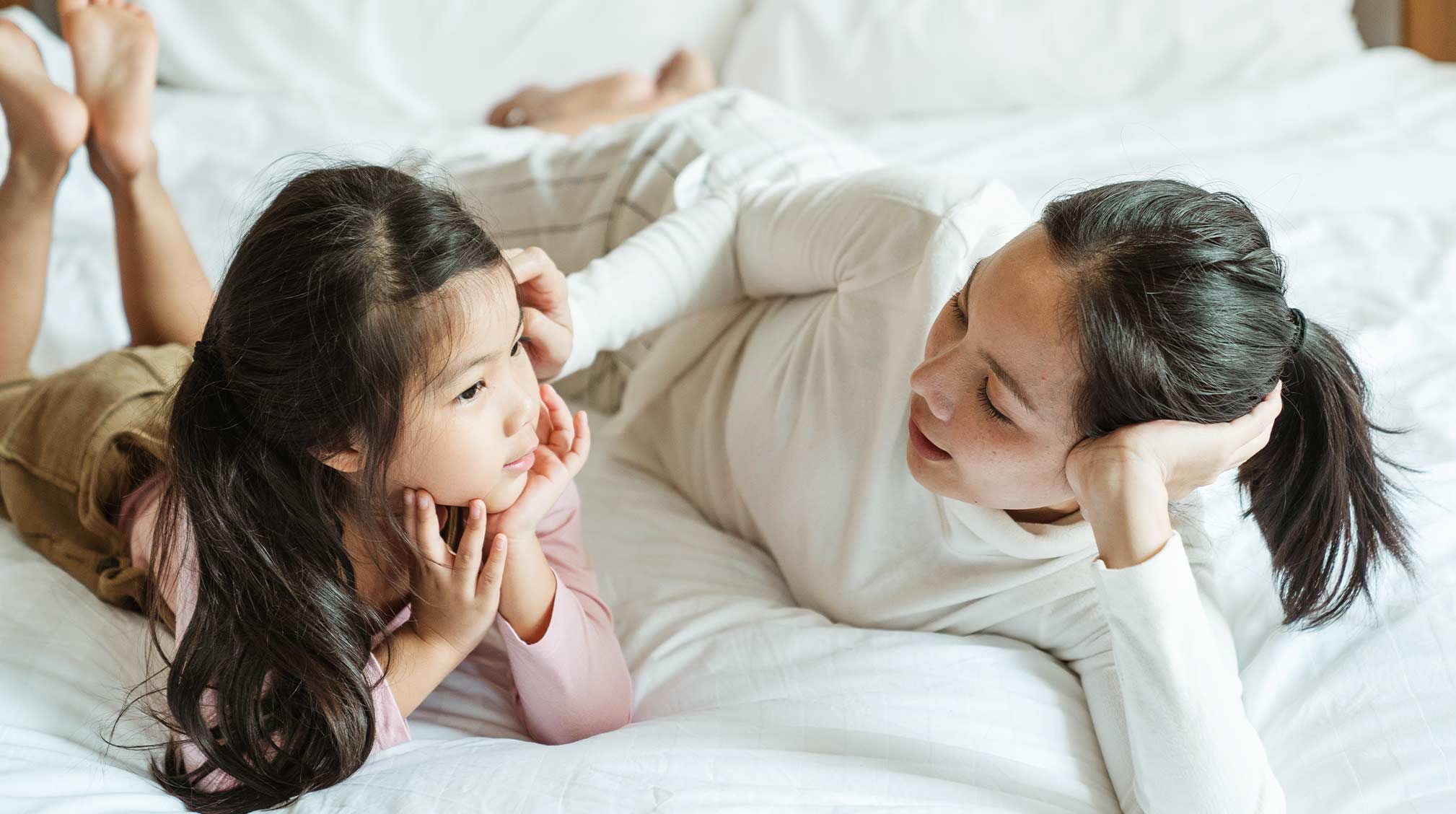 It will be remembered as the year of many things, but for almost all of my fellow moms out there, 2020 will undoubtedly be remembered as the year of complete and utter exhaustion. Whether you're balancing homeschooling and your actual job, serving your family the eleventy-billionth meal of the year (because, let's keep it real, even takeout requires work when you have little ones), or are just feeling the coping fatigue, this year has been a doozy.
But we're not here to remind you how tired you are. We're here, with some dermatologists and skincare experts (many of them also moms), to share some of the best skincare and wellness hacks to help you a) not look as tired as you actually are and b) sneak in a tiny bit of super-efficient self-care on a regular basis.
1. Get your glow from the inside out.
What's the easiest way to take care of your skin without even touching it? Adjust your diet. And no, we're not talking about some complicated, restrictive, 30-day plan that requires time you don't have. "Eating well is a key to looking and feeling good," says Dr. Anna H. Chacon, a Florida-based board-certified dermatologist and Expert Medical Writer for ZELEN Life. "Do not starve and try to only take in food with the best ingredients. Your health definitely reflects itself in your skin, hair and nails, and while we sometimes look for products that might do the trick, it is often futile if you are not eating a healthy, balanced diet."
Start small, with diet changes that work for your lifestyle and don't require a whole lot of extra time. Maybe that means getting up 20 minutes earlier to actually sit down and have a real breakfast. Or perhaps it's saving the wine for the weekend and drinking more water throughout the day. After all, well hydrated skin has a brighter, smoother glow.
2. Find the best basics.
No time for a 12-step skincare routine here, and that's okay. In order to make the best of the skincare time you do have, make sure you are using the best basics (cleanser, toner and moisturizer) for your skin type and concerns.
Terrence Bonner, a licensed esthetician and owner of The Glam Station and Spa, recommends starting with "a great cleanser that's right for your skin type to help remove oil, dirt and any pollutants." If you're not 100% sure of your skin type, or think it may have changed since having kids, check out our 5-question quiz to figure it out. Then, look for cleansers designed specifically for your type. And the good news is that a "great" cleanser doesn't have to be expensive. CeraVe cleansers, which are a solid go-to for us and dermatologists alike, are all under $20 for 16 oz.
Next up, toner. I know, I know. When you barely have time to go to the bathroom in peace, toner seems like an unnecessary step. But the truth is, it can really make a difference, especially by restoring the skin's pH balance to revitalize tired, dull skin. Plus, it helps to shrink the appearance of pores, making your skin look smoother without any makeup. Look for a toner designed to meet your specific skin goals: reduce excess oiliness, hydrate or smooth out fine lines. And take a moment and a deep breath while you enjoy the refreshing feeling of a quick spritz or swipe. Ahhhhh. 😊
RELATED READ: The pH Balancing Act: How it Can Help with Acne
Finally, moisturize (and multi-task). Every skin type needs moisturizer, even if your face typically looks like an oil slick by lunchtime (which an oil-control toner can help with, BTW). It's just about finding a moisturizer that not only provides hydration to keep dry patches and dullness at bay, but also treats the other skin conditions you're seeing when you look in the mirror. Redness or uneven skin tone? Find a moisturizer with niacinamide. Looking a little lackluster? Choose a night cream with retinal. Longing for the dewey skin of your youth? Look for an exfoliating moisturizer with lactic, glycolic and/or salicylic acids. Need a special soother for maskne that's healing? Try a post-pimple balm with replenishing antioxidants and peptides, like Rescue Balm.
3. Emphasize the eyes.
If there was ever a time to focus your skincare efforts on your eyes, it's now. With your mask on, your eyes are often the only thing that people can see. "Our eyes are working all day long and often age faster than the rest of our face," says Dr. Renée Moran, mom of three and owner of Dr. Renée Moran Medical Aesthetics spa. "Puffiness, dark circles and fine lines are the most common complaints for this area — especially for moms who are running on little sleep and with little time to take care of themselves."
Wondering how to get rid of tired eyes, dark circles and fine lines around your eyes? "The area is prone to dryness due to thinner skin and a lack of oil glands around the eyes which serve as a natural moisturizer, so the correct moisturizer is important," continues Moran. "Among the ingredients that help are: growth factors, peptides, and vitamin A derivatives for fine lines; kojic acid and vitamin C for dark circles; and caffeine and green tea for puffiness."
4. Choose quick, feel-good treatments that pack a punch.
If you happen to find a spare minute, don't waste it on skin treatments that feel like work. Juliette Aiyana, Licensed Acupuncturist and Chinese Herbalist says "Jade rollers feel cool on the skin and can quickly reduce puffiness while stimulating blood to the face and cheeks — for a brighter look in just a few minutes. It is great to use after applying moisturizer, as it will help the moisturizer to absorb. It is quick and easy and feels luxurious." Feels luxurious and gives you brighter skin in minutes? Yes, please.
Products that are fun to use (and address skin issues you've been putting off for a while) also fit the bill here. Lightning Wand brightening serum zaps sunspots, hyperpigmentation and other dark patches (like lingering melasma from your last pregnancy). And with a quick pump and cooling swipe, you are also instantly Illuminating skin with a sheer color-correcting tint.
5. Stop the clock.
If you're wondering how to keep your skin looking young for years to come, the answer is simple: sunscreen. "This is because UV rays from the sun are the leading cause of skin damage and premature skin aging," says Kelly Hsiao, new mom and co-founder of the suncare company Block Island Organics. "In fact, 90% of skin aging, according to the Skin Cancer Foundation, is caused by the sun. So to keep your skin looking healthy long term, it's vital to apply an SPF everyday. Additionally, the effects of sun damage are cumulative, so the sooner you practice good sun protection, the better." Sunscreen may not be the sexiest product in your routine, but your future face in all those graduation, wedding and grandchildren photos to come will certainly thank you.
There you have it, ladies. As a tired mom of three boys, I can personally attest to all of these skincare hacks making a difference. It's the little things, now more than ever, and making a few small changes to your routine can help you feel and look a bit more like yourself again. 😉
[[product-ad]]