What PCOS Taught Beauty Influencer Carrie Anne About Self-Care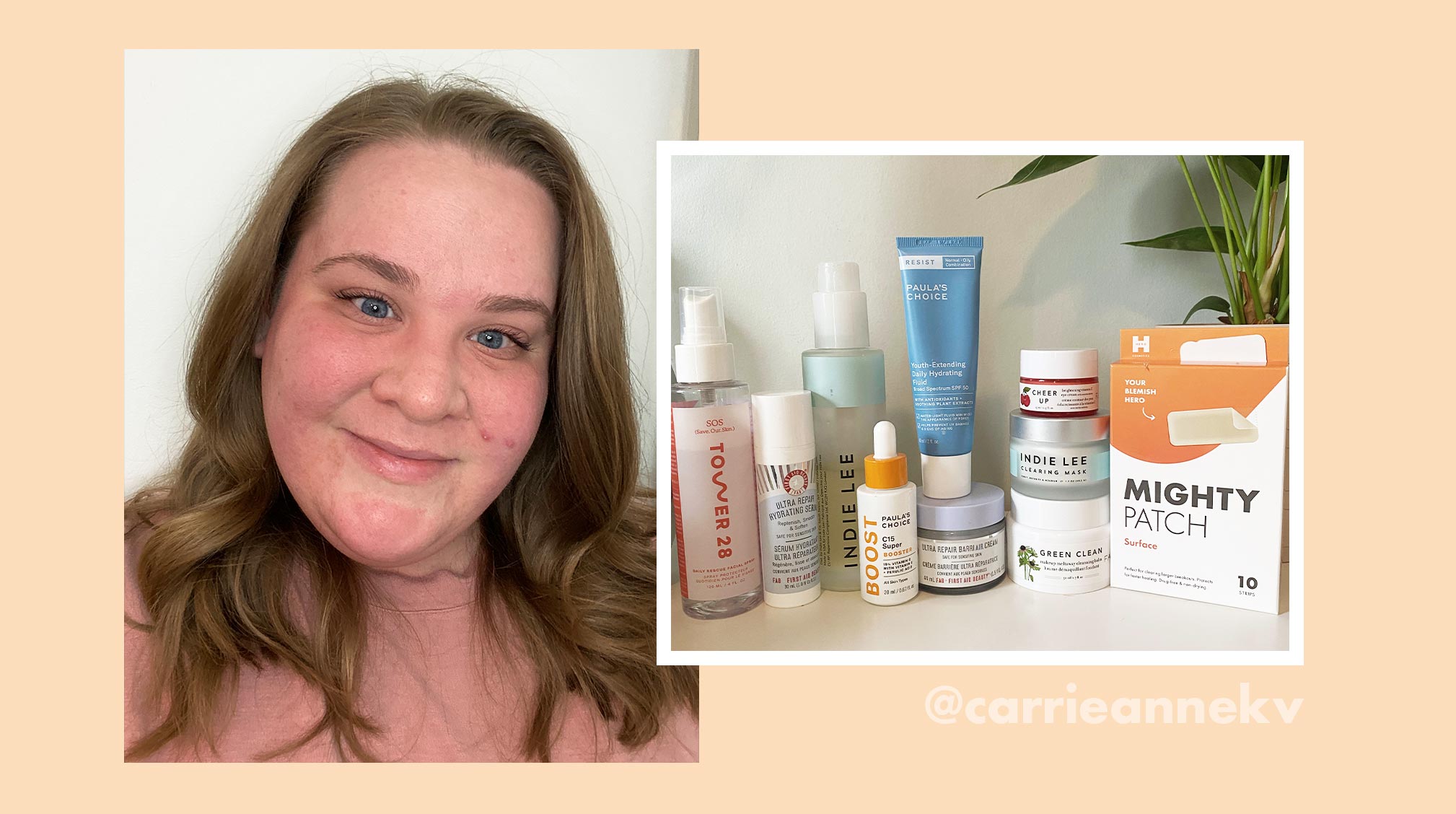 If you're like us and constantly scrolling social media for skincare recommendations, you have to meet Carrie Anne. With hundreds of Instagram posts on product recommendations and beauty routines, you might get lost in some of her delightful #texturetuesday shots.
But only true followers of Carrie will remember her lesser mentioned story of her PCOS. In her teenage years, Carrie may have had normal skin. But at 24, her PCOS and acne journey had just begun. Ahead, Carrie discusses how her battle with PCOS taught her how to treat her skin with kindness. Now she uses her experience to inspire others how to heal their acne.
Skin
I was very fortunate to have relatively good skin as a teen and young adult. The occasional minor pimple here and there but I never had to wear foundation or concealer. When I was 24 I was diagnosed with Polycystic Ovary Syndrome (PCOS) and this was when my journey with acne began. PCOS causes women to produce more androgens (male hormones) which for me caused hormonal acne (among other things). 
I experienced painful deep cystic acne and whiteheads all over my chin and neck. The pain of the acne was the worst for me, I tried everything to gain relief- scrubbing, picking, covering with makeup. One day I woke up and realized I was so miserable with my skin and that it was affecting my mental health and how I saw myself. I called up a spa and booked an appointment with the first esthetician that could see me. Enter, @into_skin, we talked that day and she asked why I was spending so much money to cover my acne instead of learning how to treat it. 
That conversation really opened my eyes and I promised myself I was going to take better care of my skin. Through her, I learned everything I was doing was just making the acne worse and spreading bacteria. Scrubbing and picking your face is the worst thing you can do for your acne, but I had no idea- I was truly just trying to feel better and doing whatever I could to achieve that. 
Once my active acne started to heal, I then had to tackle (and still am) the post inflammatory pigmentation and acne scarring. I am so thankful to my esthetician for teaching me so much about my skin and how to care for it, because I truly would not be here talking to you if it wasn't for her. I still get some hormonal and cystic acne but I am so much better informed so that I can tackle acne appropriately when they pop up.
Routine 
One thing I have learned is keep your routine predictable! I try to only swap new products into my routine when I empty another product. I try to keep niacinamide in my routine and I do also keep a BHA close by but use it as needed. It's not pictured but Paula's Choice Antioxidant Pore Purifier has been a miracle worker for me. 
Here's my current routine:
Cleanse: Green Clean by Farmacy Beauty and Purifying face wash by Indie Lee
Spray: SOS Spray by Tower28 Beauty
Eye Cream: Cheer Up by Farmacy Beauty
Serum/Treat: Ultra Repair Hydrating Serum by First Aid Beauty. In the AM C15 vitamin c booster by Paula's Choice and in the PM the 20% niacinamide booster by Paula's Choice
Moisturize: Ultra Repair BarriAIR Cream by First Aid Beauty
SPF: Youth Extending Daily Hydrating Fluid (SPF 50) by Paula's Choice
Treat: Clearing Mask by Indie Lee and Mighty Patch by Hero Cosmetics.
I have found that my acne tends to cluster, so I am completely obsessed with the Mighty Patch Surface patches. Before finding Hero Cosmetics I was not able to find a patch large enough to cover multiple acne spots so this is just *chef's kiss* for those of us with acne that clusters. The patches are also really effective and help me not pick! 
Meet Carrie
I'm a wife, sister, daughter, friend and so much more. When it all comes down to it, we are all human beings doing the best that we can. I am always striving to learn more, whether it's in my line of work or in the beauty and skincare industry. 
I enjoy gardening and there is nothing more satisfying than eating something you have grown yourself. I also really enjoy spur of the moment adventures-- they always lead me somewhere great and new. Learning more about my skin and sharing with others has really empowered me and showed me that I have a unique opportunity to share my knowledge with others that I do not want to take for granted.
If you are just starting to explore caring or treating your acne, the best thing you can do is consult a professional- whether dermatologist or esthetician so you can have your skin evaluated. If you do not have access to either I highly suggest scrolling Instagram! There are tons of dermatologists and estheticians sharing information (for free!) that could really benefit you!