Get an Instant Skin Reset, Wherever Life Takes You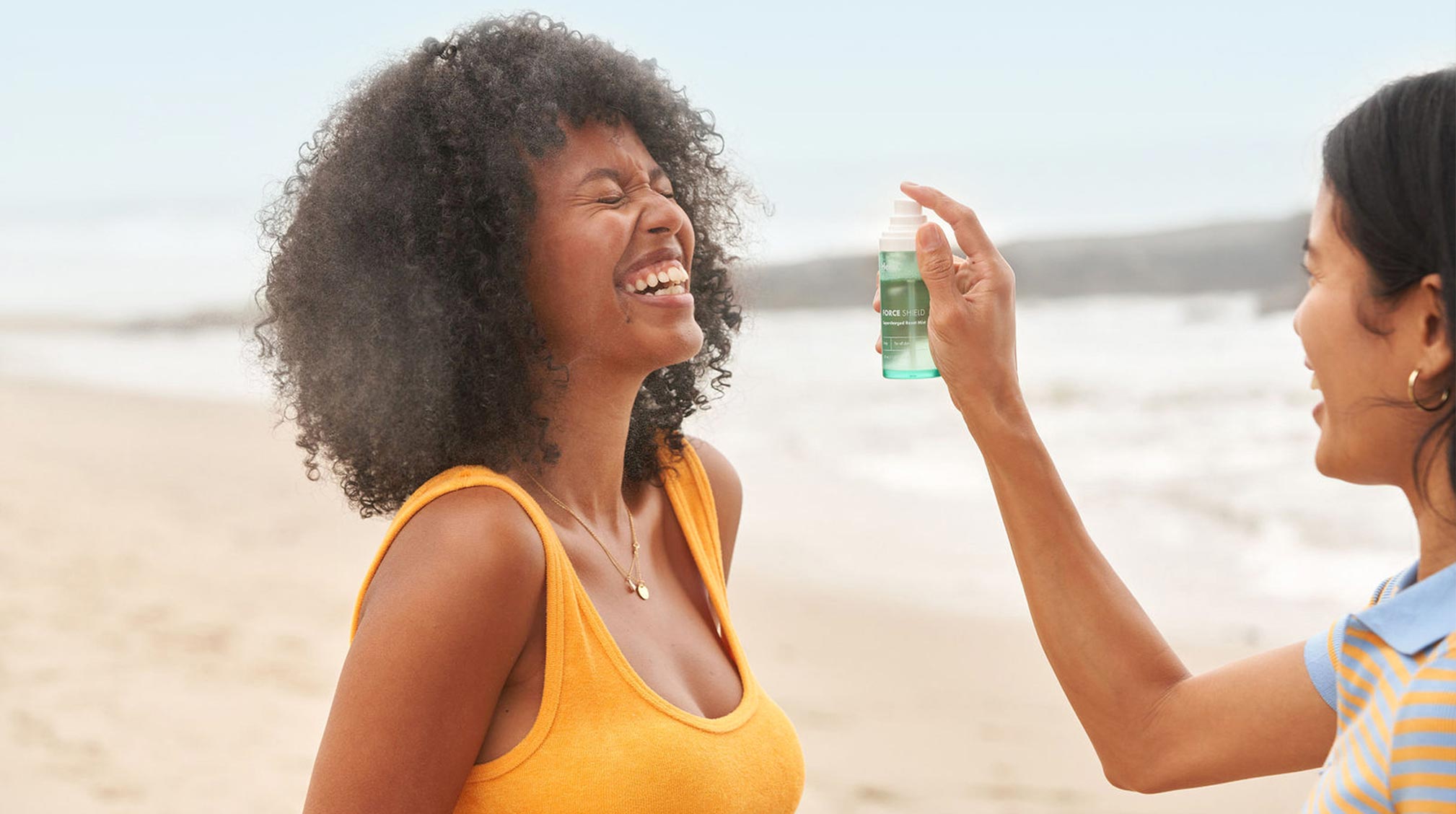 Now that we've covered the basics of how Superfuel Serum Stick and Supercharged Reset Mist fit into your regular skincare rotation (check out the AM and PM routines here), let's get to the ways we really love to use them! The Force Shield Duo isn't some boring, twice daily requirement you have to fulfill – these products were made to be used anytime, anywhere you need a skincare moment. Here are a few of our faves (including how to prevent maskne).
1. Mask rescue
The maskne tips and tricks are endless with the Force Shield Duo. The Serum Stick is the best face serum to prep your skin before masking up. Not only will it create a protective barrier between your skin and the mask, but it also helps skin bacteria stay balanced. Then, de-funk your mask (yes, spray it directly on your cotton mask) and post-mask skin with the natural cleansing powers of Reset Mist. Think of it like a maskne spray for your skin and your mask!
What is Maskne?
Maskne is a form of acne mechanica, or breakouts caused by repetitive physical trauma or rubbing against the skin – like when we wear a mask for long periods!
Get all the deets and 6 dermatologist-recommended maskne treatments.
2. After the party is the after-skincare
Use the multitasking mist to cool off, cleanse and refresh skin mid-festivities. Then, a quick swipe of the Serum Stick the next morning will help hydrate thirsty skin. Skin gets hungover, too!
3. Rinse-free clean
No time to shower between your workout and brunch? No problem. Just wipe away sweat with a towel or paper towel and then use the Reset Mist to flash-refresh skin after running, hiking, yoga or dancing your butt off.
4. Beach day beauty break
The best summers are filled with many long days in the sun, whether you're digging your toes in the sand, dipping them in the pool or going barefoot in the grass. No need to ruin the moments by worrying whether all that environmental exposure is wreaking havoc on your skin barrier. Once you're back inside, just glide the Serum Stick anywhere over your face and body to cool skin and replenish the moisture barrier.
5. Midday skin snack
Get a healthy prebiotic fix with the Serum Stick for balanced skin all day, every day. Or take a second to refresh and destress with the Supercharged Reset Mist while you're crushing it at work or in between Zoom meetings at home.
6. Chilled vibes
Glide the Serum Stick over skin and relax with a face massage. (Pro tip: Store it in the fridge for an extra-cool feel that will help depuff skin under the eyes and along the cheeks.)
7. Travel hack
Keep the Force Shield Duo in your carry-on to balance bacteria in a flash while flying, road tripping or couchsurfing.
Designed for on-the-glow moments
In the words of Ralph Waldo Emerson, it's time to "Live in the sunshine. Swim in the sea. Drink in the wild air." And you can do it all with great skin, all summer long.
Reset and refuel skin wherever you are with the Force Shield Duo! 
[[product-ad]]