Simplify Your Skincare Routine With the Clear Collective Skincare Set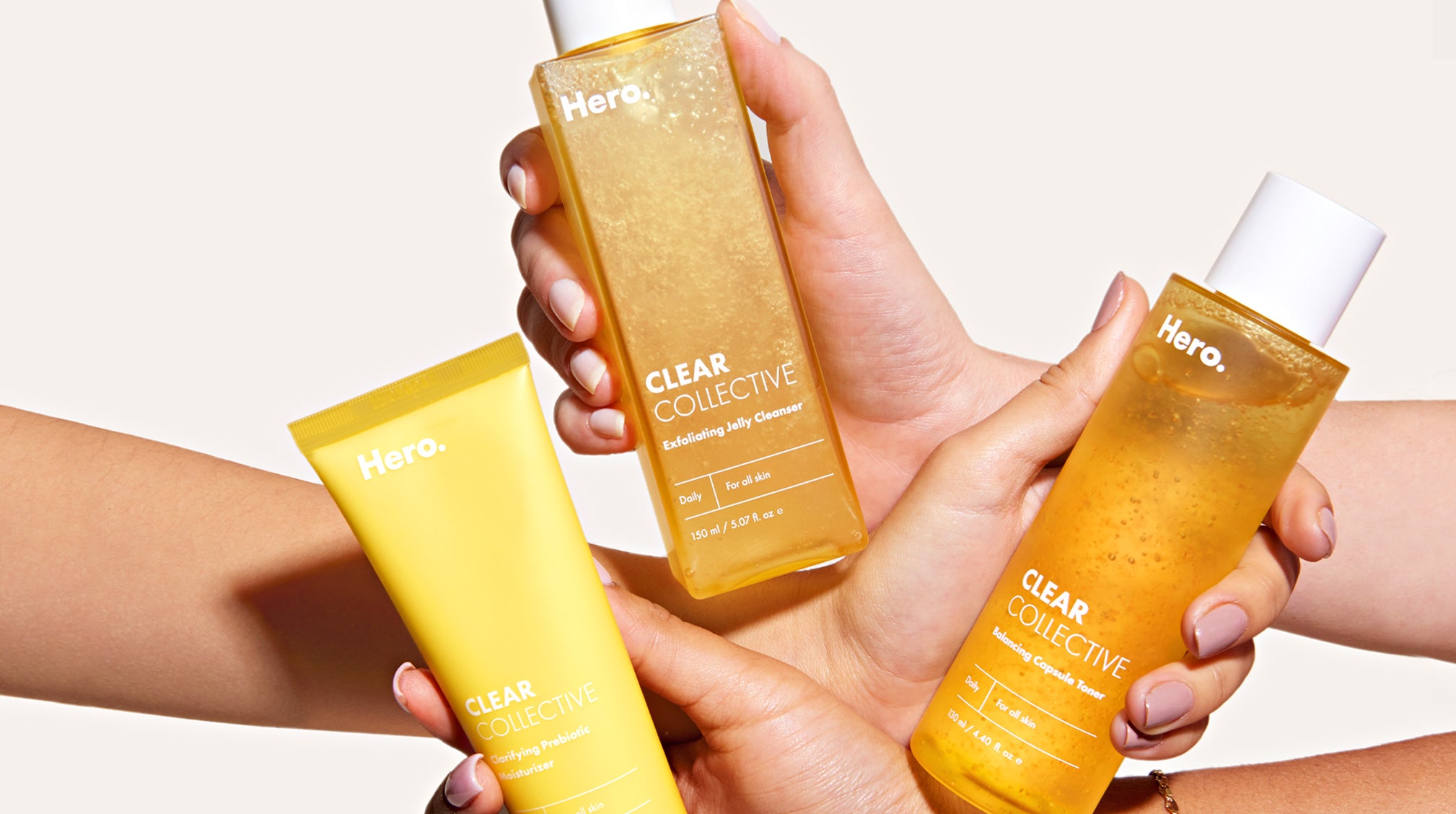 When it comes to skincare, no one product can combat acne and deliver clear, glowy skin all on its own. It's a team effort. You need a skincare routine with multiple steps and multiple products to get the job done.
Here's the tricky part: not all products go together. By picking and choosing different skincare goodies from various brands and product lines, you run the risk of those products not complementing each other and maybe even causing more breakouts rather than preventing them.
Enter: Hero's new Clear Collective trio, aka the skincare line for acne-prone skin you've been dreaming of. This skincare super trio (Cleanser! Toner! Moisturizer!) is designed to help streamline your skincare routine, address the primary causes of blemish-prone skin, and create a total skin glow up, literally. Keep reading to learn how the products all work together and how to build a skincare routine for acne skin.
The lifecycle of a pimple, explained
An effective skincare routine requires targeting pimples at every stage of the pimple journey. Here's an overview:
Prevent
Prevention is key, friends. That's where Clear Collective shines. The trio helps target clogged pores, excess oil, and bacteria imbalance. When used together daily, the products empower each other (and you!).
Treat
For those pesky pimples that slip through the cracks, treatments are there to the rescue—think the OG Mighty Patch and Micropoint for Blemishes.
Repair
Once the pimple goes through its lifecycle, it, unfortunately, tends to leave behind unwanted acne marks and dark spots. This is where the post-blemish Rescue Balm, Micropoint for Dark Spots, and Lightning Wand brightening serum comes in.
How to build a skincare routine
Now that you're informed on the pimple journey and what it needs at every stage, it's time to build you an epic skincare routine. Not sure what skincare routine steps to incorporate, or the right skincare routine order to use them in? We've got As to all your skincare routine for acne skin Qs, below.
Skincare routine steps
1. Cleanser
First up is a cleanser. The new Clear Collective Exfoliating Jelly Cleanser knocks it out of the park when it comes to unclogging pores, exfoliating, and leaving your skin squeaky clean. The cleanser's secret (okay, maybe not so secret) ingredients feature a mix of chemical and physical exfoliants, including konjac jellies, fruit enzymes, and glycolic acid to clear the pores of dirt and grime. The result? Brighter, smoother skin. Yes, please!
How to use: Apply the cleanser to a wet face. Gently massage the luxurious jelly-to-foam cleanser into your skin in circular motions. Then rinse, pat dry, and repeat daily.
2. Mighty Patch and Micropoint
When you have a pimple emergency going on, grab a Mighty Patch. Pop it on the area and let the premium medical-grade hydrocolloid acid extract the impurities from the blemish. If the zit is in its early stages chilling under your skin, hit it with a Micropoint for Blemishes instead. The 173 hyaluronic acid Mircopoints will flood the spot with a super-dose of acne-fighting ingredients at its core and speed up the lifecycle of a pimple, stat.
3. Toner
Once you've cleansed and patched, it's toner time! The new Clear Collective Balancing Capsule Toner targets excess oil, fights shine, and reduces the look of pores. This isn't a typical old-school toner, though. BCT hydrates—yes, hydrates—and preps the skin with witch hazel, green tea, and eight types of hyaluronic acid. And, it's pH balanced, totally gentle, alcohol-free, and leaves your skin looking glowy, not greasy. Need we say more?
How to use: Shake the toner into your hands or a cotton ball. Apply the toner to your skin in a sweeping motion. Don't forget the decolletage!
4. Lightning Wand
Got dark spots? Incorporate Lightning Wand brightening and illuminating serum into your skincare routine steps. It helps visibly fade signs of post-acne marks by zapping the dark spot with a trio of advanced brighteners. And while it works its magic, it keeps you covered with a sheer color-collecting tint.
5. Rescue Balm
Do you know the feeling of being super thirsty and finally gulping down a refreshing tall glass of water? That's what applying Rescue Balm feels like. The post-blemish balm gives your skin some needed TLC and helps nourish it with antioxidants and peptides to speed up the recovery process and get your skin looking good as new in no time.
Pro Tip
If you've got a freshly popped or patched pimple, reach for your Rescue Balm first.
6. Moisturizer
And last but definitely not least, moisturizer locks all the skincare goodness in place. However, the new Clear Collective Clarifying Prebiotic Moisturizer does more than just that. It also balances the skin's microbiome and hydrates and restores the skin's essential barrier. Its skin-perfecting powers are attributed to microbial-fighting sage extract that balances the skin's natural pH and helps maintain healthy flora.
How to use: Massage a dime size of the hydrating moisturizer into your skin with your fingers. Follow it with your favorite sunscreen.
So there are your super-powered skincare routine steps that target all the pimple stages and help get rid of acne. The collective power is real. ✌️
[[product-ad]]