The Best Hydrating Face Moisturizer for Dry, Oily, and Combination Skin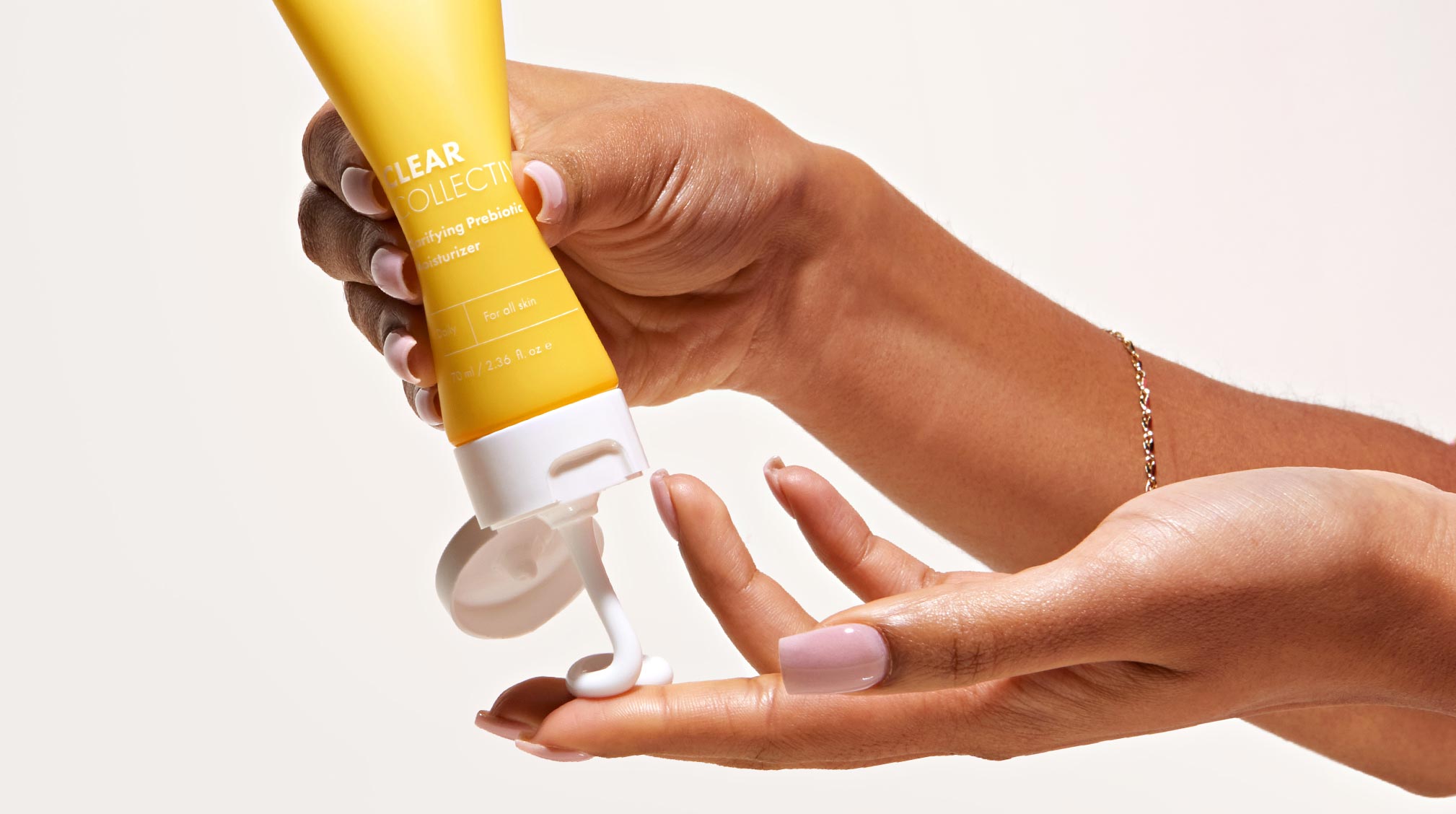 Did you know that there are more than 1,000 species of bacteria residing on your skin at any given time? 🦠 If the thought of all those microscopic bugs setting up shop on your epidermis makes your skin crawl, it might help to know that many of those microbes actually promote skin health. When balanced, our microbiome (the collection of all those microorganisms) can help protect the skin's natural barrier against bad bacteria, support its natural flora and promote a healthy glow.
Unfortunately, many acne products strip the skin of the healthy bacteria and interrupt the skin's natural bacteria balance. This leaves skin looking dry, stressed and ripe for breakouts or other irritation.
Enter the inspiration for our Clear Collective moisturizer. In a lightweight, silky formula that won't clog pores or overwhelm acne-prone skin, the Clarifying Prebiotic Moisturizer supports your skin's healthy bacteria balance.
Your cheatsheet
Product: Clear Collective Clarifying Prebiotic Moisturizer
Product type: Moisturizer
Main benefits: Strengthens healthy microbiome, feeds friendly bacteria, hydrates skin, reduces the appearance of blemishes
Who should use it: Anyone with acne-prone skin
How to use it: After cleansing and toning, massage a dime-size amount into skin with fingertips. Use AM & PM.
Key ingredients: Sage extract and prebiotic sugar complex
Prebiotic vs. probiotic skincare
In the quest for the best face moisturizer for oily skin, you'll likely come across probiotic and prebiotic skincare products. Both are good, but what's the difference? Probiotics are live bacteria that support the healthy bacteria in your body. Prebiotics are like fertilizer — or food — for those probiotics (all of the good bacteria living in your skin).
RELATED READ: More Bacteria, Please: A Recipe for Healthy Skin
Prebiotic skincare is basically nourishment for your skin's microbiome. In other words, the Clarifying Prebiotic Moisturizer feeds the good bacteria on your skin, so that they can become stronger in their battle against the bad bacteria that can trigger breakouts. Our non-comedogenic moisturizer for acne prone skin also hydrates and replenishes the skin's moisture barrier to reveal a softer complexion. Here's how the magic happens:
Prebiotic sugar complex helps strengthen a healthy microbiome to keep the surface of skin looking balanced and smoother. It also visibly calms red, dehydrated skin and dry patches on your face.
Microbial-fighting sage extract combats threats to skin's moisture barrier to help support a healthy skin flora.
Let the feeding frenzy begin
But don't forget to wash up first! 😉 The Clarifying Prebiotic Moisturizer works even better when used together with the Exfoliating Jelly Cleanser and the Balancing Capsule Toner. Clear Collective takes the guesswork out of acne care with three super-effective products that work together to exfoliate, brighten, hydrate, clarify and balance oil. Their Collective Power serves up clearer-looking skin, effortlessly.
[[product-ad]]