Meet Clear Collective: Your Super-Powered Skincare Set for Acne-Prone Skin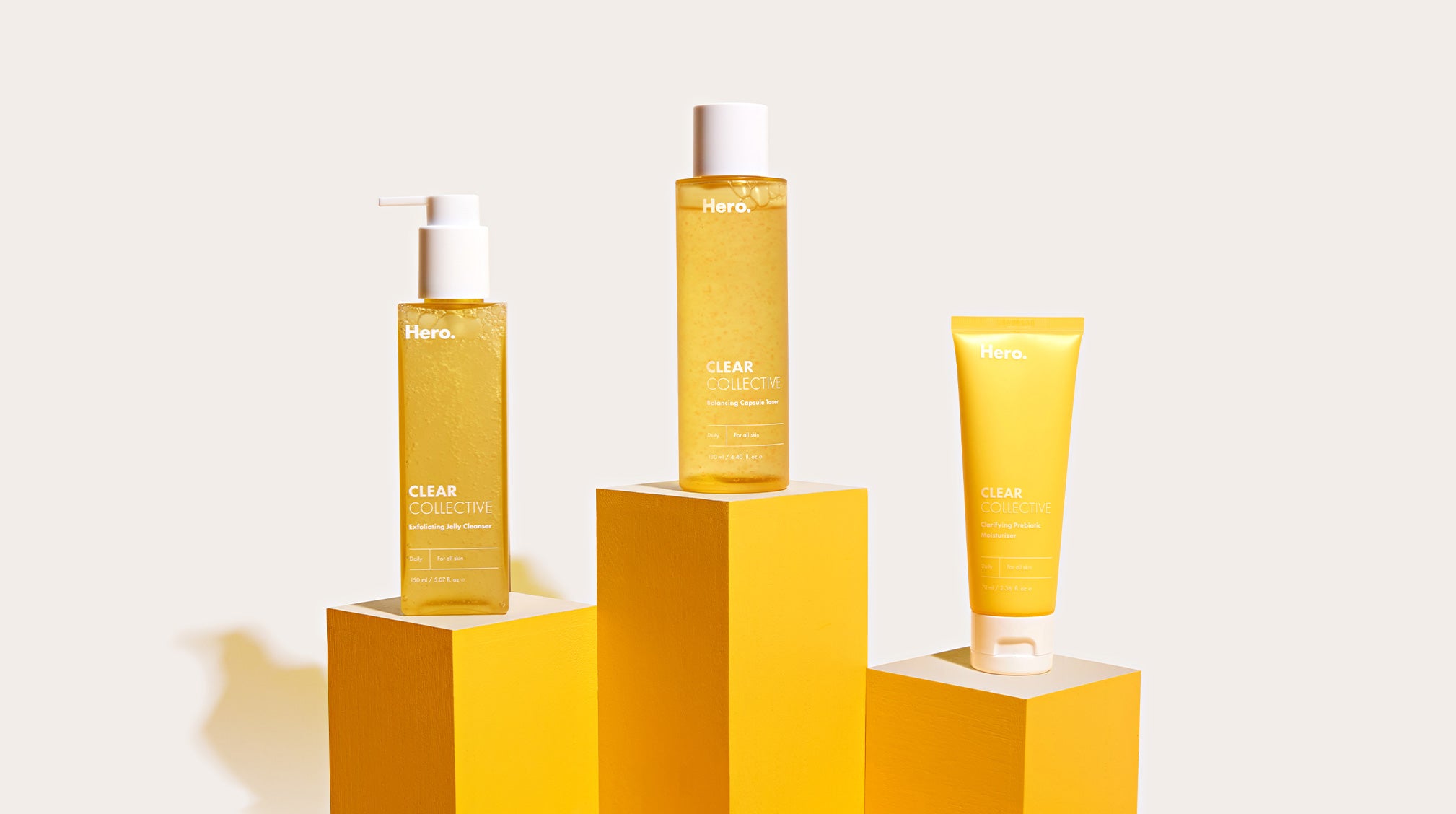 Good things come in threes. Great things come in threes that work together for a single goal.
Most of us have a skincare routine. It's made up of a sequence of products ... maybe a cleanser your mom recommended, a "best of" award-winning toner, and a moisturizer that your bestie can't stop raving about. And while each of those products may be amazing on their own, if the ingredients don't play nice together, or aren't aligned in trying to address the same skin issues, the result can be irritation, problem skin or a routine that's just not doing much for your skin.
For the past 3+ years, Hero has been creating acne solutions to help you tackle the entire pimple lifecycle, from start to finish. Today, we're officially launching a full skincare routine to help you prevent those pimples in the first place. Meet Clear Collective! 🎉
Clear Collective is acne care made simple, with three skincare routine steps that do it all – exfoliate, brighten, hydrate, clarify and balance oil – to give you a 24/7 glow.
How to get clear skin: the three acne skin care essentials
Breakouts are often triggered by clogged pores, excess oil (or sebum) and an interruption of the skin's natural bacteria balance. We designed the Clear Collective products to boost one another's abilities to address each of those issues (and get rid of acne). Here's how it works:
The Exfoliating Jelly Cleanser kicks off your journey to clearer skin by washing away dead skin, oil and debris so pores can breathe and skin feels smooth, refreshed and primed for a boost of hydration.
Once skin is free of dirt and pore-clogging buildup, it's ready to drink in eight layers of hydration from the Balancing Capsule Toner. It locks in the ideal oil-moisture levels for acne-prone skin, leaving skin looking healthy, bouncy and satiny (but never shiny).
Lastly, it's time to feed the good bacteria in your just-balanced skin so it looks clear, smooth and luminous all day long. The lightweight Clarifying Prebiotic Moisturizer keeps skin glowing all the way until your next exfoliating jelly wash.
Acne skin care doesn't need to be confusing. With a handful of key superpowers that work together harmoniously, Clear Collective is a simple, effortless daily regimen that takes the guesswork out of how to build a skincare routine.

Fun & freeing
Who said cleansing had to be the most boring part of your skincare routine? The Exfoliating Jelly Cleanser transforms from a clear jelly-jam texture into a luxurious foam, as the AHA, BHA and PHA ingredients work their magic to leave you with skin that instantly looks brighter and feels softer. The ph-balanced formula is also packed with gentle exfoliating konjac jellies that dissolve as you cleanse, so pores look and feel free of dirt, dead skin cells and excess oil – from the very first wash.
Fully hydrated, without the shine
Glowy is good. Greasy, not so much. For people with oily or combination acne-prone skin, the non-greasy glow can be a difficult balance to achieve. When skin is dehydrated by harsh acne care products, the sebaceous glands in your pores begin producing extra oil to compensate, beginning a vicious cycle that often leads to more breakouts.
The Balancing Capsule Toner breaks that cycle by locking in the perfect oil-moisture levels for bouncy, satiny skin. Its skin-perfecting superpowers start with a combo of witch hazel and zinc PCA to reduce shine and tighten pores. Next, hydrating green tea water and eight types of hyaluronic acid hydrate to reduce signs of redness. Plus, tiny oil capsules replenish the moisture barrier with mini-bursts of nutrients. Totally gentle and alcohol-free, this silky elixir preps skin for greatness (and your skincare steps that follow).
The bugs you'll want on your skin
Prebiotics are basically food for all of the good bacteria living in your skin. The more they eat, the stronger they become in their battle against the bad bacteria that can trigger breakouts.
The hydrating, nutrient-packed formula of the Clarifying Prebiotic Moisturizer balances and feeds health bacteria with a prebiotic sugar complex. Backed by pore-purifying sage extract, the prebiotic-charged lotion fuels your skin to keep it feeling clear, balanced, soft and smooth.
Seriously good synergy
The Clear Collective products are powerful on their own, but together, they are unbeatable. This simple skincare routine works together AM + PM to visibly reduce the appearance of pores, oil and blemishes.
Use the Clear Collective skincare routine order twice daily for a hydrated, clearer-looking glow.
Step 1: Set your pores free with the jelly-to-foam cleanser.
Step 2: Stay glowy, not greasy, with the oil-balancing toner.
Step 3: Fuel your microbiome with the prebiotic moisturizer.
Step 4: Feel amazing in your skin! 🙌
[[product-ad]]