Step Up Your Nighttime Routine With Our Favorite Acne Positive Influencer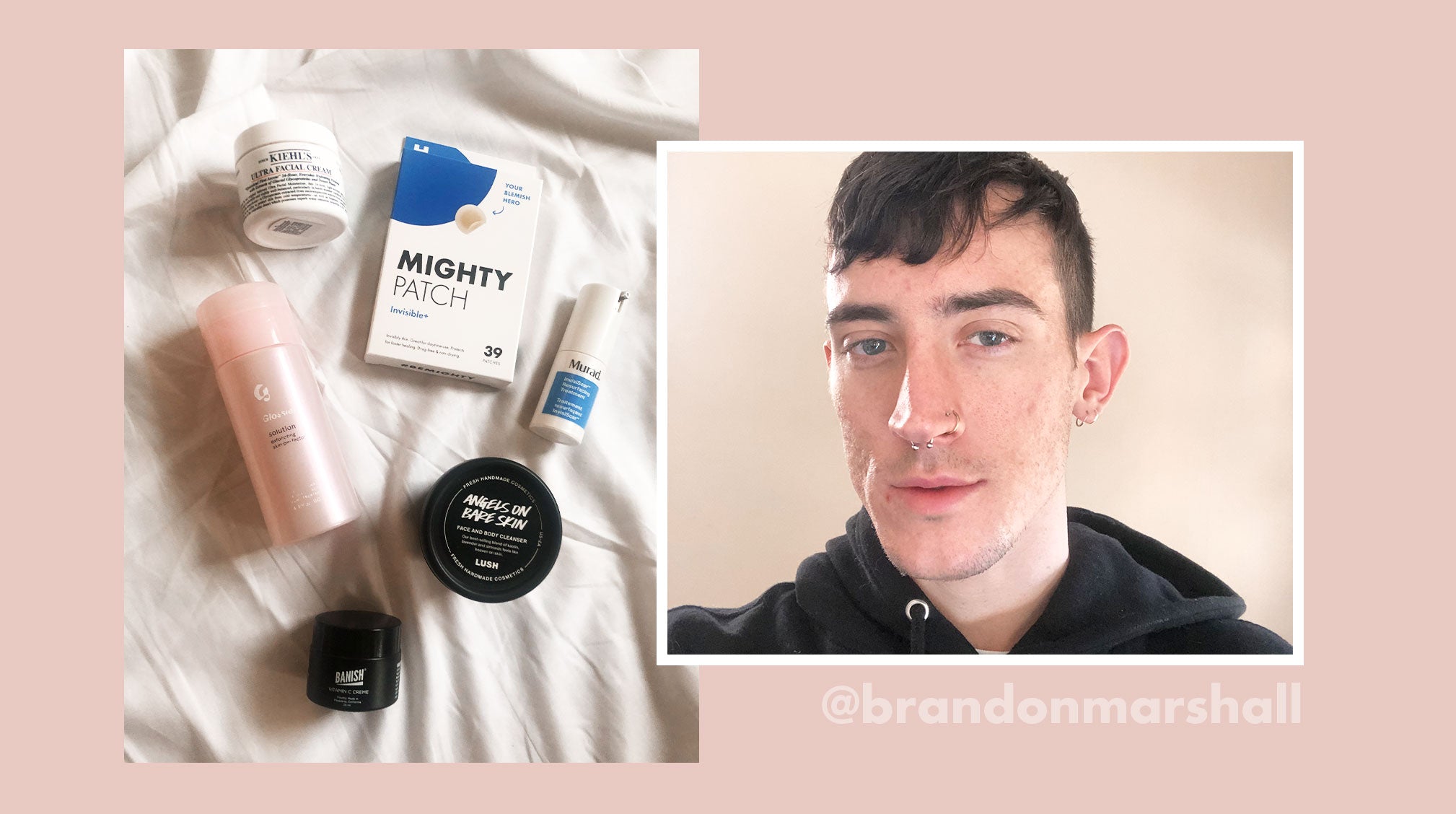 In high school, acne-positivity blogger Brandon Marshall never saw anyone on social media posting about their acne. Overtime, he took it upon himself to make content about acne and skin issues to let people know that they are not alone. Brandon began making Youtube videos in college, where he used the platform to be transparent and open about acne-related topics. Since then, he's made it his mission to normalize acne and making everyone feel beautiful regardless of the state of their skin.
Can you tell us about your skin type and the acne you deal with?
My skin has been through a lot. I started to get acne at around age 16 (mind you, I'm 26 and I STILL get acne). I developed severe cystic acne and finally visited a dermatologist. I was on so many topical medications and an antibiotic that made my skin completely dry. Now, 10 years later, I suffer from combination skin - with acne scarring, hyperpigmentation, and occasional breakouts - sometimes hormonal/cystic.
Does your morning routine differ from nighttime? 
Yes! My night time routine is much more elaborate, including all of my serums & moisturizers & sometimes spot treatment. In the morning, I usually just cleanse, tone, moisturize & SPF.  
Walk us through your nighttime routine! How do you use Mighty Patch?
My usual nighttime routine goes a little like this: I usually take a shower to wind down (and I almost always include Eucalyptus oil in the shower to help with this). I use Angels on Bare Skin by Lush to cleanse in the shower. Once I get out of the shower I start the rest of my elaborate skin care routine. And trust me, even if I've had a few glasses of wine - I will STILL be doing my full skin care routine, period.
I then tone my skin with Glossier Solution, which if you haven't tried this - you need to. Next I use the Murad InvisiScar Resurfacing Treatment, which helps with acne scars and texture. Next, my ultimate favorite moisturizer - the Vitamin C Creme by Banish. And then if I have any current breakouts I love to pop on a Mighty Patch to hep speed up the healing process of my pesky lil pimples! Also, once every other week, I use my Banisher 2.0 to help heal my pitted acne scars & uneven skin town!
Majority of our audience have acne which is why they typically hesitate to experiment with new products, how do
you
choose products for your skin?
I, too, am pretty hesitant when it comes to trying out new products. But when I do, and find a product that works for me - I stick with it for a very long time. I always check the ingredients and make sure there are not a bunch of filler ingredients that are not actually good for you. I also do a lot of research and look at reviews and video recommendations!
Tell us how your journey towards an acne positive influencer!
 It has been a long time coming. I remember starting college in 2011 and Instagram was still not very big. I would hide in my room and search for videos of other people who had the same skin issues as me. I would find people on Youtube every once in awhile but it didn't seem like many people were very transparent, or just scared to discuss the topic.
A few years later, I created a video about my acne and wearing makeup - and it was something that was very hard for me but it was time for me to get vulnerable and step out of my comfort zone. People with the same skin issues were reaching out and thanking me for speaking out about the topic. I began to create videos about skin positivity, linkage from skin issues to depression and mental health, and many people resonated with me and my story. 
What's the biggest lie that you've heard about being a skinfluencer?
I think the biggest lie I've heard about being a skinfluencer is that all skinfluencer's promote every product they try or have been sent. I think in most cases, skinfluencers are extremely transparent and only promote products they truly stand by, which is what I do on my social channels. I would never want to promote a product that has not been beneficial for me.
What makes you feel confident?
I feel most confident when I am wearing an outfit that I am comfortable in (I am obsessed with fashion and creating and styling different looks and outfits). 
Any tips and secrets you can share for those of us who are just starting their acne-care journey?
My biggest tip is to never give up. Acne does not just 'go away' overnight - and also, acne or not, you're still beautiful. The stigma that acne is 'not beautiful' is something I want to see vanish in my lifetime. Also remember that you are your own biggest critic. Nobody is looking at you as harshly as you may be looking in the mirror and picking yourself apart because of a breakout or insecurity. 
Check out Brandon's Instagram for more skin-positive moments!