Maskne is Real: 6 Dermatologists Tips to Treat Mask Acne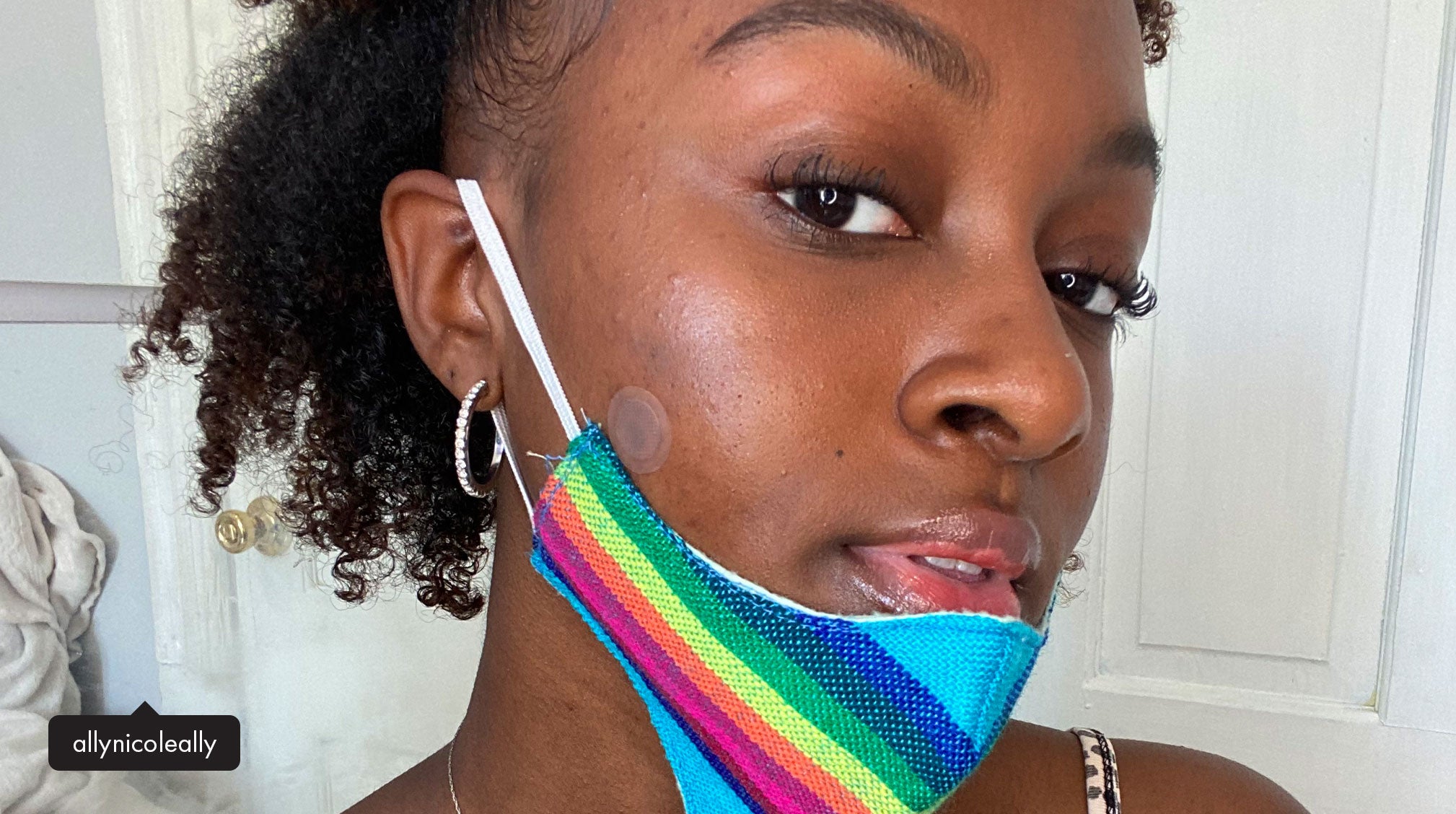 It's been years since I've experienced regular (as in almost daily) breakouts – six, to be exact. I know the precise timeframe because that's when I was pregnant with my youngest son. Post-pregnancy hormones were kind to me, but now, out of the blue, I've got tiny pimples popping up on my chin with alarming frequency. So what gives? Maskne.
We touched on maskne, or acne triggered by wearing a face mask, months ago – even before it was officially a widespread thing. But now that more and more people are out and about, wearing masks on a regular basis, it's not just an issue for healthcare and essential workers. "Maskne is a new term resulting from COVID-19, and something that is affecting the skin of people across the world," says Dr. Jacob Steiger, a Florida-based, double board-certified plastic surgeon. "Otherwise known as mask-induced acne, maskne is inevitable while we wear critical face masks to help protect our health."
Could it actually be stress acne? Find out >>
Dr. Rina Allawh, a board-certified dermatologist practicing in the Philadelphia area, explains exactly what's causing those mask-related breakouts. "When wearing a tight mask on the face, there is very little air flow and this creates a warm, moist environment, which is ideal for skin bacteria to flourish and cultivate. As this skin bacteria grows, it starts to occlude or block the openings of hair follicles, causing blackheads, whiteheads, painful pimples and pus bumps." There's also a frictional component to maskne, says Allawh, which is why maskne typically appears on the areas where a mask rubs the most – the bridge of the nose, side of the cheeks and on the chin. Maskne is technically a form of acne mechanica, or breakouts caused by repetitive physical trauma or rubbing.
Fortunately, there are some simple steps you can take to prevent and treat maskne. Ahead, dermatologists and skincare experts share six ways to avoid acne from face masks.
1. If the mask fits, wear it
While we definitely want our masks to be snug to keep respiratory droplets from escaping or getting in, wearing a mask that's too tight can drastically increase the amount of sweat and bacteria gathering on your skin. According to Dr. Apple Bodemer, UW Health dermatologist and assistant professor of dermatology at the University of Wisconsin School of Medicine and Public Health, that's why maskne is "more of an issue for healthcare workers, grocery store workers or others on the front lines of COVID-19, who are wearing N95 masks or other tightly fitting masks for long periods of time." 
But going too loose isn't good either. "For people who have very sensitive skin or a history of acne, looser-fitting masks that create friction on the skin may result in maskne," continues Bodemer.
The best face mask for acne is one that fits comfortably and is made with multiple layers of a breathable fabric, such as cotton.
2. Cleanse before and after
Allawh tells patients to wash their face both before wearing a mask (to avoid trapping existing dirt underneath) and after (to remove the sweat and bacteria that accumulates during use). "Prior to wearing a mask, make sure you have cleaned your face with a gentle cleanser. If you are pressed for time, use a simple wet wipe or gentle cleansing facial cleansing wipe. After removing the mask, using a gentle cleansing wipe (i.e., LaRoche Posay cleansing wipes or Cetaphil facial cleansing wipes) and/or washing your face with a gentle facial cleanser (i.e., CeraVe hydrating cleanser) are helpful ways to remove the excess oil, debris, sweat and dirt from your face."
RELATED READ: Are You Washing Your Face the Wrong Way?
3. Keep makeup to a minimum
Let's be honest – one of the pluses of having to wear a mask everywhere is the need for less makeup. Swipe on some mascara and brush those brows and you're good to go. You don't even need to watch a contouring demo to learn how to hide the double chin that's developed from all that stress snacking.
All joking aside, less really is best when it comes to makeup under your mask. Ditch the heavy foundations that can increase the amount of pore-clogging bacteria. If you feel naked without some touch of color, choose tinted moisturizers or sunscreens or BB/CC creams for lighter coverage. 
4. Use protection
It's become a common practice for healthcare professionals to apply protective patches before masking up. This creates a physical barrier between the mask and your skin, which reduces irritation and the spread of bacteria. 
Luckily, regular folks can do the same. Mighty Patch Surface patches are ideal for pre-mask skin prep. The large, rectangular size fits the area across your cheeks where a mask would begin and you can cut them in half for chin coverage. Plus, the hydrocolloid takes down any existing pimples at the same time. Talk about double duty! 
5. Wash your dang mask
Now that you've probably got the whole hand-washing thing down to a science, it's time to focus on another sort of important washing – your mask. The Centers for Disease Control and Prevention (CDC) recommend washing your mask every day that you use it, since coronavirus traces could remain on the outer layer of a mask for up to seven days.
And washing your mask does more than just protect your health. It eliminates the sweat, bacteria and dirt that begins to build up on the inside of a mask each time you wear it. "Masks should be washed every day in hot water with laundry detergent and white vinegar (has antibacterial, antiviral and antifungal properties) and dried on higher heat settings in the dryer," says Dr. Elizabeth Mullans, a board-certified, Texas-based dermatologist. "Since repeated washing and drying may cause fabric masks to deteriorate faster, and because some people are sensitive to fragrance, I recommend using a mild, fragrance-free detergent, such as Arm & Hammer Sensitive Skin Free and Clear."
6. Treat and soothe between wearings
After your post-wash cleanse, take a close look in the mirror to assess what your skin needs. Got maskne? Try hydrocolloid patches like Mighty Patch Original or Invisible+. See patches of dryness or irritation? Dab on a soothing treatment with panthenol or peptides, such as Rescue Balm. If you're a healthcare or essential worker who is experiencing extreme dryness or eczema from the prolonged use of masks, an over-the-counter cortisone cream may help. Try using it once a day for one week, then give your skin a week off, and continue that pattern as needed.
Have you been suffering from maskne? What's working (or not working) for you? Let us know in the comments below!
[[product-ad]]