How Globetrotter Goldie Maintains Acne-Free While Traveling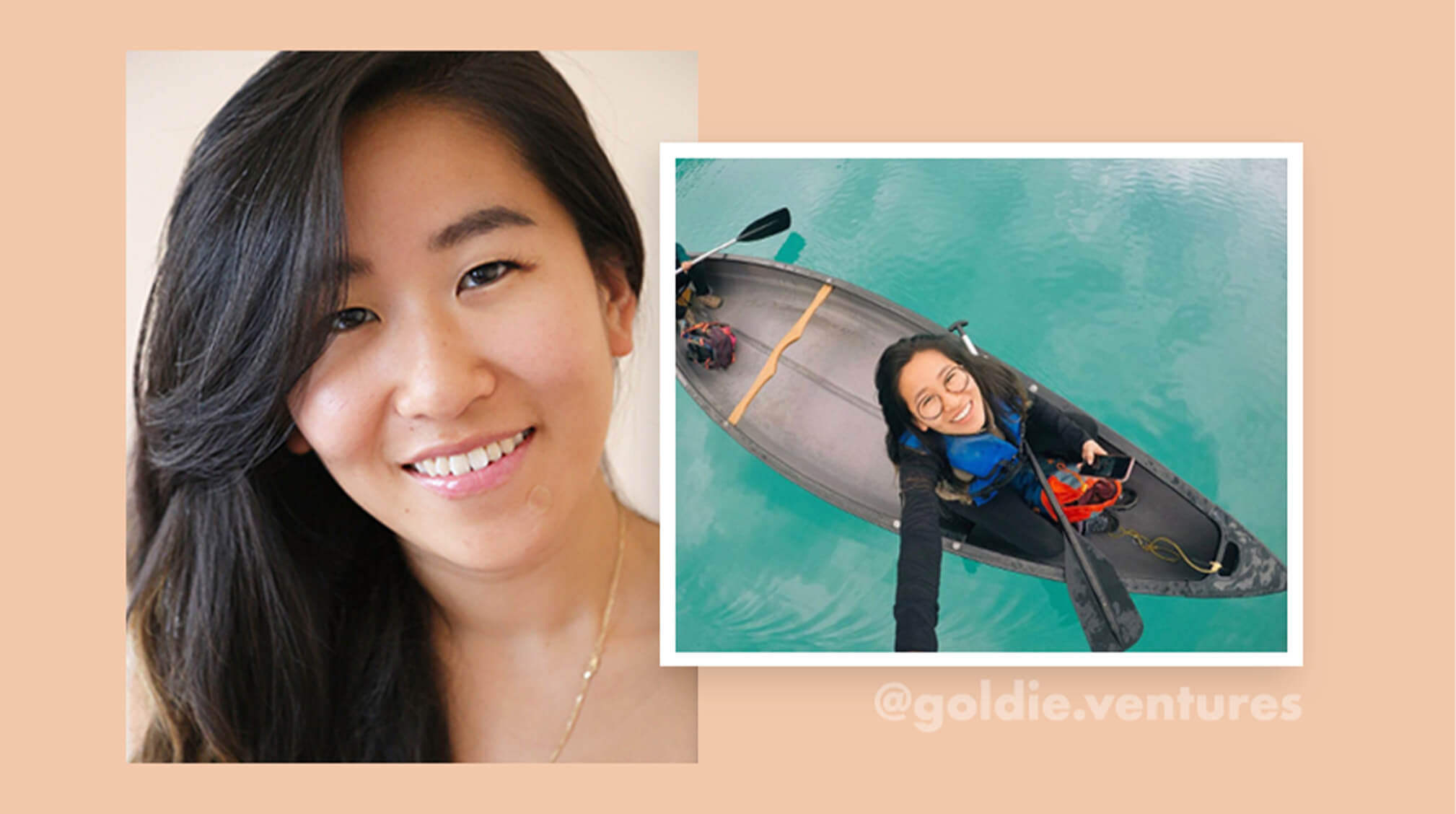 Traveling this summer and wondering how to stay acne-free? We asked world traveler Goldie to tell us how she maintains clear skin as she hikes across the globe. 
If you search goldie.ventures on Instagram, you'll be hit with an endless amount of nature-filled photos and beautiful shots of national parks you've never heard of. Oh, and you'll also be super jealous of her amazing travel life. What you won't find out is that, Goldie is actually a full-time oncology registered nurse. 
As an oncology RN, she takes care of some of the strongest, most kindhearted patients. So many of her patients would do anything to be able to travel, exercise or even do basic activities, such as eating certain foods. This made her realize that she couldn't take life for granted. For Goldie, traveling is her method to open her eyes to how life is different for everyone, but at its core, we're all the same people–human. Her social media platforms were created to express her hobbies and share the life she wants to live towards, one that's "filled with self-love, love for others and love for life." 
As a frequent traveler, she's dealt with airplane and travel acne. Keep reading to learn how she deals with her acne! 
RELATED READ: Why You're Experiencing Airplane Acne
What's your skin type and biggest skin concern?
I have a combination skin type that is both dry in certain parts and oily in others. Before I figured this out, finding products for my skin was such a pain. A lot of products were making me break out and my skin is also pretty sensitive to chemicals so I started looking for natural skin care products.  My current biggest skin concern is uneven skin tone and skin texture.
Have you ever struggled with acne? Could you tell us a little bit about how that was like for you? 
I never had terrible acne growing up until I finally grew up and started working as a nurse. Adult acne is a real thing and it hit a lot of my friends hard. I started breaking out a lot right around my cheeks and I didn't really know what to do. At first I left them alone but they wouldn't go away and then I got into popping them and I couldn't stop once I started. I regret it now but at the time I just wanted them off my face. I was left with a lot of scarring and craters. It made me self conscious. I was putting on concealer and foundation that I never used to cover up the scars and I started looking for skincare products that could help me.  That's when I learned that skincare isn't just for beauty and girly girls, it's important self-care that everyone should be doing. The status of your skin is also a tell-sign of your health! It took years to recover! My skin is still recovering from the breakout of 2014 but my skin has come a long way with different products and changes in my lifestyle such as diet and exercise routine.
You're always flying! How does your skin change when you travel? 
I often breakout when I travel. Airplane acne always gets me and my skin gets pretty dry depending on where I am due to the altitude, weather or lack of hydration! This is especially true for whenever I go hiking.
Tell us about your travel skincare routine! 
I love Innisfree products for my skincare routine right now. I usually always do a face mask in-flight from Innisfree or another K-beauty store and I like to use Glossier's Rosewater Spray whenever my face starts to feel dry.  I'll also try to wash my face using Seacret's Black Mud Soap during a long fight or after landing either at a layover or at my destination. Of course I bring the essentials: toner, serum, lotion and sunscreen! I always bring my Innisfree's Green Tea Seed line products which is great for hydrating.  I also bring Sunday Riley's UFO Acne Treatment Face oil for night time which does wonders for my skin texture and hydration as well. Last year my friends and I went on a 12 day road trip throughout Colorado, Utah, Arizona and New Mexico and everyone's skin was getting so dry and I was sharing my skin products with everyone even the guys!  I've also been carrying the MP because it's so efficient and crucial to travel acne! I like to travel light so the MP is my secret weapon! It literally takes up zero space in my bag.
What's one skin tip you would give someone who's traveling? 
Hydrate! I hear so many people say they skip the beverages so they don't have to get up to pee during a flight or because of the clothes they're wearing like a romper or layers. That's such a big no no. You have to hydrate especially if your body is asking for it.  It's not only for your skin but also for your health! Your body needs water to live and function properly!  
What's the next place on top of your bucket list?
Antarctica!
You can now find Mighty Patch Duo at Target!