Highlighting Laser Skin Resurfacing: What It Is and What to Expect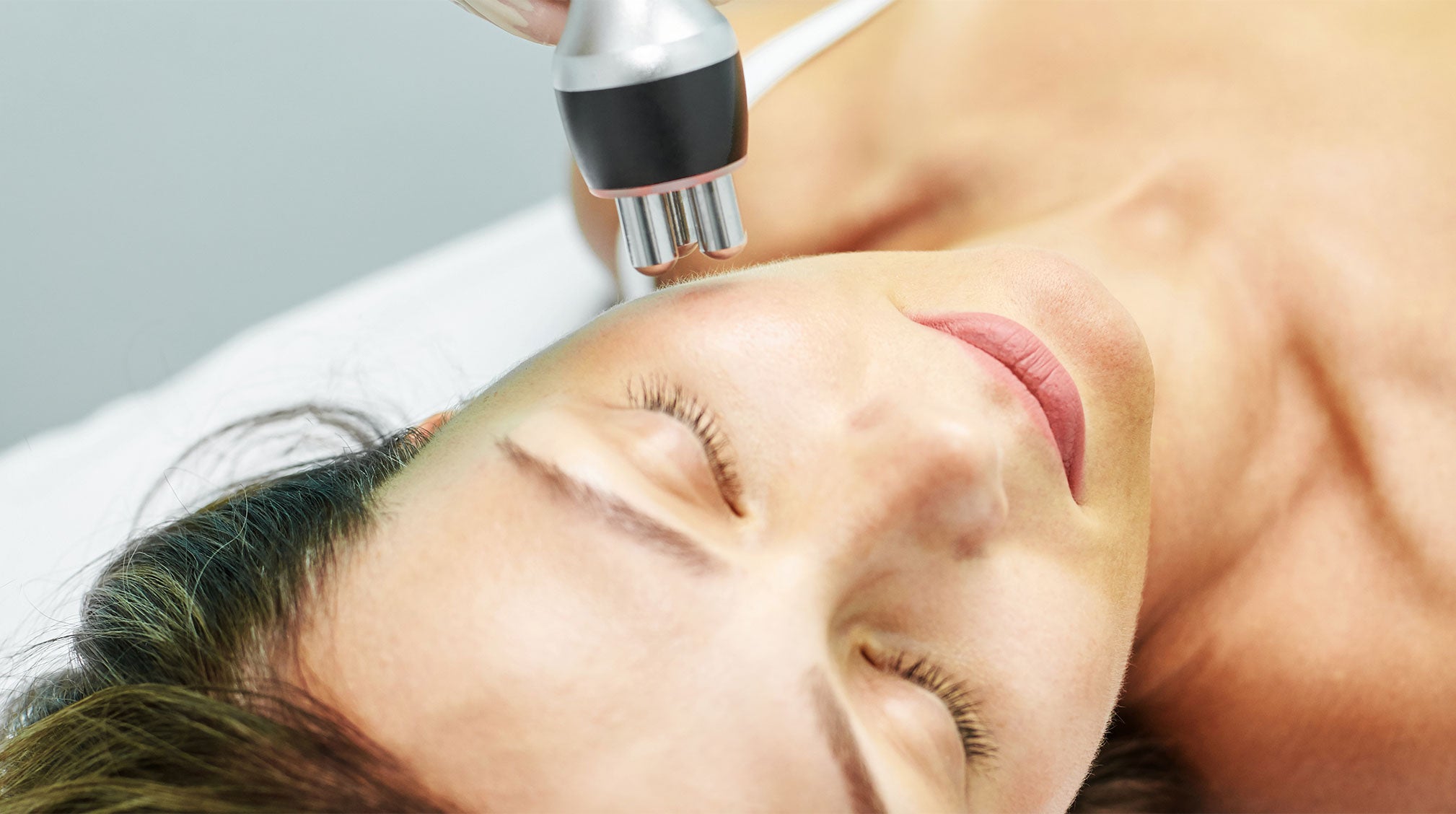 Ah, fall. The crisp morning air, the pumpkin-spiced everything and the … lasers? Yes, fall is actually known as laser season because laser resurfacing can leave skin hypersensitive to sun exposure for up to a year. That's why dermatologists and cosmetic surgeons often recommend that patients have the procedure done during the fall or winter months.
Laser skin resurfacing first appeared on the cosmetic surgery scene in the 1990s. Today, dermatologists and cosmetic surgeons use it to treat all sorts of skin imperfections - from age spots and deep wrinkles to droopy eyelids and regrettable tattoos. While it is not a safe treatment for those with active acne, laser resurfacing can dramatically reduce (or even erase) the appearance of older acne scars.
What is laser skin resurfacing?
Laser resurfacing is a treatment that uses a laser to improve the appearance of skin and reduce facial wrinkles, flaws and other skin irregularities. During the procedure, short, concentrated pulsating beams of light are directed at the skin. Energy from the lasers create tiny "columns of thermal destruction" in the skin that stimulate the growth of new, healthy skin cells. Laser skin resurfacing is sometimes referred to as lasabrasion, laser peel or laser vaporization.
There are several different kinds of lasers used in resurfacing, but they all fall into one of the following two categories:
Ablative laser - This laser actually removes thin layers of skin, one at at time. The most common types of ablative treatments include the carbon dioxide (CO2) laser and the erbium laser. Ablative lasers are used to treat wrinkles, scars (including acne scars), warts and other deep skin flaws.
Nonablative laser - This laser stimulates collagen growth and tightens skin without causing any open wounds. Nonablative lasers are used to treat fine lines, wrinkles, skin laxity and age spots. They typically cause fewer side effects (and require less downtime) than ablative treatments.
You may have also heard about another type of laser resurfacing, fractional photothermolysis (aka Fraxel). It's available in both ablative and nonablative forms.
Who is a good (or not so good) candidate for laser resurfacing?
It's a common misconception is that laser resurfacing is only safe for those with light skin tones. While certain lasers pose a higher risk for cell damage or discoloration in darker skin, options like erbium laser resurfacing can minimize that risk. A dermatologist or surgeon with extensive knowledge in laser resurfacing procedures can help you decide if laser skin resurfacing is safe for your skin tone or if there are better resurfacing options, such as radio-frequency treatments or microneedling.
RELATED READ: Microneedling: Worth The Ouch Factor?
Who definitely should not get laser resurfacing?
Anyone with active acne, taking acne medications that contain isotretinoin or a weakened immune system.
How does it work? What can I expect?
Depending on the type of laser used (ablative or nonablative), the actual procedure and recovery time can vary greatly. The same goes for cost. According to the American Society of Plastic Surgeons (ASPS), nonablative laser treatments cost about $1,031 per session, while ablative treatments are about $2,330 per session.
During ablative laser treatments (which take approximately 30 minutes to two hours), the doctor will numb the skin with local anesthetics. For extensive resurfacing, a patient might be sedated. An intense laser beam is directed at your skin, destroying the outer layer (epidermis) of skin and heating the underlying skin (dermis), which causes collagen fibers to shrink. After the treatment, your skin will be raw, swollen and itchy (think SATC Samantha after her chemical peel), require ointment and a watertight dressing, and take about one to two weeks to heal. 
For nonablative laser resurfacing (which takes takes between 15 minutes and 1 1/2 hours) the doctor will numb your skin with a topical anesthetic, unless you are having fractional photothermolysis and need additional pain relief. A water-based gel will protect the outer layer of your skin, so the laser only damages the collagen beneath your skin to stimulate the growth of new collagen. Although skin might temporarily appear red or swollen, there is little-to-no recovery time and you can wear makeup and resume your normal activities as soon as you like. For optimal results, you may need a series of treatments over the course of weeks or months.
After either type of resurfacing treatment, the collagen fibers under the surface of the skin regenerate over the course of a few weeks. Ultimately, dry, damaged skin cells are replaced with new cells and collagen fiber, revealing skin that appears more supple and youthful.
Another laser-like option for acne: IPL
Not ready to go full-on laser? Or have active breakouts and can't do laser resurfacing? Intense Pulsed Light (IPL) photofacials are another popular treatment for those who don't want to deal with pain or recovery time. Instead of the single wavelength of light in a concentrated beam that's used in laser resurfacing, IPL uses a spectrum of colors in short, intense bursts. It's a noninvasive treatment that can calm active acne, while also slightly reducing the redness and pigmentation from older acne scars.
Have you tried (or would you try) laser skin resurfacing? Tell us all about it in the comments below!